Longview win shootout to claim first title since 1937
Facing third and goal from the West Brook 11-yard line with just over eight minutes to go in the fourth, Longview quarterback Haynes King had a man wide open in the end zone. But King's pass sailed over the head of Jhailon Braden and fell incomplete, forcing the Lobos to settle for a field goal in the Class 6A Division II state championship game.
J.K. Martin's 28-yard kick made it 34-29 West Brook with 8:17 to go, and King trotted to the sideline with the game now in the hands of the Longview defense. The Lobos forced a quick three and out and gave their junior gun-slinger a chance to redeem himself in front of 48,421 people.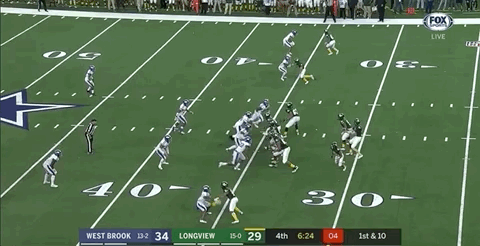 On the second play of Longview's next possession, King did just that by connecting with Kyas Moore on a 54-yard completion that set up the Lobos' go-ahead score.
Jessie Anderson then punched in a 2-yard TD run to give Longview a 35-34 lead the defense went on to protect, snapping an 81-year drought since the team's last state championship win.
"Coach [Oscar] Wilson talks with me every day before every game and our motto is 'Whatever it takes,'" King said. "Four quarters wasn't up – you just have to keep making plays and keep grinding it out."
While Anderson's touchdown gave the Lobos the victory, it was the defense that came up with a key stop after West Brook started to put a late drive together. Tyshawn Taylor forced a Robert McGrue fumble that was recovered by Longview's Michael Martin.
The Lobos went on to run out the clock after a 31-yard run by Keilyn Williams forced the Bruins to burn their remaining timeouts.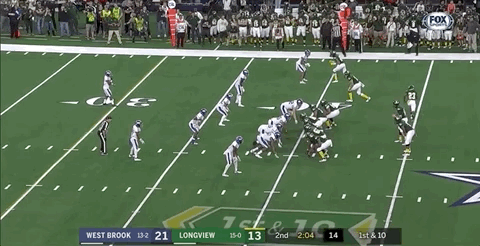 Haynes King (Offensive MVP) completed 16-of-27 passes for 423 yards and two touchdowns, Kamden Perry had eight catches for 218 yards and a TD, and Jephaniah Lister – who finished with a game-high 12 tackles – took home the Defensive MVP award.
"These kids don't like losing," Longview coach John King said. "They love winning, but they hate losing more than they like winning. They've been that way since I've known them, and they rally one another."
In a game that had a similar feel to that of last year's Class 5A Division I state championship game between Highland Park and Manvel, West Brook's La'Ravien Elia and Deonte Simpson went back-and-forth with Haynes King and Perry.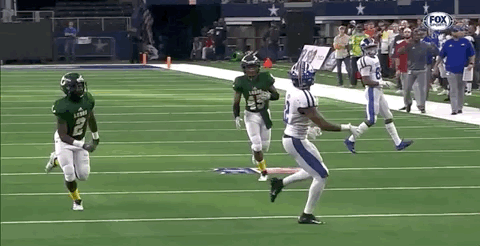 Simpson, a North Texas signee who finished with six catches for 106 yards and two touchdowns, was making plays all over the field and helped move West Brook down the field early in the fourth quarter before a 2-yard TD run by Jakobi Holland gave the Bruins a 34-26 lead.
That's when Haynes King and the Lobos responded with a pair of scoring drives that nobody in Longview will soon forget.
West Brook, playing in its first state title since 1982, finished with 46 carries for 369 yards – including 142 from Elia, 122 from Holland, and 76 from Robert McGrue – but couldn't hang on due to the costly turnover down the stretch.
"We knew Longview wasn't just going to back down," Simpson said. "We tried to bring the heat, but they wanted it more than we did. It's just something that will make us better later in life. You can look at it as a positive or a negative – if you look at it as a positive, you'll get better. The feelings hurts and you don't want that feeling to happen again, so you'll work."
- Brady Keane

VIDEO RECAP
Lobos end an 81-year state championship drought for a passionate community
In the week leading up to Saturday's Class 6A Division II state championship game, Longview's longtime coach John King was paid a visit from an old friend.
Robert Bero, who was the head coach of the Lobos from 1988-1999, had a memento to pass along to King, hoping perhaps it'd be more of a good luck charm for King than it was for him.
A leather football lapel with a "37" on it that had been worn by a Longview fan, possibly a cheerleader, to the 1937 championship game was given to Bero before the 1997 state title game. It was one of many reminders that the Lobos' last state championship came in 1937 — 81 years ago.
King was too nervous to put the keepsake in his pocket before Saturday's game, so he pinned it to his bag and left it in his locker at AT&T Stadium. He was happily displaying it after Longview pulled off a comeback one-point victory to end the drought for one of Texas' most talent-rich programs.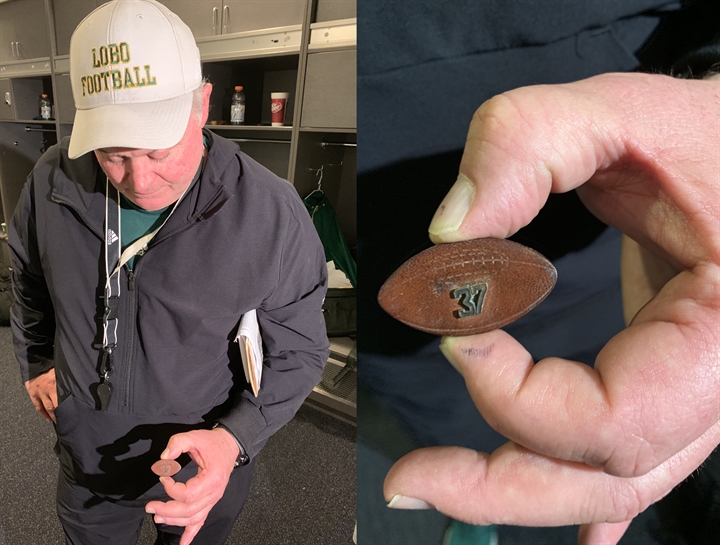 "Guys like Robert Bero and others who have been part of this program since Longview High School integrated, this is important for all of those guys," an emotional King said. "They know what this program means to the town of Longview and how special it is."
Eighty-one years. More than eight decades of growing frustration from a passionate fan base that came out in full force Saturday night was all relieved when King's junior quarterback son, Haynes, took one final knee to set off a raucous celebration.
The Lobos had been close, losing in the final in 2008 and 2009 and then dropping the 2010 state semifinal to Denton Guyer, thanks to a miraculous last-second blocked punt.
"We've got a tremendous fan base and they're everywhere," John King said. "They love these Lobos. Everywhere you go in the city it's what they want to talk about is the Lobos. We've been close, and I know that frustration has grown through the years because we haven't been able to get it done. But I can tell you what, there won't be any more talk about us not being able to win the big one because the Lobos have bragging rights. We're state champs. Sixteen-and-oh. And if that ain't good enough for you…"
He left the rest to imagination to a chorus of laughter.
The Kings weren't the only emotional father and son on the field celebrating. After the final whistle sounded, senior linebacker Ja'Vontae Writt's father found his way on the field.
Writt's father was a linebacker and tight end for the 1997 Longview team that fell in the state final to Katy.
On Saturday, years of frustration, mixed with hope for his kid, got the best of both of them.
"We both was in tears," Ja'Vontae said. "It was a long hug. He raised me into the person I am now, and I'm thankful for that. They didn't win it, but because of him, we here now and we won. We won for him. I won for him. We got it."
Then, King got emotional when talking about why Saturday's game meant so much to not only him and his coaches and players, but to an entire city. He also touched on what makes the Longview job his dream destination, something he never imagined as a young coach first setting roots in the East Texas town.
"Let me tell you what my daddy told me my first year coaching: He told me, 'Son, you need to find some place to call home,'" King said, choking back tears. "And I thought, 'Nah, I want to be a head coach, I'm gonna bounce around and do this and that.' I hadn't been in Longview but about a month and I knew that's where I wanted to call home.
"There ain't another job that I want. There's no different kids I want to coach then those tough ass kids in Longview, Texas. I love 'em. I love what they're about. We got a lot of diversity on our football team. We got rich ones, poor ones, black ones, white ones, Hispanics. We got it all. And they walk through that fieldhouse and they bleed green. They walk out of that fieldhouse and these dudes will bleed green the rest of their lives. That's home. I'm proud to say that Longview, Texas, is my home."
And when King and those "tough ass kids" get home Saturday night or early Sunday morning, he might finally let loose.
"Let me tell you, when we get back to Gregg County, it's gonna be a party like they ain't never seen," King said with a wide grin, "and I may be leading the charge."
- Adam Boedeker
BOX SCORE
Longview 35, Beaumont West Brook 34
| | | | | | | |
| --- | --- | --- | --- | --- | --- | --- |
| Beaumont West Brook | 7 | 21 | 0 | 6 | - | 34 |
| Longview | 13 | 7 | 6 | 9 | - | 35 |
Scoring Summary
1st Qtr. 05:27
LONGVIEW - Jessie Anderson 3 yd run (Haynes King pass failed)
1st Qtr. 1:55
WEST BROOK - Deonte Simpson 35 yd pass from La'Ravien Elia (Kevin Linares kick)
1st Qtr. 1:02
LONGVIEW - Kamden Perry 77 yd pass from Haynes King (J.K. Martin kick)
2nd Qtr. 11:38
WEST BROOK - La'Ravien Elia 22 yd run (Kevin Linares kick)
2ndQtr. 6:59
WEST BROOK - Jakobi Holland 35 yd run (Kevin Linares kick)
2nd Qtr. 1:55
LONGVIEW - Kaden Kearbey 40 yd pass from Haynes King (J.K. Martin kick)
2nd Qtr. 1:25
WEST BROOK - Deonte Simpson 25 yd pass from La'Ravien Elia (Kevin Linares kick)
3rd Qtr. 3:43
LONGVIEW - Haynes King 25 yd run (2-point failed)
4th Qtr. 11:34
WEST BROOK - Jakobi Holland 3 yd run (2-point failed)
4thQtr. 8:17
LONGVIEW - J.K. Martin 28 yd field goal
4thQtr. 4:42
LONGVIEW - Jessie Anderson 2 yd run (2-point failed)
Team Stats
| | | |
| --- | --- | --- |
| | West Brook | Longview |
| First downs | 24 | 23 |
| Rushing yards | 46 – 349 | 32 – 146 |
| Passing yards | 144 | 423 |
| Passing | 10-21-0 | 16-27-0 |
| Punts – Avg. | 4 – 34.5 | 2 – 44 |
| Penalties – Yards | 5 – 41 | 8 – 62 |
| Fumbles – Lost | 1 – 1 | 1 – 1 |
| Third-Down Conversions | 6-of-12 | 5-of-10 |
| Possession Time | 23:46 | 24:14 |
West Brook Individual Leaders
Rushing – La'Ravien Elia 13-136, Jakobi Holland 13-122, Robert McGrue 17-69, Deonte Simpson 2-16, Joey Pierre 1-6.
Passing – La'Ravien Elia 10-21-0-144.
Receiving – Deonte Simpson 6-106, Jordan Babino 1-16, Thad Johnson 1-13, Dylan Duhon 1-9, Robert McGrue 1-0.
Longview Individual Leaders
Rushing –Haynes King 12-65, Keilyn Williams 6-41, Jessie Anderson 10-35, Kaden Meredith 1-18, TEAM 3-(-13).
Passing – Haynes King 16-27-0-423.
Receiving – Kamden Perry 8-218, Kaden Kearbey 3-87, Jessie Anderson 3-55, Kyas Moore 1-54, Jayden Williams 1-9.
PRESS CONFERENCES
This article is available to our Digital Subscribers.
Click "Subscribe Now" to see a list of subscription offers.
Already a Subscriber? Sign In to access this content.