Villanueva rushes for three scores as Strawn cruises past Follett
Strawn coach Dewaine Lee said he knew his team had the talent to get back to the Class 1A Division II state championship game this season, but he worried all year about injuries and other uncontrollable factors that could prevented a return to the AT&T Stadium.
Fortunately for Lee, the Greyhounds – who defeated Balmorhea 78-42 to take home the state title last year – evaded the injury bug throughout the season and cruised back to Wednesday morning's championship game against Follett.
By that point, Strawn's unmatched size and speed was enough to power the program to its second consecutive title in a 48-0 game that was called at the half.
"We have a saying at Strawn – you don't have to work hard, you get to. You don't have to play, it's a privilege you get to. They live by that, and I'm extremely blessed by these guys buying into it. You get to. You don't have to, you get to. They understand that motto, they bought in and the kids are great in Strawn, America."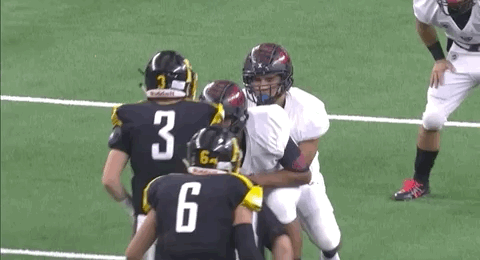 The Greyhounds wasted no time getting on the board and went deep on the first play of their opening possession when quarterback Junior Cervantes found a wide-open Julian Fraga for a 48-yard touchdown.
After a quick defensive stop that prevented Follett from executing the type of run-heavy, clock-churning drives that got the team to AT&T Stadium, Strawn added to its lead with a 1-yard TD run from Carlos Villanueva with 6:17 remaining in the first quarter.
"It was huge – we worried about that all week," Lee said. "We knew we had to get a stop early because we knew they were just going to pound the ball and pound it for four yards, five yards to run the clock. It was huge, and once we got it, I think it kind of knocked the spirit out of them a little bit."
The Greyhounds began to pour it on from there, opting to kick an onside kick that was recovered by Marco Lopez. Officials originally ruled Lopez touched the ball prior to it travelling the required 15 yards, but the first usage of the UIL's new instant replay system overruled the call and gave Strawn the ball right back.
Tanner Hodgkins gave the Greyhounds another one-play scoring drive by taking the ball into the end zone on a 34-yard run on the first play after the onside kick recovery, and Villanueva went on to add two more touchdown runs – from 18 and seven yards out – as Strawn took a 40-0 lead at the end of the first quarter.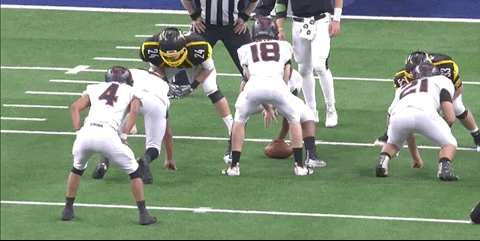 Patyne Ruiz added the final blow on a 1-yard TD run with just 1:29 remaining in the second quarter.
As explosive as Strawn offense was, the defense came up with a number of big plays that contributed to the onslaught of scoring. Lopez forced a fumble that was recovered by Cervantes, and the Greyhounds allowed just a single first down in the win.
Follett finished with just 53 yards of offense and was 0-for-6 on third down and 0-for-4 on fourth down in the game.
Villanueva had a game-high 63 yards rushing and three touchdowns for Strawn and completed three passes for 49 yards. Defensively, Ivan Ruiz had a game-high seven tackles while Hodgkins finished with four tackles, two sacks and two tackles for loss.
"They were fast," Follett senior Dylan Howard, who had 6.5 tackles, said. "We tried to get to the outside a couple times and expected to find something open, but it just closed up quickly. Their second level played really well."
— Brady Keane
VIDEO RECAP & HIGHLIGHTS
BOX SCORE
Strawn 48, Follett 0
| | | | | | | |
| --- | --- | --- | --- | --- | --- | --- |
| Follett | 0 | 0 | -- | -- | - | 0 |
| Strawn | 40 | 8 | -- | -- | - | 48 |
Scoring Summary
1st Qtr. 9:43
Strawn – Julian Fraga 48-yard pass from Jr Cervantes (Cervantes kick)
1st Qtr. 6:17
Strawn – Carlos Villanueva 1-yard run (Cervantes kick)
1st Qtr. 6:01
Strawn – Tanner Hodgkins 34-yard run (Cervantes kick)
1st Qtr. 3:19
Strawn – Villanueva 18-yard run (Cervantes kick)
1st Qtr. 1:36
Strawn – Villanueva 7-yard run (Cervantes kick)
2nd Qtr. 1:29
Strawn – Patyne Ruiz 1-yard run (Cervantes kick)
Team Stats
| | | |
| --- | --- | --- |
| | Follett | Strawn |
| First downs | 1 | 8 |
| Rushing yards | 20 – 39 | 22 – 206 |
| Passing yards | 14 | 97 |
| Passing | 2-6-0 | 4-6-0 |
| Punts – Avg. | 1 – 44 | -- |
| Penalties – Yards | 2 – 5 | 2 – 15 |
| Fumbles – Lost | 1 – 1 | 2 – 0 |
| Third-Down Conversions | 0 – 6 | 2-of-4 |
| Possession Time | 8:04 | 11:56 |
Follett Individual Leaders
Rushing – Dylan Howard 9-22, Christian Barber 7-12, Luis Loya 3-6, Joshua Stuart 1-(-1).
Passing – Christian Barber 2-6-0-14.
Receiving – Fernando Cruz 1-12, Dylan Howard 1-2.
Strawn Individual Leaders
Rushing –Carlos Villanueva 5-63, Avelardo Lopez 5-52, Tanner Hodgkins 2-48, Ivan Ruiz 1-23, Lorenzo Garcia 4-14, Julian Fraga 1-11, Patyne Ruiz 3-5, Blaze Duncan 1-(-10.
Passing – Carlos Villanueva 3-3-0-49, Jr Cervantes 1-2-0-48, Blaze Duncan 0-1-0-0.
Receiving – Julian Fraga 3-85, Jr Cervantes 1-12.
First-ever replay turns tide for Greyhounds
In a game Strawn seemed destined to win on Wednesday, the Greyhounds got an extra lift from a newly adopted policy at the UIL state championships.
Holding an early 16-0 lead, Strawn attempted an onside kick and became the first-ever beneficiary of the new instant replay rules for the state championship games at AT&T Stadium.
Junior Cervantes hit a perfect kick that was recovered by his teammate Marco Lopez, but the on-field officials ruled Villanueva touched the ball before it traveled the required 10 yards.
That's when the new rule came into play and made Texas high school football history.
The replay booth buzzed down to the officials signaling they wanted to review the play and ended up overturning the call on the field to give Strawn possession.
"That onside kick, I don't really kick it very well some of the time, but it was executed perfectly," Cervantes said. "Marco Lopez made a great play on it. They said he touched it early, but he knew he didn't. They replayed it, and we got the ball back."
The Greyhounds scored on the next play when Tanner Hodgkins scampered 34 yards to put Strawn up 24-0 en route to scoring 40 first-quarter points against Follett and winning via the mercy rule, 48-0.
When the play happened, Follett coach Andy Copley knew what was coming.
"They got the call right (in the booth)," Copley said. "I thought the official made a bad call when he said it was short. I was shocked they were replaying it, because it was their ball. … They got it, and the game turned."
Strawn coach Dewaine Lee said he recalled a fumble his team recovered from last year's title game, which Strawn won 78-42 over Balmorhea, that was ultimately ruled down on the field and said the new system would've benefited his team then, too.
The UIL did a trial run of the system last year with a working replay booth, but no plays were eligible to be changed. Over the summer, it was announced the system would be in place for this year's title games, and Lee said he is thrilled with the decision, regardless of whose team it helped on Wednesday.
"Most definitely," Lee said when asked if he was an advocate of the new system. "You want to give the kids as fair a shot as you can to win. You don't want a play to cost someone a state championship because they don't want to do instant replay.
"This year they put that in and we thought it was awesome because it was a good play and our kid made a great play on the ball. If that game would've been tighter and we didn't have instant replay, that could've been very costly."
— Adam Boedeker
PRESS CONFERENCE