Rice OL Commit is Highland Park's Unheralded Star
2019 Rice signee Regan Riddle (6'2, 290) has quietly been one of the most dominant forces in TXHSFB this season.
Riddle, who is one of the more technically sound offensive line prospects you will find, was a big reason Highland Park won a state title.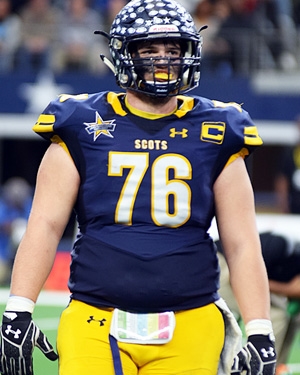 "He's a guy who comes to work every day," Highland Park OL coach James Farnsley said when asked about Riddle's talents.
"He practices like he plays. He is a real strong kid, great feet, and he has the physical part of it. Part of being a great offensive lineman is the ability to impose your will on somebody else t...that is one of his strengths. He's got a nasty streak about him, and that is what you want."
Earlier this week, Riddle signed with Rice in the early signing period and he is looking forward to his college future.
"That is super exciting, but we took five minutes to think about that, and then we put it in the rearview mirror, and said let's go win a state championship," Riddle said. "That was my mentality. I appreciate my family, my coaches, and my friends all supporting me. The real victory this week was the state championship."
"The academics there," Riddle added when asked about why he selected to sign with Rice.
"The future that that degree can hold for me, the coaches there -- I am super excited about them. Coach Bloomgren is building something special, and I'd like to be a part of it. Coming from this tradition here and building our own tradition at Rice."
TCU Commit Celebrates First Longview Title in 81 Years
2019 Longview OT Marcus Williams (6'6, 285) helped protect Offensive MVP Haynes King's blindside in the Lobos' 35-34 6A DII title win.
The TCU commit talked about the championship feeling in the moments after the game.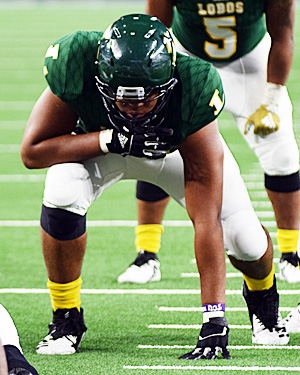 "It's crazy, honestly," Williams expressed when asked about the championship feeling. "We have been working I don't know how long to have a perfect season and get a state championship -- it's big. The first one in 81 years. It is unexplainable if I'm honest."
"We were down (on the scoreboard). They had us pinned down in the first half, but we have been fighting through adversity the whole time we've been here as a senior class. We have been fighting since we got here, so it is wonderful knowing that the last game we played in we were able to win it."
Williams signed with TCU on Wednesday, and he is ready to take his game to the Big 12.
"You want me to be completely honest," Williams answered when asked why he picked the Horned Frogs. "Everything."
"It would be the coaches, the environment, the place, the roster. All that. Everything. And I like purple. The coaching staff has been there 20 plus years. They have a lot of experience."
UTEP Commit Makes Miracle Play to Cap Weekend of Miracles
2019 UTEP commit WR Ajani "AJ" Carter pulled down a 45-yard touchdown catch as time expired to help lead North Shore to a 41-36 win over Duncanville in the 6A-DI game.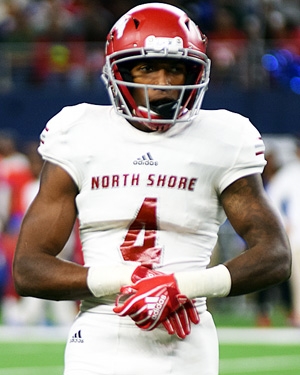 It was the definition of a 'Hail Mary.'
"I can't explain it," Carter said as he walked us through the final play. "It is unexplainable. I am just happy because of my coach. We work this every day in practice. This happened because of him."
Carter did not want to take any credit for the play, and he was happy to share the moment with his fellow Mustangs.
"My team, I need my team to be a part of it with me," Carter exclaimed. "We are a team. We just can't give up. Hard work pays off, and my team came through in the clutch".
"When you work hard for stuff like that -- big things happen."
Carter, who did not sign in the first NCAA recruiting window (Dec. 19-21), picked up an offer from Southern Miss after the game.