GAME PREVIEW
It's been a long wait for the Longview Lobos, 81 years to be exact and the Lobos have the chance to end that frustration Saturday against an opponent they are quite familiar with in the Beaumont West Brook Bruins. These two have met in the bi-district playoffs the last two years with West Brook winning in Beaumont in 2016 and Longview winning at home in 2017.
Longview, for a half last week, looked like an absolute unstoppable machine as the Lobos rolled out to a 35-7 lead on Amarillo Tascosa. But THS rallied back and made the Lobos sweat as they held on for dear life in a 45-42 win. For the second week in a row, the Lobos struggled throwing the ball as Haynes King only had 87 passing yards, but the Longview rushing attack led by Keilyn Williams and Jessie Anderson got the job done as both backs topped the 100-yard mark on the ground. The Lobo defense had some trouble in the second half slowing down Tascosa's flexbone offense and this week the focus is slowing down the sensational speed and athleticism of QB L'Ravien Elia and RB Robert McGrue and that West Brook attack.
Last week, the Bruins won a thriller taking down Austin Westlake, 35-30. West Brook solved the riddle of the Austin Westlake defense that had pitched two straight shutouts and had allowed just 21 points in four games and it was via the big play. In the first half, WBHS had three touchdowns of 65 or more yards as they jumped out to a 25-10 lead and held off a late Chap rally to clinch the trip to Arlington. West Brook's offense will have to carry them against the Lobos defense which had been outstanding up until the second half of last week's win. Expect some animosity in this one, familiarity breeds contempt and with so much on the line the team that keeps their cool and doesn't get silly penalties could get a major edge.
– Matt Stepp
Tepper's Preview & Prediction
PLAYERS TO WATCH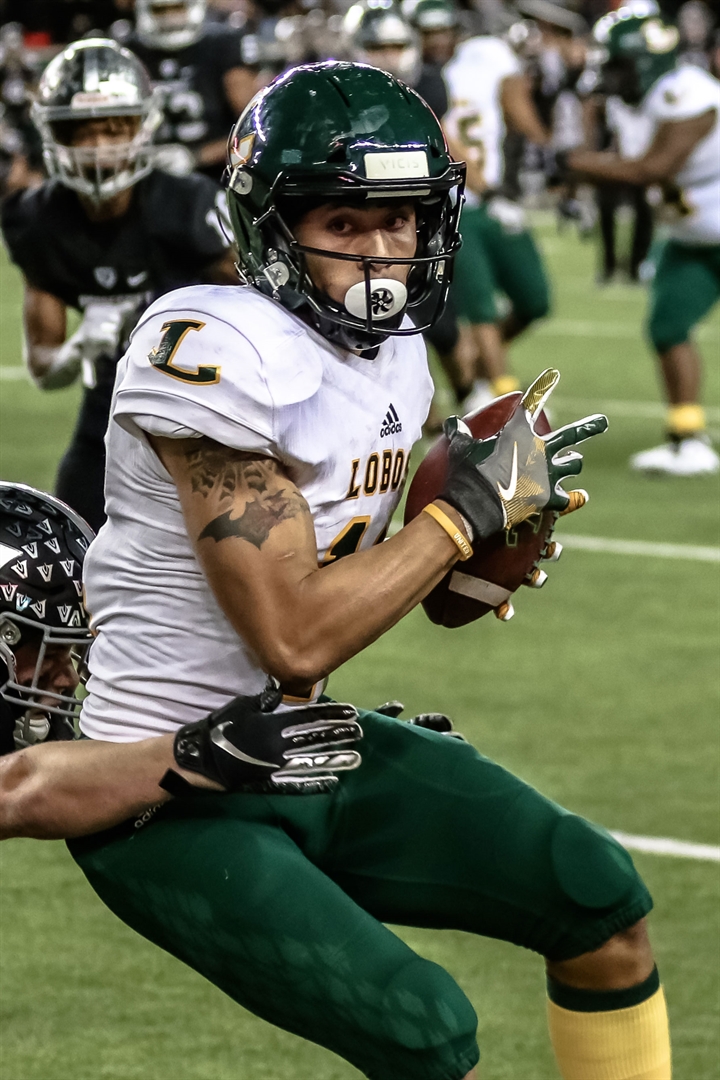 Haynes King, QB (HUDL): The Lobos' star QB has been arguably the most efficient quarterback in Texas with 40 touchdowns to just three interceptions and a 71 percent completion rate and 545 yards on the ground to his name.
Keilyn Williams, RB (HUDL): Longview's leading rusher (1,381 yards) provides a great foil to Haynes King's arm and the metronome that keeps the Lobo offense pumping.
Kamden Perry, WR (HUDL): Just when you're sick of getting run over by Keilyn Williams and Jessie Anderson, Kamden Perry will find a break in the secondary to exploit for a back-breaking gain. Longview's leading receiver has over 1,600 yards and 17 touchdowns this season.
Robert McGrue Jr. RB (HUDL): One seam is all the Bruins' explosive needs to take any given run to the house. McGrue shoulders the bulk of the load of West Brook's offense with 1,814 yards and 32 touchdowns on the ground while averaging nearly a first down per carry.
La'Ravien Elia QB (HUDL): Bringing down West Brook's senior quarterback has proven to be a challenge for most defenses this season. One of Elia's highlights this season was accounting for six touchdowns in the area round against Houston Strake Jesuit. The senior has 1,842 yards through the air and 705 on the ground.
Thad Johnson WR (HUDL): When things break down for La'Ravien Elia, he has a game-breaking receiver in senior Thad Johnson is can take the top off any defense. Against Longview, that's going to be key in order to stay with the Lobos' offense. Johnson has 977 yards and 10 touchdowns this season.
— Ishmael Johnson
HOW TO WATCH
The game can be viewed on FOX Sports Southwest and will be streamed on the Fox Sports Go app.
*FOX Sports Southwest Plus is used by FOX Sports Southwest to simultaneously show multiple events on two channels and is available to all TV providers that carry FOX Sports Southwest.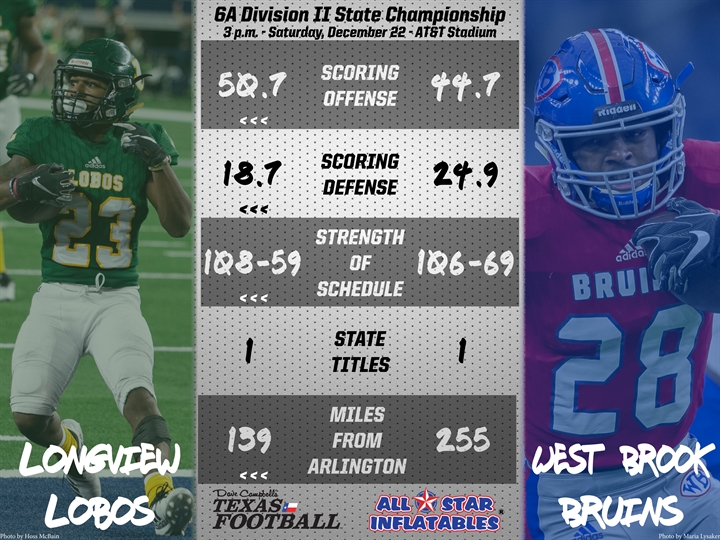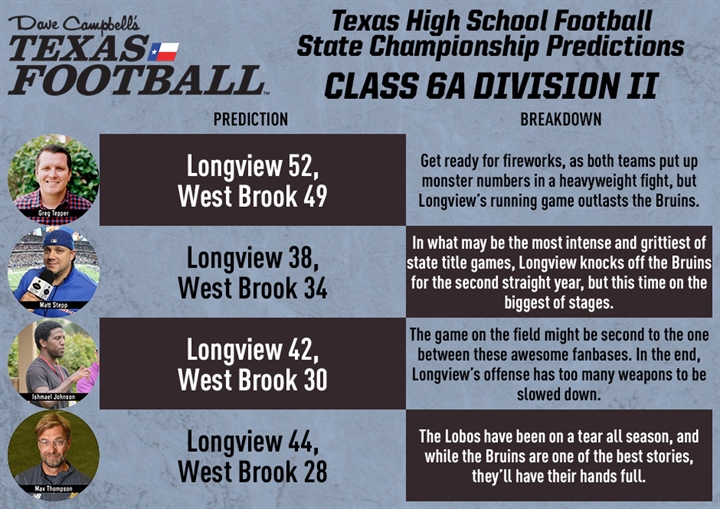 This article is available to our Digital Subscribers.
Click "Subscribe Now" to see a list of subscription offers.
Already a Subscriber? Sign In to access this content.