GAME PREVIEW
In one of the most highly anticipated title games in recent memory, two of the most electrifying programs in the state's two biggest markets meet up for the 6A Division I title in the grand finale of the Texas high school football season. This game will not only have eyes of most of the state on it, but much of the country will be watching this matchup with anticipation too.
Last week, Duncanville, in front of nearly 28,000 fans at AT&T Stadium, took down the state's No. 1 team and defending state champion Allen, 44-35, ending the Eagles' 31-game winning streak. The Panther defensive line pressured Allen QB Grant Tisdale all night and QB Ja'Quinden Jackson led a big play offense accounting for 227 yards and four touchdowns in the win. The Panthers roared out to a 35-14 halftime edge on Allen, but withstood a second half surge from Allen to score the game's final points and get the victory.
North Shore made quite the statement Saturday in its 51-10 win over Lake Travis. The Mustang defense stifled the Lake Travis attack holding the Cavs to just 268 yards of offense on the night, with the majority of those yards coming on the first drive of the game where LTHS kicked a field goal and in the fourth quarter. The Mustang offense was hitting on all cylinders as RB Zach Evans ran for 196 yards and four touchdowns, while sophomore QB Damatrius Davis gave NSHS plenty of balance with 231 yards and two scores through the air. North Shore's big and physical offensive line will face its biggest challenge of the season going against a Duncanville defensive line that can be as disruptive as any unit in the state. It'll be must see viewing on Saturday night, this one will be fun to watch.
– Matt Stepp
Tepper's Preview & Prediction
PLAYERS TO WATCH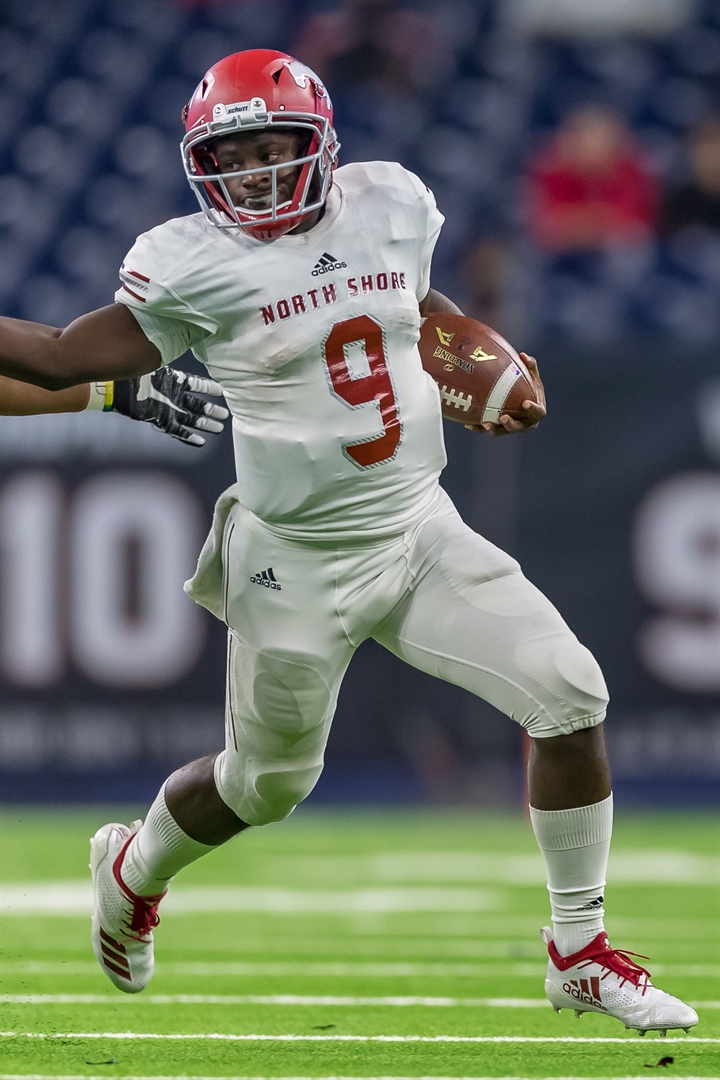 Ja'Quinden Jackson, QB (HUDL): Jackson, who already has nearly 20 Division offers, gets it done both through the air and on the ground for Duncanville. The junior is as physical as they come at the quarterback position, having racked up 1,271 yards and 22 touchdowns rushing while also throwing for 1,537 yards and 15 touchdowns.
Trysten Smith, RB (HUDL): Smith is often overshadowed by the abundance of talent surrounding him on the Panthers' roster, but he quickly caught the attention of those at AT&T Stadium over the weekend by breaking off a 73-yard TD run on the first offensive snap of the game against Allen. He's rushed for 1,269 yards and 20 TDs on 160 carries and can take some of the pressure off Jackson in the backfield.
Marquez Beason, ATH (HUDL): Beason, an Illinois commit, has 11 catches for 207 yards and two touchdowns at wide receiver, but it's his play in the secondary that makes him so valuable to the Panthers. He is the leader of a talented group of defensive backs that has helped Duncanville give up an average of less than 7 points per game this season.
Zach Evans, RB (HUDL): Evans is one of the top players in the country and is currently ranked as the No. 1 running back in the Class of 2020 by 247Sports. He's rushed for 1,685 yards and 29 touchdowns this season – including 335 yards and eight TDs the last two weeks alone – and can do it all out of the backfield for an offense with plenty of weapons that prevent opponents from selling out to stop the run.
Dematrius Davis, QB (HUDL): As good as Evans has been on the ground, Davis' poise as a sophomore quarterback has been one of the biggest factors in the Mustangs' offensive dominance. North Shore is scoring more than 54 points per game under Davis' direction, and he's completed over 71 percent of his passes for 3,042 yards and 38 touchdowns with just two interceptions.
Shadrach Banks, WR (HUDL): Banks, regarded as one of the top players in the Class of 2021, completes the main three-headed monster that powers the North Shore offense. He had 43 catches for 1,046 yards and 14 TDs entering Saturday's win over Lake Travis, giving the Mustangs' a potent deep-ball threat while averaging more than 24 yards per reception.
— Brady Keane
HOW TO WATCH
The game can be viewed on FOX Sports Southwest/FOX Sports Southwest Plus* and will be streamed on the Fox Sports Go app.
*Available on FOX Sports Southwest Plus in select markets with NBA broadcasts on FOX Sports Southwest: The 6A Division I game on Dec. 22 at 7:00 p.m. will be carried on FOX Sports Southwest Plus in the Dallas Mavericks territory. Please check your local listings. FOX Sports Southwest Plus is used by FOX Sports Southwest to simultaneously show multiple events on two channels and is available to all TV providers that carry FOX Sports Southwest.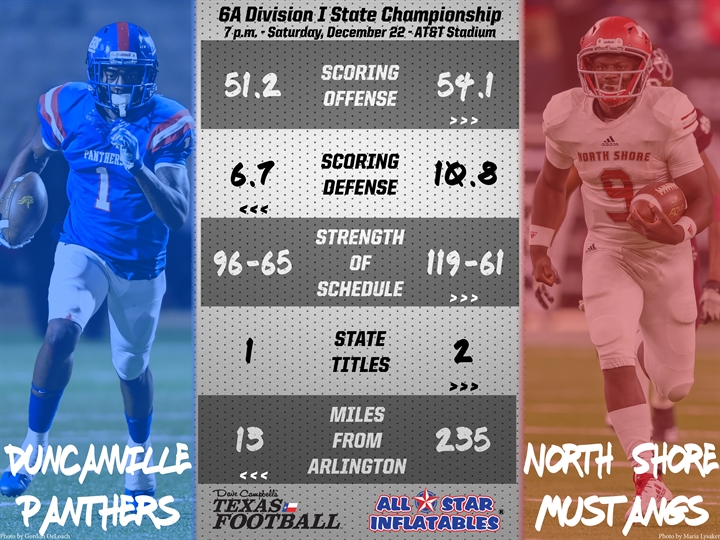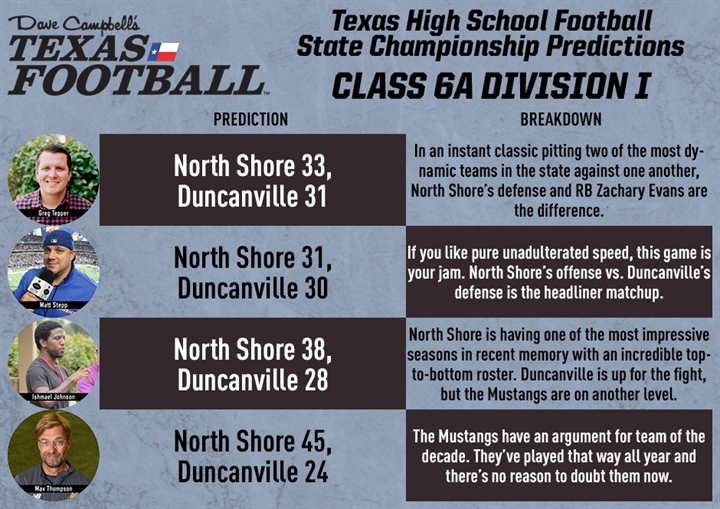 This article is available to our Digital Subscribers.
Click "Subscribe Now" to see a list of subscription offers.
Already a Subscriber? Sign In to access this content.