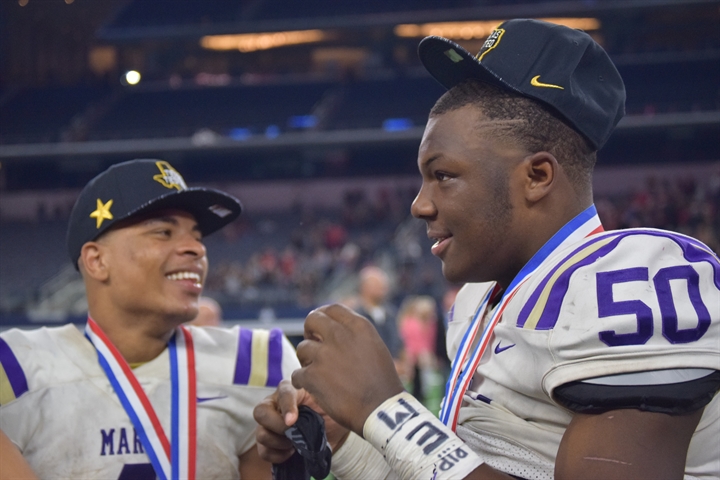 Instant replay in use for the first time
The impact of instant replay in the UIL football state title games was felt quickly on the first day, as during the two Class 1A games we had four replay reviews. Of the four replay reviews, all four calls were eventually overturned, which gives the impression at least early on that only clear and obvious officiating mistakes would warrant a review by the replay officials. We did have our first upheld call in the first quarter of the Mart-Gruver matchup as a call on the field of a fumble and recovery from Mart was upheld. On Thursday there were three reviews and two of the calls were upheld and one was overturned.
Ben Crockett's big day on Wednesday
Class 1A football is normally omething I only follow from afar. However, there's no denying the monster game that McLean's Ben Crockett had on Wednesday when he led the Tigers to their first state title in school history rushing for 377 yards and nine touchdowns, while adding 81 passing yards and three touchdowns as McLean took out Milford 100-70 to win the 1A Division I state title.
Mart's coronation
Coming into the 2018 season the Mart Panthers were massive favorites to win the 2A Division II state title, after all Mart had won the 2A Division I title a year ago and returned plenty of talent from that squad. The Panthers didn't disappoint this season posting an impressive 15-1 record and rolling to the state title Wednesday with a record setting performance in a 76-33 rout of Gruver. RB Tyrek Horne broke the Class 2A state title game records for most rushing yards and most rushing touchdowns in a game (291 yards; 7 touchdowns) and the Panthers set a UIL State Championships record for 11-man football scoring 76 points. Mart rolled up 63 first half points, taking a 63-12 lead into the locker room at halftime and cruising through the second half after forcing four first-half turnovers to run out to the massive lead. The Panthers don't appear to be showing any signs of slowing down as they've got several talented youngsters waiting in the pipeline ready to step in to roles vacated by a highly decorated senior class.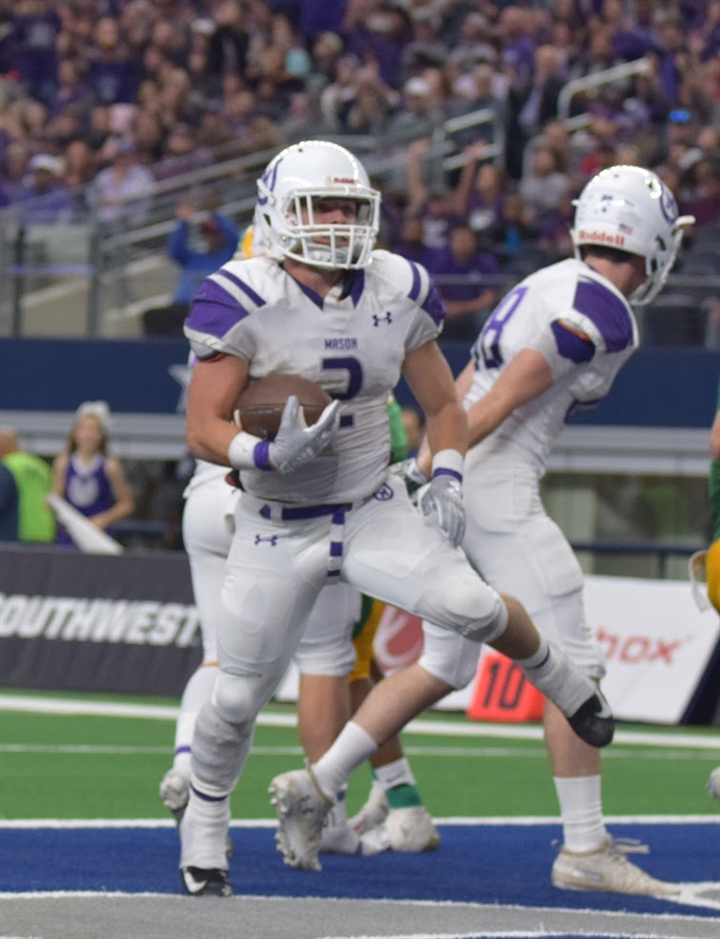 Mason blasts New Deal in battle of unbeatens
In Thursday's opening game, many thought we'd see an absolute classic as unbeaten New Deal took on fellow unbeaten Mason. The Mason Punchers had other ideas, putting together a complete performance rolling past the Lions, 44-6, to earn their second state title in school history. Mason got 208 combined rushing yards and four touchdowns from Jake Cockerham and Klay Klarner, while QB Otto Wofford masterfully directed an offense that put on a clinic of execution while running multiple sets in the win. Mason's defense stymied what had been one of the state's most prolific offensive attacks in New Deal, holding the Lions to just 172 yards of offense and nine first downs. For Mason head coach Kade Burns, it's his second state title leading his alma mater and he picked up his 100th win as a head coach on Thursday as well. He currently holds an incredible 100-9 overall record as a head coach at Mason.
Newton goes back-to-back
Despite a valiant effort from heavy underdog Canadian, the Newton Eagles did get their second straight state title knocking off Canadian 21-16 in the middle game on Thursday. The Eagles jumped out to a 21-0 lead at halftime on the strength of their defense which had an interception returned for a touchdown and also forced a fumble that set up a short field, leading to a Darwin Barlow touchdown. Canadian fought back in the second half scoring 16-straight points to make it a one score game and after a Newton fumble, the Wildcats were throwing for the end zone and possibly the win with less than a minute remaining. It wasn't until Dominique Seastrunk's interception near the goalline that Eagles fans breatheed a sigh of relief as they won their 30th consecutive game. NHS did it while ailing head coach W.T. Johnston watched from the sidelines, given only about eight months to live by doctors in March Coach Johnston's courage through his health struggles have been a source of inspiration for the entire state.
Grandview holds off Malakoff
Grandview knew this matchup with Malakoff would be much different than its first meeting which the team won 28-7 in Grandview. The Zebras held off the Tigers 35-21 in front of a raucous crowd featuring two schools located less than 80 miles from AT&T Stadium. Sophomore QB Dane Jentsch led the way for the Zebras throwing for 171 yards and three touchdowns and rushing for 89 yards and a touchdown. Bruising RB Elijah Golden chipped in 103 yards and a score for GHS, while their defense held a very explosive Malakoff rushing attack in check.
Attendance watch
So far attendance for 2018 is slightly behind the 2017 pace but not by much as the Thursday night finale of Grandview vs Malakoff drew a big crowd 18,233 to help out the average which had been well behind last year's pace. Through the four 11-man games last year the total attendance was 44,488 and through four 11-man games in 2018 total attendance is 43,434.