GAME PREVIEW
There's no doubt these two teams are quite familiar with each other as they've met four times since 2015 and they occupied the same district in 2016 and 2017. La Vega won all four meetings in that time frame including two playoff wins over the Panthers, so if anyone can solve the riddle of the Panthers vaunted Slot-T offense, it's the Pirates. After back-to-back hard fought playoff wins over Paris and Argyle, La Vega simply annihilated Decatur in the state semifinals last week blowing past the Eagles 53-0. RB John Richards led a brutally efficient Pirates offensive attack that rolled up nearly 700 yards on the night and made it a mission to keep Decatur out of the end zone, even after the starters had long called it a night.
Liberty Hill made a statement of their own last week ending Carthage's state leading 40-game winning streak with an impressive 44-41 win. The Panthers rolled up 499 yards on the ground with their vaunted Slot-T attack, as four backs topped 67 yards led by Blake Simpson who ran for 187 yards and a pair of touchdowns. Kyle Harrison who has well over 2,000 yards on the ground this year chipped in 155 yards on the ground and a pair of touchdowns as well for the Panthers.
Liberty Hill's defense has struggled at times against outstanding offenses, so its offense will have to operate at peak efficiency if the Panthers want to keep up with what looks to be a surging Waco LaVega bunch.
– Matt Stepp
Tepper's Preview & Prediction
PLAYERS TO WATCH
John Richards, RB (HUDL): If you haven't seen John Richards in action yet this year, you're in for a treat. The senior is strong, fast and runs with a mean physicality that punishes defenses from start to finish. Richards has 789 yards and 12 touchdowns in the playoffs alone, pacing a La Vega run-game that's accounted for more than 5,000 yards this season.
Jared Rogers, LB (HUDL): Rogers has about as much experience at the varsity level as a player can get during their high school career. The senior played an important role on La Vega's 2015 state championship team and is back again for one more run at a ring. Throughout his impressive career with the Pirates, Rogers has an eye-popping 634 tackles, 29 TFL, 11 sacks, 11 INTs, 8 FF, 6 FR and four defensive touchdowns.
DeMarr Hayes, DE (HUDL): The entire La Vega defensive front has been dominant throughout the year and Hayes is no exception. The senior, who stands at 6-4, 210 lbs., put a bone-jarring hit on Decatur quarterback Roman Fuller in the state semifinals that has since gone viral on Twitter. Those kinds of plays will be on full display Friday afternoon – expect Hayes to be right in the mix.
Kyle Harrison, RB (HUDL): Harrison is the workhorse that powers Liberty Hill's dominant run game. The senior has 2,916 yards rushing and 41 touchdowns and will almost certainly eclipse the 3,000-yard mark in the state title game against La Vega. Harrison has rushed for at least 100 yards in 13 straight games and has gone over 200 yards on eight different occasions.
Wyatt Cheney, DB: Cheney racks up tackles almost as efficiently as Harrison racks up yardage in the run game. The senior, who also stars for the Liberty Hill baseball team, had a team-high 101 tackles, three interceptions and a fumble recovery from his spot at free safety. The Panthers will need him to continue to be active in run support against a physical La Vega team in the championship game.
Walker Baty, DE: Baty leads the way in the trenches for the Liberty Hill defense, as the junior has a team-high nine sacks so far this year. Baty also had 50 tackles and 11 TFL, emerging as a reliable edge-setter for the Panthers.
— Brady Keane
HOW TO WATCH
The game can be viewed on FOX Sports Southwest Plus and will be streamed on the Fox Sports Go app.
FOX Sports Southwest Plus is used by FOX Sports Southwest to simultaneously show multiple events on two channels and is available to all TV providers that carry FOX Sports Southwest.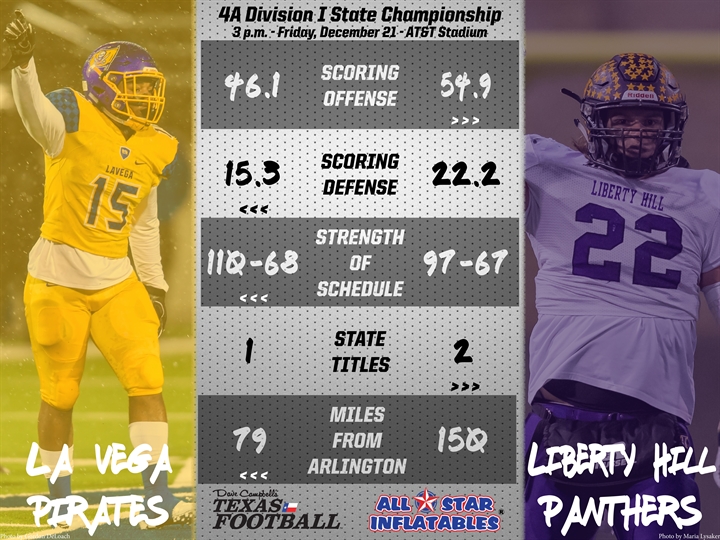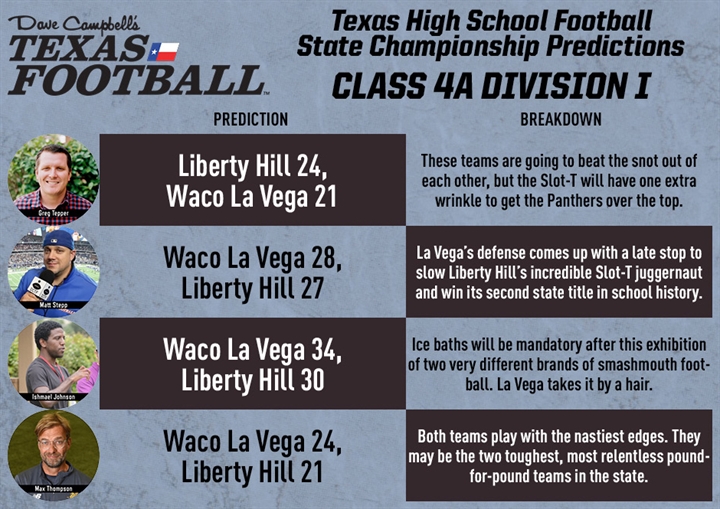 This article is available to our Digital Subscribers.
Click "Subscribe Now" to see a list of subscription offers.
Already a Subscriber? Sign In to access this content.