GAME PREVIEW
Aside from allowing 49 points to Panhandle in the third round of the playoffs, the New Deal defense has been downright sensational in the postseason. In its other four playoff victories, New Deal has allowed a total of 18 points, including slowing down San Saba last week in a 35-6 to advance to the state title game, NDHS held a San Saba offense that was averaging over 52 points per game to just a single touchdown and 165 yards of total offense. QB Jett Whitfield led the attack again for the Lions rushing for 214 yards and a touchdown, while also tossing a touchdown pass to Iowa State commit DK Blaylock in the win.
Mason didn't have much of a let down after taking down playoff nemesis Refugio as the Punchers easily dispatched of San Augustine 52-8 in a game originally set for Thursday but was moved to Friday. RB Klay Klaerner led the potent ground-oriented attack with 212 rushing yards and four touchdowns, while the Mason defense did a fantastic job of bottling up the speed of San Augustine all night. Mason turned the game into a rout with a three touchdown run in the span of 34 seconds in the second quarter as two of Klaerner's touchdown runs were sandwiched around a Jack Cockerham touchdown run.
Although West Texas isn't known for speed, New Deal's got plenty of it and the key once again for Mason in this matchup will be the Punchers containing New Deal's playmakers in space.
– Matt Stepp
Tepper's Preview & Prediction
PLAYERS TO WATCH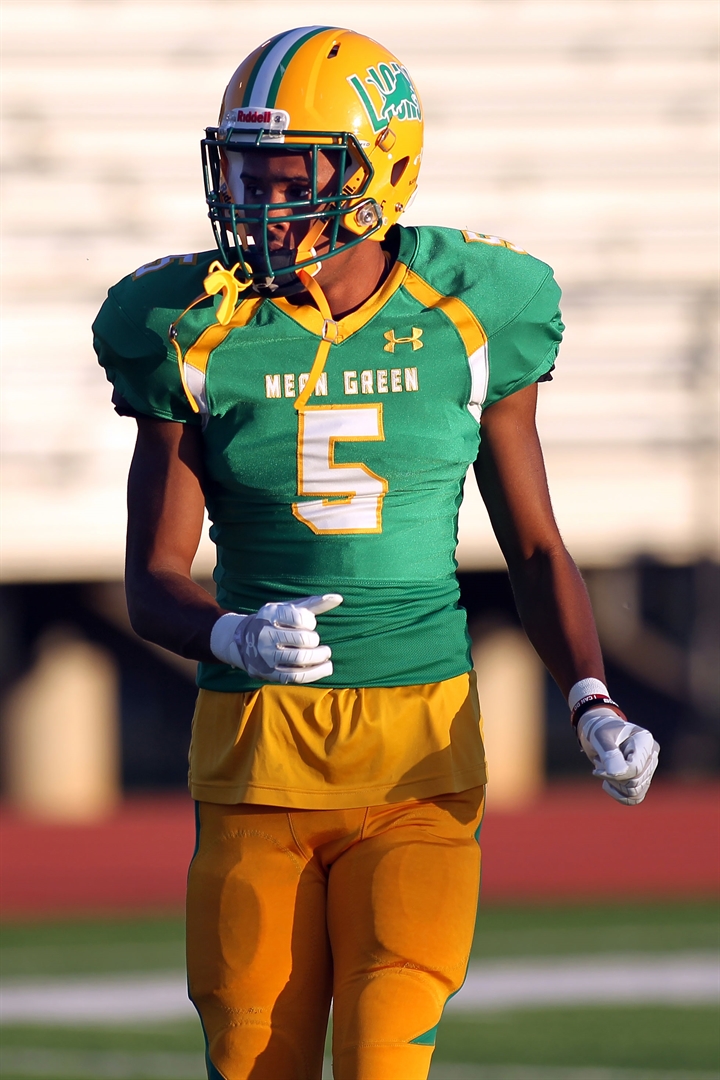 Jett Whitfield, QB/DB: After a strong junior campaign Whitfield has shown that he has taken big steps in his development and is now one of the state's top signal callers. The strong pocket passer (2,248 passing yards, 32 TD) is equally as dangerous on the ground (1,934 rushing yards, 30 TD) with a handful of dangerous weapons, including DK Blaylock and Kendell Dunn, at his disposal.
D.K. Blaylock, WR/DB: There's no question that Blaylock is Whitfield's favorite target and rightfully so as the 6'5 outside receiver's length and speed have given opposing secondaries headaches. The Iowa State commit has 51 catches for 1,161 yards and 20 touchdowns this season.
Leric Eaton, LB: Despite being just a freshman, Eaton has been the best player on a New Deal defense that has only allowed 12 points a game. Eaton leads the Lions in tackles (147) and sacks (9.0) and has an excellent nose for the football.
Jake Cockerham, RB/LB: Cockerham's senior year has been plagued by injuries but he's still made his presence felt on both sides of the ball despite not playing at 100-percent. His impact has put on full display in the state quarterfinals against Refugio as he scored a key touchdown and made a crucial tackle on a game-sealing goal line stand.
Otto Wofford, QB/DB: Mason managed to knock off Refugio despite losing Wofford due to a targeting ejection in the first half, but don't let that diminish the impact Wofford has when he's on the field. The quarterback has the ability to hit a handful of big plays through the air when needed also doubles as a starter in the secondary, helping the Punchers give up an average of less than 7 points per game defensively.
Klay Klaerner, RB: The Punchers' speedster is a part of a two-headed monster at the running back position that wears down opposing defenses. Klaerner is red hot after a four-touchdown, 169 yard performance in last week's 52-8 rout of San Augustine.
– Ryan MacDonald
HOW TO WATCH
The game can be viewed on FOX Sports Southwest and will be streamed on the Fox Sports Go app.
FOX Sports Southwest Plus is used by FOX Sports Southwest to simultaneously show multiple events on two channels and is available to all TV providers that carry FOX Sports Southwest.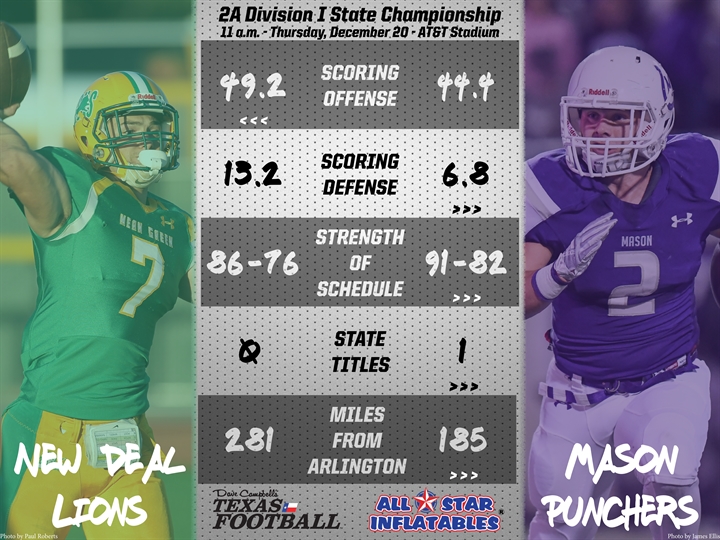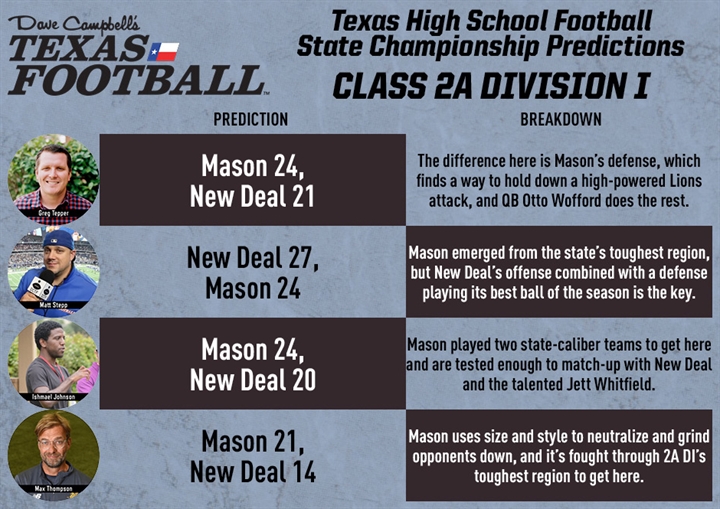 This article is available to our Digital Subscribers.
Click "Subscribe Now" to see a list of subscription offers.
Already a Subscriber? Sign In to access this content.