GAME PREVIEW
It's a rematch of a game played on September 20, when Grandview's defense dominated a banged up Malakoff offense in a 28-7 win. The Tigers have gotten healthy at the right time and it has shown based on their outstanding playoff run that includes impressive wins over Jefferson, Gladwater, Atlanta and last week Brock in a hard fought 23-21 win. The Tigers jumped out to a quick 10-0 lead, but Brock rallied back to hold a 21-17 halftime edge and the game settled into a defensive struggle in the second half. Keevie Rose's two yard touchdown run with just over three minutes remaining and a subsequent stop on defense lifted the Tigers to their first state title appearance in school history. Rose and RJ Carr combined for 166 yards rushing on the night and Carr's 30-yard reception on the game winning drive proved to be key for the Tigers, while their speedy defense held Brock in check after a shaky second quarter.
Grandview's playoff path has been filled with outstanding teams as well, the Zebras own playoff wins over defending state champion Rockdale, unbeaten Woodville, along with one loss Franklin and East Chambers before last week taking down red-hot Yoakum 28-14. Yoakum moved the ball well between the 20's but twice they failed to come away with points in the red zone and the Bulldogs were 0-6 on fourth down conversions against the Grandview defense. Sophomore QB Dane Jentsch led the way for the Grandview offense with a pair of rushing touchdowns along with a score through the air.
The key matchup is can the Malakoff offense get more going on that stout Grandview defense, which despite only bringing one starter back from last year has managed to be even better than the unit that led them to the regional finals in 2017. If the Tigers offense can find some seams with Rose, Carr and sophomore QB Darion Peace they could be primed to avenge their loss to GHS in the regular season.
– Matt Stepp
Tepper's Preview & Prediction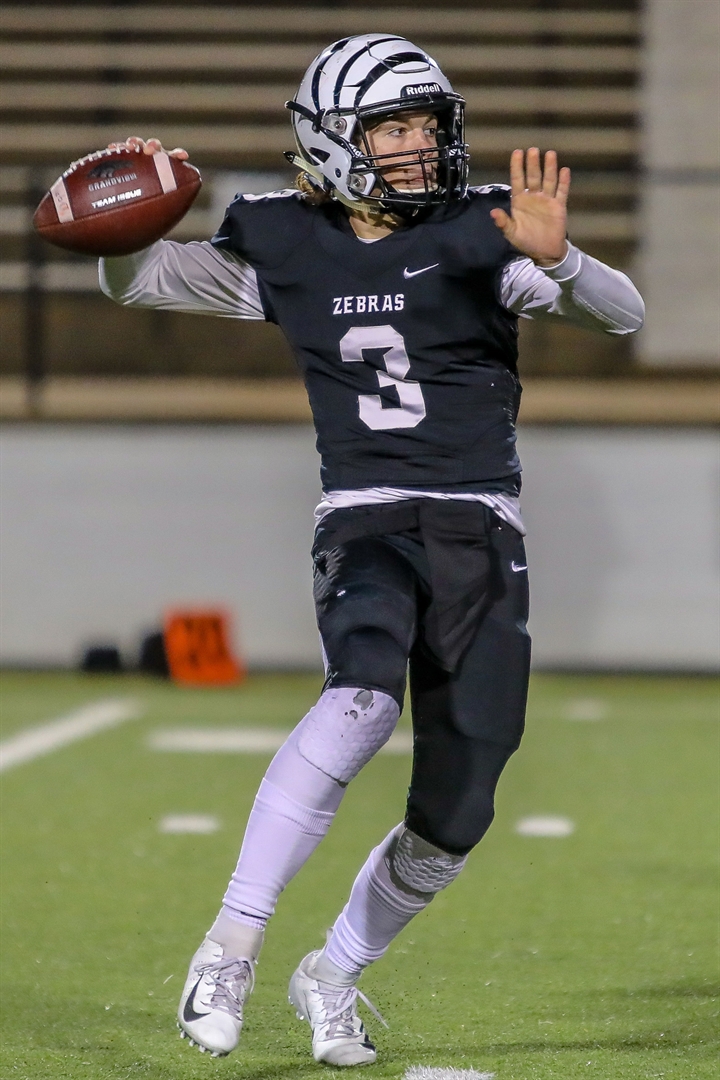 PLAYERS TO WATCH
MALAKOFF
Keevie Rose, RB (HUDL): Rose is the leader of a run-heavy Malakoff offense and the powerful back is an absolute workhorse. On his 200 carries this season, the feature back has accounted for 1,425 yards and 17 touchdowns. Rose is red hot after rushing for 124 yards and two touchdowns — including a game-winning touchdown late in the fourth quarter to take down Atlanta.
Darion Peace, QB (HUDL): Though just a sophomore, Peace has been an incredible weapon for the Tigers, throwing for 2,103 yards and 28 touchdowns. Perhaps more impressive has been the signal-caller's poise in the pocket — as he has thrown just two interceptions on nearly 198 passing attempts.
Parker Busch, LB (HUDL): The Tigers have allowed an average of just 17 points per game and the biggest reason for that is their size in the interior of their 4-3 defense. Busch is the anchor on the defense and is a 6'3 205-pound run-stuffer.
GRANDVIEW
Dane Jentsch, QB (HUDL): The Zebra offense relies heavily on the run and Jentsch is the driving force behind that effort. The elusive quarterback tallied 180 rushing yards and two touchdowns in last week's win over Yoakum.
Elijah Golden, RB (HUDL): Golden isn't the quickest guy on the field but at 6'0 and 185 pounds, he is a tackle-breaking machine. The bell-cow running back ran for 92 yards and a touchdown last week.
Dametrious Crownover, DL (HUDL): At 6'7, Crownover has given opposing offensive linemen trouble this season. The massive sophomore has already become a leader on the Zebras 3-5 defense and the Tigers will need to keep a keen eye on the big man.
— Ryan MacDonald
HOW TO WATCH
The game can be viewed on FOX Sports Southwest Plus and will be streamed on the Fox Sports Go app.
FOX Sports Southwest Plus is used by FOX Sports Southwest to simultaneously show multiple events on two channels and is available to all TV providers that carry FOX Sports Southwest.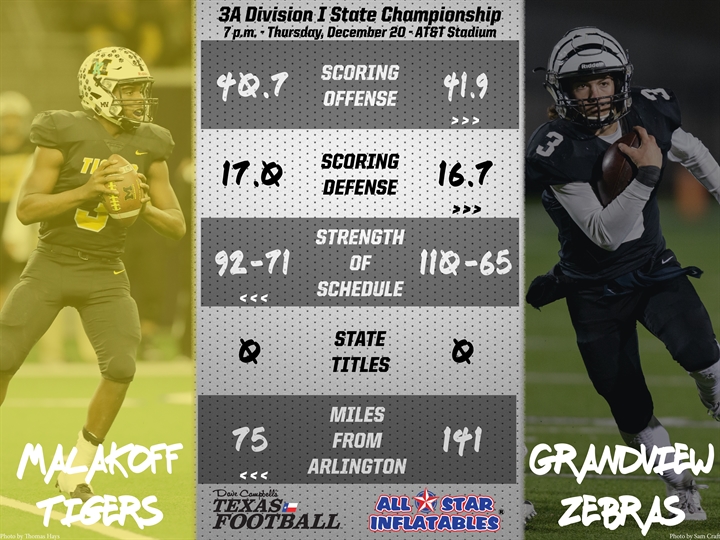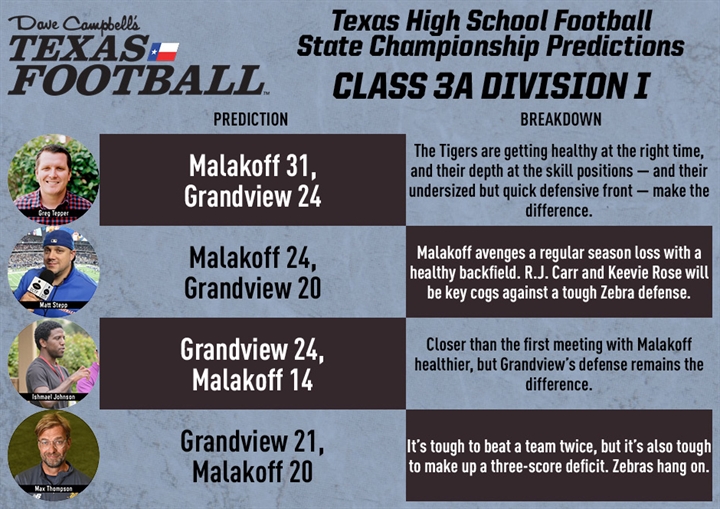 This article is available to our Digital Subscribers.
Click "Subscribe Now" to see a list of subscription offers.
Already a Subscriber? Sign In to access this content.