Duncanville (13-0) vs. Allen (14-0) 4:00 p.m. Saturday at Arlington's AT&T Stadium:
It's the matchup most fans in the DFW area have waited two years to see as unbeaten Duncanville gets its showdown with unbeaten Allen in the biggest stage of all, AT&T Stadium. Both teams are coming off dominating 51-7 regional final wins last week. Allen comes in with a 30-game winning streak, while Duncanville has won 24 of its last 25 games. It's got all the makings of an absolute classic. Both defenses forced numerous turnovers in the wins last week (Duncanville's five vs. Southlake Carroll and Allen's four vs. Hewitt Midway) and both offenses are led by major FBS recruits at QB, Duncanville by four-star junior QB Ja'Quinden Jackson and Allen's Grant Tisdale who is committed to Ole Miss.
The key in this game is which offense's supporting cast can make plays and rise to the occasion, both defenses are going to be laser-focused on corralling the dynamic playmakers at the QB spot. That edge goes to Allen, Celdon Manning and WR Theo Wease have been outstanding all season long and in these big moments on the big stage it's really hard to put your money on anyone but the Allen Eagles, until proven otherwise.
Stepp's Pick: Allen by 4
Galena Park North Shore (14-0) vs. Lake Travis (12-1) 2:00 p.m. Saturday at Houston's NRG Stadium:
Last week, Lake Travis played what amounted to a road game in a hostile environment against a very talented Converse Judson, but the Cavaliers came away with an impressive 38-21 win. LTHS must do the same this week against an even more talented squad as it heads east on Highway 290 to take on unbeaten Galena Park North Shore. Lake Travis' stars stepped in the key moments last week in the win over Judson as Texas commit QB Hudson Card threw for 309 yards and four touchdowns, with Ohio State commit WR Garrett Wilson hauling in three of those scores. This week, the underrated Lake Travis defense will deal with offense loaded with playmakers who have speed to burn in North Shore.
The Mustangs admittedly didn't play their best game of the year last week and still earned a comfortable 38-21 win over defending Division II state champion Cy-Fair. Junior RB Zach Evans, who many consider in recruiting circles to be the top 2020 running back in the entire country, accounted for four rushing touchdowns and a receiving touchdown, while sophomore QB Dematrius Davis accounted for 389 yards offense in the victory. North Shore's defense struggled a little at times with Cy-Fair's slow paced bruising offense that was very precise in the playaction passing game. They'll matchup a little better in space with the more wide open Lake Travis offense, and with injuries being a concern for the Lake Travis offensive line, North Shore will definitely want to try and rush QB Hudson Card to prevent him from picking apart the Mustangs secondary. It's tough for me to pick against Lake Travis in these situations, but North Shore's won some big games recently and it's track record has been better than LT's previous opponent Judson. The edge goes to North Shore, at home and with what looks to be a better defense, but this will easily be the biggest test of the season.
Stepp's Pick: Galena Park North Shore by 3
Amarillo Tascosa (11-3) vs. Longview (14-0) 8:00 p.m. Saturday at Arlington's AT&T Stadium:
Amarillo Tascosa is the surprise story of the 6A playoffs without question. The Rebels are the first team from the city of Amarillo to advance to the state semifinals since 1992 and are peaking at the right time. Last week, Tascosa rolled past previously unbeaten Haltom 48-27 behind RB King Doerue's huge night. The Purdue commit ran for 137 yards and three touchdowns and also hauled in an 83-yard scoring pass from QB Joseph Plunk who is a total operator of the Tascosa flexbone attack. RB De'Andre Campbell had a big game as well chipping in 118 yards rushing and two scores and Plunk topped the 100-yard mark on the ground as well.
Longview's defense will have its hands full, but the Lobos are peaking at the right time as evidenced by a stellar performance in a 14-0 win over Spring Westfield last week. Longview's offense played its worst game of the year, but a lot had to do with Westfield who has one of the state's top defenses. The Lobos turned the ball over four times. But Westfield was unable to take advantage and, in the second half, LHS got going as Jesse Anderson ran for 106 yards and a touchdown, while junior QB Haynes King threw a fourth quarter scoring pass to salt the game away. Don't expect back-to-back sloppy efforts from the Longview offense. The Lobos should be able to thrive indoors with their variety of playmakers and unique ways to attack a defense from multiple offensive sets. The real matchup here is watching Longview's defense try to contain Tascosa's attack which is clicking at an incredibly efficient rate. Longview has some experience playing this offense going back to its days playing John Curtis out of New Orleans in non-district a few times. If the Lobo defense comes out and set the tone early they should be fine. But if Tascosa finds its stride, this will be a wild nightcap at AT&T Stadium.
Stepp's Pick: Longview by 13
Beaumont West Brook (12-2) vs. Austin Westlake (13-1) 4:00 p.m. Saturday at Katy's Legacy Stadium:
There's no question that Austin Westlake comes into this game beat up as the Chaps are on their backup QB and by the end of last week's 26-0 win over San Antonio Brandeis, were down to their third string running back. None of that mattered to David Neil and that Chaps defense that totally smothered Brandeis holding the Broncos to just 52 yards of offense and three first downs. In fact, it's the second straight playoff shutout from that unit as two weeks ago it knocked off Edinburg Vela. Westlake needs to ride that defense again this week taking on a very explosive offense from Beaumont West Brook.
The Bruins led by three-year starting QB L'Raven Elia jumped out to a big led early and held off a late Cypress Creek charge in a 31-21 win last week. The big question for West Brook will be the health of RB Robert McGrue who only had seven carries for five yards last week. He was held out of most of the second half, but WBHS had a big lead. The Bruins need all hands on deck if its offense wants to move the ball with any consistency against the Westlake D. The X-factor is Westlake WR Mason Mangum. Even with the Chaps' struggles on offense, Mangun has stepped up when Westlake has needed a big play in the passing game. Expect a low-scoring slugfest and that's just how head coach Todd Dodge's team likes to play.
Stepp's Pick: Austin Westlake by 7
Denton Ryan (14-0) vs. Highland Park (14-0) Noon Saturday at Arlington's AT&T Stadium:
For the third straight season, Denton Ryan meets up with Highland Park in the Class 5A Division I semifinals and for the second straight year, both teams come into this one unbeaten. Denton Ryan has fallen to the Scots in back-to-back seasons, but with an absolutely fearsome defensive front, the Raider faithful are hoping that this is the year they can get back to the state title game. Last week, Denton Ryan's defense was suffocating in a 28-0 win over Birdville. The Raiders held the Hawks to just six first downs and 118 yards of offense. Denton Ryan hasn't allowed a point in the playoffs through 10 straight quarters.
Highland Park needed a miracle fourth quarter rally to escape John Tyler in a 42-35 win. The Scots trailed the Lions 35-14 in the fourth quarter when QB Chandler Morris and the HPHS offense woke up scoring four straight touchdowns to snatch victory from the jaws of defeat. Morris tossed a pair of touchdown passes and ran for two scores, including the game-winner with nine seconds left. Credit to Highland Park's defense, which had been gashed all day, but stepped up in the fourth quarter when it counted. Highland Park's quick passing game and high level of execution has given Denton Ryan all kinds of problems, especially a year ago when it routed the Raiders. Until the Raiders prove otherwise, you've got to think Highland Park gets the edge in this one, despite Denton Ryan's defensive dominance.
Stepp's Pick: Highland Park by 9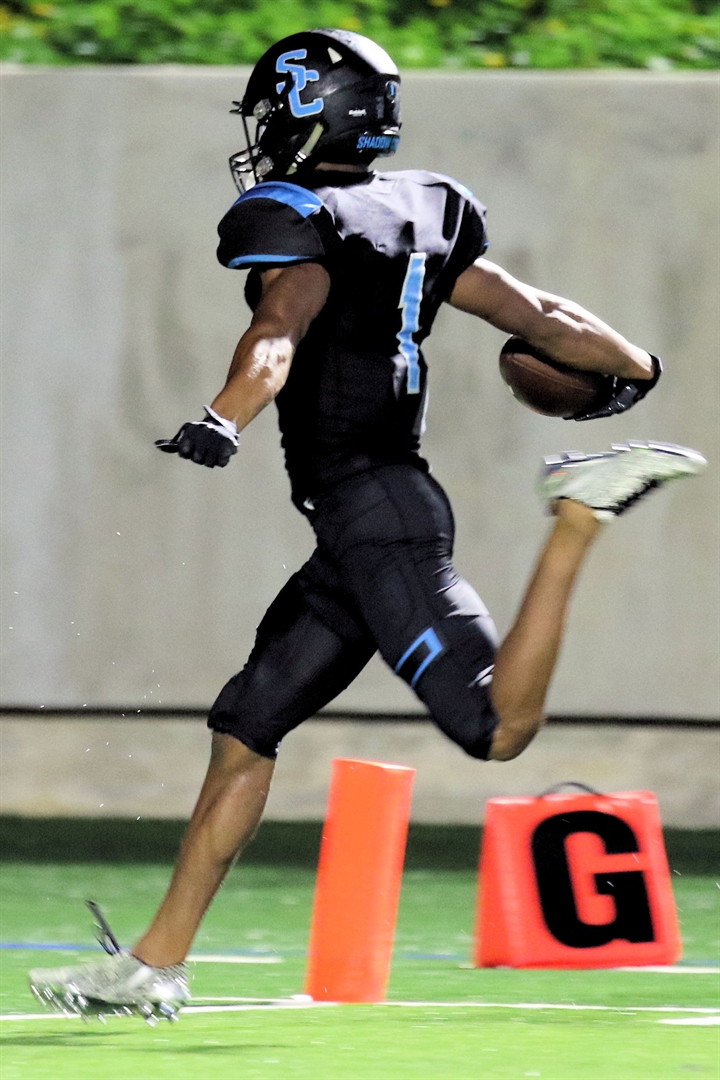 Alvin Shadow Creek (14-0) vs. San Antonio Wagner (13-1) 6:00 p.m. Saturday at Houston's NRG Stadium:
Shadow Creek's dream season continued Saturday with a hard-fought win over district rival Richmond Foster 25-21 at the University of Houston. The Sharks dug themselves quite the hole at 21-7, but led by QB Jamarian George and three second half rushing touchdowns, the Sharks found a way to keep their first varsity season alive another week. The Sharks' defense was sensational against the run all day and after some shaky moments in the secondary in the first half, cleaned things up and held Foster in check for most of the second half.
San Antonio Wagner rolled past Mission Veterans Memorial 54-21 last week as L.J. Butler and Karleton Black combined for 329 rushing yards and five touchdowns, as the Thunderbirds' flexbone rolled past the last remaining Rio Grande Valley team. Wagner has to find a way to throw the ball at least a little bit this week if it wants to move the ball against that Shadow Creek defense. Wagner has been the biggest and fastest team in every game the Sharks have played, except for in their one loss. They won't be the biggest and fastest team in this game and I'm not sure they'll respond well to not being able to physically bully and intimidate their opponent.
Stepp's Pick: Alvin Shadow Creek by 10
Wichita Falls Rider (9-5) vs. Aledo (14-0) 8:00 p.m. Friday at Arlington's AT&T Stadium:
One of the state's biggest surprises come playoff time is the Wichita Falls Rider Raiders who, after a 5-5 regular season, have caught fire in the playoffs winning four straight games, including last week vanquishing unbeaten Lubbock Cooper and avenging a loss in district play. Sophomore QB Jacob Rodriguez accounted for 437 yards and four total touchdowns to pace the Raiders to a 38-35 win. The test for the Raiders is even bigger this week with powerhouse Aledo, who played for the state title a year ago and owns seven state titles and six since 2009.
The Bearcats knocked off Frisco Reedy 26-16 last week in a battle of unbeaten teams as RB Jase McClellan who ran for 185 yards and three touchdowns. McClellan has stepped up in these big playoff moments the past two years and with talented sophomore WR JoJo Earle in the fold. Defenses aren't able to load the box just to stop McClellan and that has made the Bearcats an even tougher out in the playoffs. Combine that elite skill talent with Aledo's dominance up front and the Bearcats should roll to another state championship appearance.
Stepp's Pick: Aledo by 24
Fort Bend Marshall (14-0) vs. Corpus Christi Calallen (13-1) 7:30 p.m. Friday at San Antonio's Farris Stadium:
Fort Bend Marshall appeared to be destined for another playoff disappointment last week, trailing Huntsville 43-40 and facing a last gasp fourth down attempt at midfield. That was before Devon Achane pulled off one of the more improbable plays you'll see when took a designed reverse and stopped on his own and threw a desperation pass when it looked like he'd be tackled for a loss to end the game. The pass was caught by Dalevon Campbell and 47 yards later after breaking two tackles he crossed the goal line for the eventual game winning score and a 47-43 Fort Bend Marshall win. Achane finished with 112 yards and three touchdowns rushing, 95 receiving yards and a touchdown and that 47-yard touchdown pass to win the game. This week, the Buffaloes look to play for their first state title in school history taking on Corpus Christi Calallen who is led by the winningest coach in state history Phil Danaher.
The Wildcats rolled past Port Lavaca Calhoun 48-17 last week as Calallen QB Jarrett Garza ran for 230 yards and three touchdowns, while bruising RB A.J. Brown has over 100 yards of total offense as Calallen scored 34 straight points after falling behind 17-14 in the second quarter. Calallen will be at a significant disadvantage at every skill position in this game. The only path to victory for the Wildcats will be to churn out yards and clock with that Wing-T offense and hope that an aggressive defense can force some mistakes from the Fort Bend Marshall playmakers. If Calallen can limit the possessions, score on nearly every drive and force a Marshall turnover or two that's the path to an upset, anything less will result in a lopsided loss. Phil Danaher has pulled magic out of the hat before, can he do it again?
Stepp's Pick: Fort Bend Marshall by 17
Decatur (8-6) vs. Waco LaVega (12-2) 4:00 p.m. Friday at Arlington's AT&T Stadium:
Decatur stumbled down the stretch and finished in fourth place in its district with a 4-6 record, yet here the Eagles are in a state semifinal after four straight wins including a 38-28 win out in Lubbock last week against Hereford. The Eagles are led by QB Roman Fuller and didn't let the cold weather or West Texas wind impact its attack as RB Gunner Ragsdale ran for three touchdowns and Fuller and the passing game kept the Hereford defense off balance.
This week, Decatur's stout rushing defense faces a major task taking on a Waco LaVega squad that has been dominating. Last week, the Pirates had a monster game from RB John Richards and ended Argyle's unbeaten season with ease in a 31-14 win. Richards ran wild against the Eagles in the rain churning out 217 rushing yards and four touchdowns. This game will be indoors so expect the speedy and fleet-footed backs that LaVega also has in its arsenal to see plenty of work, but what sets this LaVega team apart is its defense which is one of the fastest and most physical units you'll see at the Class 4A level.
Stepp's Pick: Waco LaVega by 14
Carthage (14-0) vs. Liberty Hill (12-1) 7:30 p.m. Friday at Cypress' Cy-Fair FCU Stadium:
Carthage puts its 40-game winning streak on the line this week in the Houston area and this could be one of its toughest tests during that streak taking on the deadly efficient Slot-T offense of Liberty Hill. Last week in a driving rain storm, Carthage muscled out a 28-7 win over arch-rival Henderson as the Bulldogs held Henderson to just 57 yards of total offense in the win. Carthage's offense stuck to the rushing game on its end and Tucker Smith ran for 224 yards and a touchdown to help grind out the victory.
Liberty Hill dug itself an early hole against pesky LaVernia but pulled away late for a 35-17 win last Saturday. The Panthers surprised everyone with a 61-yard touchdown pass hauled in by Kyle Harrison that gave the Panthers the lead for good at 21-17 in the third quarter. Harrison finished with 208 yards rushing and a pair of touchdowns on the afternoon. Four Liberty Hill fumbles lost certainly played a role in the Panthers struggling early on, but once they were able to consistently secure the ball, LaVernia had no answers for the Liberty Hill rushing attack. There's not many teams who can devise a game plan to slow the Slot-T offense in a week, but Scott Surratt and that Carthage staff might be the best group in the state, they've got an extra day of game prep on Liberty Hill and a pedigree of six state titles. It'll be a close one, but the edge goes to Carthage until proven otherwise.
Stepp's Pick: Carthage by 2
Iowa Park (9-5) vs. Texarkana Pleasant Grove (12-2) 8:00 p.m. Friday at Frisco's Ford Center:
Iowa Park is playing in a state semifinal for the first time since 1970 after upsetting Glen Rose 31-28 last Friday. The Hawks won the game with just eight seconds remaining as Trent Green scored on a two-yard run helping IPHS rally from a 28-17 deficit with 4:01 left. Green had a monster evening for the Hawks throwing for 203 yards and three touchdowns and rushing for 70 yards and the game winning score. Now Iowa Park looks to take down another heavily favored team in defending 4A Division II state champion Texarkana Pleasant Grove.
The Hawks held off a tough Pittsburg squad earning its second win of the season over the Pirates 44-41 as RB Bruce Garrett ran for 220 yards and three touchdowns and Tyler Kelley's 47-yard interception return in the second quarter proved to be vital in the Hawks earning their 10th straight playoff win. The key in this matchup is Iowa Park's defense standing up to that Pleasant Grove Wing-T offense. The Hawks wear you down with Garrett and James Wiggins and then break your will with a lethal passing attack led by QB Ben Harmon.
Stepp's Pick: Texarkana Pleasant Grove by 16
Silsbee (10-4) vs. Cuero (13-1) 7:30 p.m. Friday at Katy's Legacy Stadium:
There were a lot of firsts for Silsbee Friday night when the Tigers knocked off bitter rival West Orange-Stark for the first time since 2009. The win also gave Silsbee its first regional title since 1977, and on the first play of the 19-9 victory, it scored a touchdown as QB Raymond Foster found WR Darshon Turk for a 75-yard touchdown and that set the early tone for Silsbee whose defense shut the Mustangs out in the second half ending WOS's run of four straight Region III titles. This week the Tigers look to pull another upset taking on powerful Cuero who is playing as well as any team in the state at the moment.
Last week, the Gobblers rolled past Geronimo Navarro for the second time this season, 48-23, in a game that wasn't as close as the score indicated. Cuero rolled out to a 48-0 fourth quarter lead before taking its foot off the gas some. Texas commit Jordan Whittington ran for 101 yards and three touchdowns on just five carries, with Kieran Grant chipped in 106 yards rushing and two touchdowns on just eight carries as the Gobblers set the tone early and never looked back. Silsbee will be the most athletic team Cuero has seen all year and its defense will be a major test, but Cuero is senior-laden and playoff experienced. We'll give the edge to the Gobblers against a red hot Silsbee squad from the Golden Triangle.
Stepp's Pick: Cuero by 3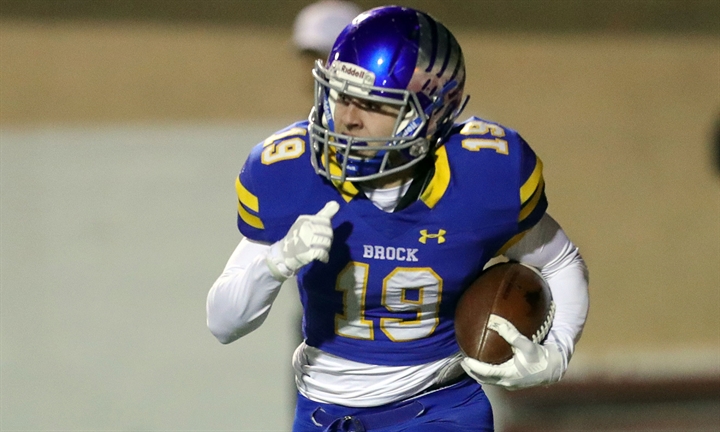 Brock (13-1) vs. Malakoff (11-2) 4:00 p.m. Friday at Frisco's Ford Center:
Brock had to scratch and claw last week to avoid a quarterfinal exit as the Eagles knocked off previously unbeaten Shallowater 23-21 to advance to the state semifinals for the second straight year. Zakk Young's one-yard touchdown reception with five seconds left lifted the Eagles to the come-from-behind win. Young led the Brock rushing attack with 116 yards on 17 carries as well. This week Brock looks to tame a red-hot Malakoff squad that is peaking at the right time earning wins over Jefferson, Gladewater and Atlanta in consecutive weeks.
Last week in their 37-22 win over Atlanta, the Tigers welcomed back RB R.J. Carr who ran for 180 yards on just ten carries to lead MHS. Carr had been out since mid-September with an injury but looked as sharp as ever pacing the Malakoff attack. Adding Carr to the mix was massive as Malakoff has multiple options in the running game with junior Keevie Rose and sophomore QB Darion Peace also ran for 100 yards in the win. Overall, Malakoff rolled up 416 yards total on the ground in the win. Both teams love to ground and pound, Malakoff's got the speed edge, but Brock is so big and physical up front and they've got a bit more late round playoff pedigree than Malakoff so the edge goes to the Eagles in what should be a great one.
Stepp's Pick: Brock by 7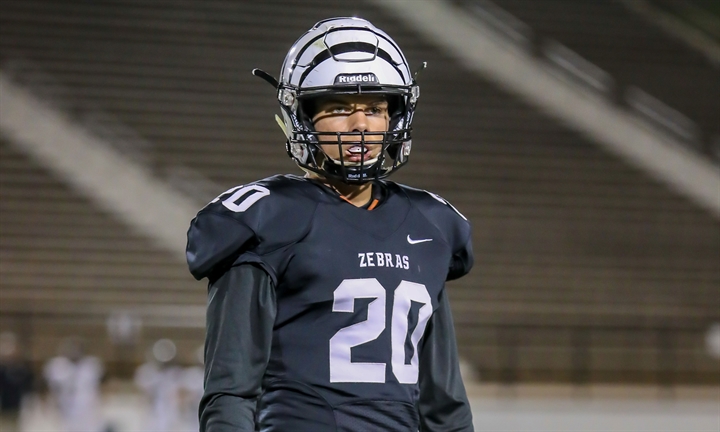 Grandview (12-2) vs. Yoakum (12-2) 7:00 p.m. Friday at Pflugerville's The Pfield:
Both teams graduated outstanding senior classes a year ago and were expected to be down this year, yet here we are in the state semifinals with one team looking at a spot in the state championship game. Despite six turnovers last week, Grandview had enough to hold off a tough East Chambers squad, knocking off the Bucs 36-35 in an overtime thriller on Saturday in Madisonville. The combination of sophomore QB Dane Jentsch and junior RB Elijah Golden along with an outstanding defense has been key to the Zebras' run in the playoffs.
After a heart stopping win over Goliad in the third round, Yoakum had no trouble the second time around blasting past Edna 42-6 as QB Hagen Garvin only completed five passes but they were incredibly effective as he threw for 169 yards and three touchdowns, while also chipping in a rushing touchdown as well. This one is a total toss up, but I give the nod to Yoakum, they've got a little more balance at the skill spots and I expect their defensive line to win the battle up front.
Stepp's Pick: Yoakum by 1
Canadian (13-1) vs. Gunter (14-0) 7:00 p.m. Friday at Vernon's Lion Stadium:
Will the third time be the charm for Canadian as the Wildcats have had no answers for Gunter in the state semifinals the last two seasons. This year, Canadian is hopeful a much-improved defensive unit is the key to solving the riddle that is the Gunter offensive attack. CHS used that defense last week to hold off a tough Abernathy squad, 19-7, last Thursday. QB Casen Cavalier led the way for the Wildcats throwing for two scores and rushing for another in the first half and, in the second half, it was the defense that was the story pitching a shutout as DB Josh Culwell picked off a pair of passes.
In a driving rain storm, Gunter knocked off Holliday for the second time this year, 27-6, as Dylan Jantz scored a pair of touchdowns and the Gunter defensive line dominated the game. Gunter's offense led by Jantz is dangerous. He's been a riddle Canadian has been unable to solve the last two seasons, but what has made Gunter especially tough is QB Ethan Everson who has emerged as a deadly accurate passer as well. Canadian keeps this one much closer than last year, but Gunter seems to have the Wildcats' number.
Stepp's Pick: Gunter by 10
Newton (13-0) vs. East Bernard (13-1) 7:00 p.m. Friday at Porter's Texan Drive Stadium:
Newton continues to simply destroy every team in its path as the Eagles look to win a second straight title. After a bit of a slow start, last week was no contest as NHS simply dismantled Daingerfield to the tune of 79-12. RB Darwin Barlow, a TCU commit, had a monster game rushing for 118 yards and four touchdowns and adding 114 receiving yards and a touchdown as Newton just blitzed Daingerfield from every direction rolling up 605 yards of offense as the Eagles won their 28th consecutive game. This week, they'll look to slow down the ball control Wing-T offense of East Bernard that pitched a 17-0 shutout last week in a win over Tidehaven.
The Brahmas' defense has been stout the last three weeks allowing just seven points, but Newton is just a different animal. The Eagles have three current FBS commits and at least three others who will likely earn FBS scholarships and that level of talent at this level is just a total mismatch. East Bernard's style of play keeps the score down and keeps the game competitive for a while, but Newton is just too much.
Stepp's Pick: Newton by 25
New Deal (13-0) vs. San Saba (14-0) 7:00 p.m. Friday at Abilene's Shotwell Stadium:
New Deal hasn't shown any signs of slowing down all year long and that trend continued on Thursday as the Lions rolled past Stinnett West Texas, 57-6. QB Jett Whitfield and Iowa State commit WR D.K. Blaylock continued its assault on opposing defenses and after a less than stellar effort two weeks on the defensive side of the ball, the Lions stymied the WTHS offense.
Fellow unbeaten San Saba is showing it can win the close games as well as after 12 straight blowout wins. The Armadillos the past two weeks have survived tough tests. Last week the 'Dillos knocked off DeLeon for the second time this season winning 31-14. SSHS converted three DeLeon turnovers into touchdowns and used its defense to hold off any Bearcat comeback attempts. QB Sean O'Keefe led the way on offense rushing for 164 yards and two touchdowns and throwing for 111 yards and a touchdown. It's been a story book season for San Saba and second year head coach Jerod Fikac, but New Deal's just got too much offensive firepower, expect a lot of points but New Deal gets the defensive stops late to win.
Stepp's Pick: New Deal by 11
San Augustine (12-2) vs. Mason (14-0) 7:30 p.m. Thursday at Waco's Waco ISD Stadium:
The Wolves won their second straight Region III title last week, pulling away from Tenaha for a 43-17 win. The Wolves led 21-17 late in the third quarter, but QB Tijay Thomas broke the game open with a 98-yard touchdown run that triggered 22 straight points down the stretch to allow SAHS to pull away. Thomas finished the night with 169 rushing yards and two scores, while RB Kevorian Barnes ran for 246 yards and four touchdowns.
After losing three straight games in the playoffs to Refugio, Mason got a measure of revenge on Friday stunning the Bobcats 28-14 at the Alamodome. QB Otto Wofford accounted for a pair of touchdowns but was ejected late in the first half for a targeting penalty. That loss didn't effect Mason whose defense played sensational picking off three passes and coming up with a key goal line stand in the third quarter. Mason looks to be a team of destiny right now and showed it could contain Refugio's speed, so look for them to handle another speedy squad in San Augustine.
Stepp's Pick: Mason by 10
Gruver (13-1) vs. Albany (9-5) 6:00 p.m. Thursday at Plainview's Sherwood Memorial Stadium:
Long-known as a basketball school In the panhandle, Gruver is showing it can do big things on the gridiron and the Greyhounds made quite the impression Thursday blowing out Stratford for the second time this year, 50-14. Gruver dominated from start to finish outgaining Stratford 553 to 187 as RB Brice McLaughlin led the way with 164 yards on the ground and two scores, while QB Keegan Kelp threw for 275 yards and two scores on the night.
Albany proved its regular season win over Hamlin was not a fluke as the Lions beat HHS for the second time this season, 41-28. QB Ben West led the way for Albany in the win throwing for 267 yards and five touchdowns and he also returned a fumble 47-yards for a touchdown in the fourth quarter to put the game away. After starting the season 0-5, Albany has rattled off nine straight wins and looks like a team that could be in line to return to the state title game for the first time since 2015.
Stepp's Pick: Albany by 3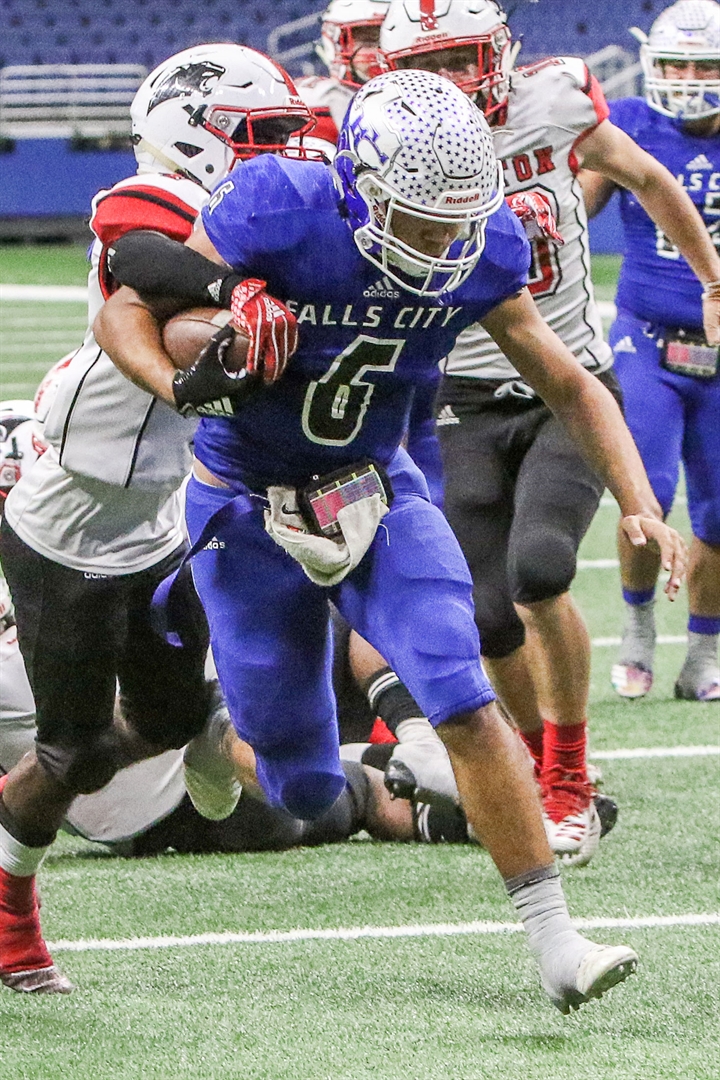 Mart (13-1) vs. Falls City (14-0) 7:00 p.m. Thursday at Georgetown's Georgetown ISD Stadium:
Mart was scary good last Thursday night, in a battle of defending state champions the Panthers left no doubt in a 59-0 demolition of Muenster. Sophomore QB Roddrell Freeman stepped in for injured QB Kyler Martin and immediately showed he was more than ready for the spotlight rushing for a touchdown and throwing touchdown pass giving Mart a quick 14-0 lead less than three minutes into the game and the Panthers never looked back. Muenster had no answers for Mart's physical play on defense and despite that unit not getting many of the headlines, it may be its best unit.
Falls City avenged three straight playoff losses to Burton with a heart stopping 30-28 win on Thursday night at the Alamodome. The Beavers were led once again by Keyshawn Johnson who ran for 232 yards and a touchdown and also threw a pair of touchdown passes in the victory. The Beavers had some trouble with Burton's speed and Mart simply brings a different element with speed at nearly every position and that gives them a huge edge over pretty much every team at this level. Falls City hangs around for a half, but the Panthers overwhelm the Beavers in the second half.
Stepp's Pick: Mart by 19