Arlington Lamar (11-1) vs. Duncanville (11-0) 7:30 p.m. Friday at Mansfield's Newsom Stadium:
Arlington Lamar appeared well on its way to an easy win over Odessa Permian, jumping out to a 21-0 lead in the first quarter. The Vikings held off a furious Permian rally in the second half however, securing a 49-35 win and a date with unbeaten Duncanville. QB Jack Dawson put up big numbers with 377 yards of total offense and five touchdowns, but he threw three interceptions. He can't afford a repeat this week against an outstanding Duncanville secondary that feasts on turnovers.
In last week's 38-0 win over Lewisville, the Duncanville defense held Lewisville to 102 yards of offense and intercepted three passes, including one interception return for a touchdown. The Duncanville offense didn't put up huge numbers, but didn't need to with the effort of its swarming defense. That elite defense for Duncanville has been the catalyst all season and should once again make the difference in this outstanding matchup.
Stepp's Pick: Duncanville by 12
Katy (11-1) vs. Galena Park North Shore (12-0) 7:00 p.m. Friday at Houston's NRG Stadium:
It's a rematch of a Week 1 showdown which was won by North Shore 35-21 in Katy. Both teams have been dominant since that matchup as Katy has rattled off eleven straight wins and North Shore hasn't played a game closer than 32 points. Katy's offense got off to a fast start in last week's 58-14 win over Jersey Village scoring on the first play of the game and never looking back. Sophomore QB Bronson McClellan threw three touchdown passes, while RB Deondrick Glass returned from an injury and looked to be in top form rushing for 174 yards and three touchdowns as Katy's offense rolled up 613 yards. They will have a much tougher challenge this week against the North Shore defense that's been lights out all year.
Last week, the Mustangs totally dismantled a very good Dickinson team 65-21, NSHS jumped out to a 28-0 lead as QB Dematrius Davis and RB's Zach Evans and John Gentry broke off big play after big play and the Gators simply had no answers. Evans finished with 218 yards rushing and four total touchdowns as he saw his heaviest workload in quite sometime as in the majority of the Mustangs wins, Evans has been on the bench by halftime. That's the only real question with this North Shore squad, how will they fare in a four-quarter fight? There's not a ton of depth, so if Katy can manage to hang within a score in the final frame could its depth be key to pulling the upset? We like North Shore in this one, but it's going to be a classic.
Stepp's Pick: Galena Park North Shore by 8
Longview (12-0) vs. Austin Vandegrift (12-0) 6:00 p.m. Saturday at Waco's McLane Stadium:
It's a Saturday night battle of unbeatens as Longview meets up with a Vandegrift squad that's one of the best in Central Texas, but has flown under the radar most of the year. Longview had no troubles with Prosper on Saturday night rolling past the Eagles, 63-17, as junior QB Haynes King threw for three touchdowns and ran for two more as Longview's offense rolled up 503 yards of offense and seven Lobos found the end zone. Longview's offense will see maybe its toughest test to date as it goes against a Vipers defensive unit that is very stingy.
Vandegrift has only allowed over 20 points in three games this year and one of those was last week in a 28-21 overtime win over Klein Collins. WR Trey Mongauzy led the way for VHS with ten catches for 152 yards and the game winning touchdown reception in overtime. Vandegrift made a habit this year of winning close games. It has four wins this season of single digits, so if this one is tight down the stretch, the edge goes to the Vipers. However, Longview's offense is rolling at such a high level right now, the Lobos' balance and number of different weapons makes them really fun to watch and I expect them to keep that train rolling this week.
Stepp's Pick: Longview by 10
San Antonio Brandeis (10-2) vs. Brownsville Hanna (10-1) Noon Saturday at San Antonio's Alamodome:
The Rio Grande Valley's best will invade the Alamodome on Saturday looking at a chance to make some history, for Brownsville Hanna history has already been made as the Eagles are in the third round of the playoffs for the first time. Hanna last week knocked off a tough Eagle Pass squad playing their best football of the season 28-13, behind a tough defense and three touchdown runs from RB Cesar Mancias. Hanna will need that balanced offense to step up again this week in a place that's been a house of horrors for Valley teams in years past.
Their opponent will be a tough team to handle as well as the Brandeis Broncos are making a little history of their own after knocking off Cibolo Steele for the first time in school history last week, 31-16. The Bronco defense forced six Steele turnovers and QB Jordan Battles led an efficient offense accounting for 232 yards of offense and three touchdowns. Hanna is a very strong team from the Valley. The team owns a win over Amarillo Tascosa who is still alive in the playoffs as well, but the third round has been a major road block for teams from the Valley and playing this one in San Antonio makes for a tough hill to climb.
Stepp's Pick: San Antonio Brandeis by 17
Tyler John Tyler (9-2) vs. Frisco Lone Star (10-2) 2:00 p.m. Saturday at Dallas' Kincaide Stadium:
Frisco Lone Star had other ideas about an all East Texas third round matchup as the Ranger defense again proved to be too much and rolled past favored Lufkin, 49-21, in Waco on Saturday. QB Julian Larry accounted for 286 yards of offense and five touchdowns, while the Lone Star defense forced six Lufkin turnovers to pull away in the second half for the big win.
John Tyler's defense had a great effort last week as well as the Lions stepped up in the red zone when it counted most for a 22-10 win. The CUJO offense didn't light things up but much like the defense, when the Lions needed it most, they were able to pull out the big plays. The key matchup to watch in this one, is can the John Tyler rushing attack move the ball against that stout Lone Star defense? If John Tyler's ground game can get going, the Lions will take this one. But if Lone Star turns the Lions into a passing only team, they aren't efficient enough to get the job done. The edge in this one goes to Lone Star who could be peaking at the right time.
Stepp's Pick: Frisco Lone Star by 6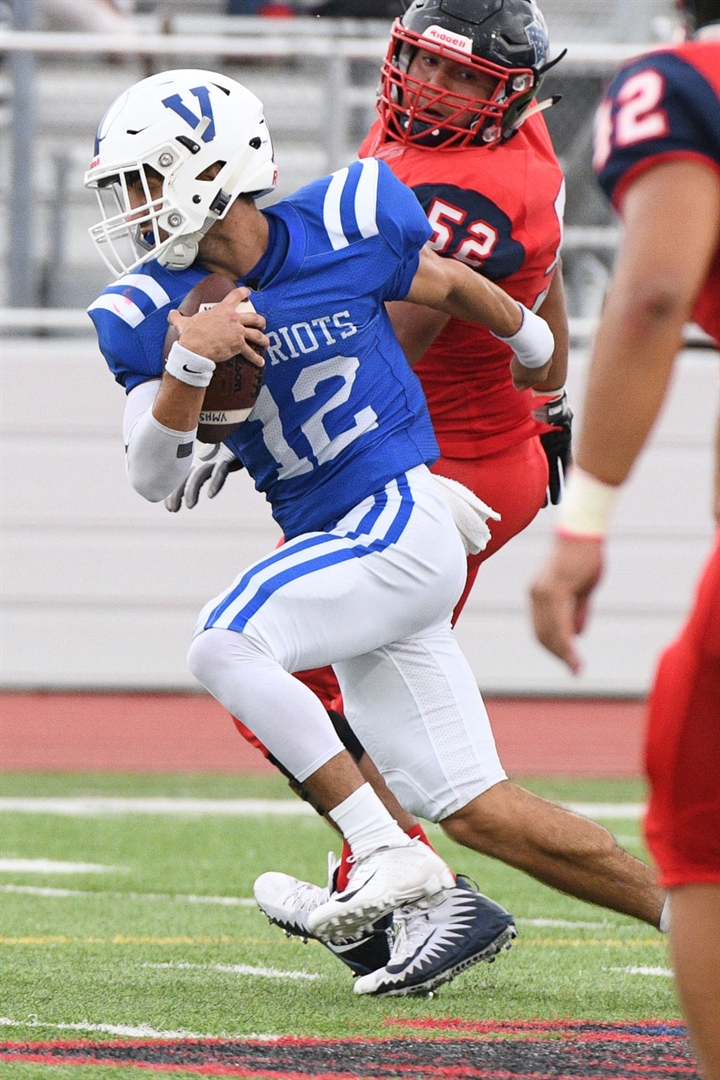 Corpus Christi Veterans Memorial (12-0) vs. Mission Veterans Memorial (11-1) 8:00 p.m. Saturday at San Antonio's Alamodome:
It's another Veterans Memorial vs Veterans Memorial matchup as Corpus Christi Vets (the Eagles) takes on Mission Vets (the Patriots) in the finale of a tripleheader at the Alamodome. Corpus Christi Vets rolled past San Antonio Harlan, 58-21, behind a first half surge led by David Horne who intercepted a pass and blocked a punt to stake the Eagles to a 14-0 lead and they never looked back. Versatile David Soto accounted for three touchdowns as well as the Eagles were dominant in all three phases.
Mission Vets had no problems either in their 48-23 win over San Antonio Veterans Memorial last week. The Patriots got another huge game from QB Landry Gilpin who had 522 yards of offense and seven total touchdowns, in two playoff games the senior signal caller has accounted for 15 total touchdowns. The Patriot defense, which doesn't get many headlines, had one of their best games of the year holding San Antonio Vets to just nine points through three quarters before allowing a couple of late touchdowns. Corpus Christi Vets has been widely regarded as South Texas' best big school team and although Mission Vets is playing its best football of the season, the team from Corpus has just a few too many playmakers.
Stepp's Pick: Corpus Christi Veterans Memorial by 11
Lubbock Cooper (12-0) vs. Justin Northwest (10-2) 4:00 p.m. Friday at Abilene's Wildcat Stadium:
The two teams with the best records remaining in 5A Division II Region I square off in the first game of a double header at Abilene Christian on Friday. Unbeaten Lubbock Cooper had no troubles last week with El Paso Austin, blasting the Panthers 45-0 behind a stout defense and the running of Isaiah Johnson, who since transferring in from Lubbock High and becoming eligible has added a big play element to the unbeaten Pirates' attack. This week Cooper's defense gets a major test as the Northwest offense comes in on a roll having scored at least 48 points in eight straight games.
Last week was more of the same from the Texans who got 386 passing yards and three touchdowns from QB Austin Ahmad in the 48-14 win over El Paso Burges. Northwest has rolled up an impressive run recently but the level of competition in those wins hasn't been the best by any means, this will easily be its toughest test in two months and that Lubbock Cooper defense could be the big difference in this one.
Stepp's Pick: Lubbock Cooper by 5
Aledo (12-0) vs. Dallas South Oak Cliff (11-0) 7:30 p.m. Friday at Midlothian's Midlothian ISD Stadium
It's a battle of unbeatens as state powerhouse Aledo looks to continue its march towards another state title, but the team will see what is easily its toughest test of the year this week with a hungry SOC team looking to change perceptions of Dallas ISD football. Aledo rolled past Lovejoy last week, 62-28, as the Bearcats got 308 rushing yards and four touchdowns from RB Jase McClellan as the Bearcats jumped out to a 28-0 lead and never looked back.
SOC went on the road last week to Frisco and rolled past the Raccoons 48-16 as QB Sean Simms accounted for four touchdowns and the Golden Bears defense forced three turnovers. SOC had two turnovers of its own in the win and can't afford to put the ball on the ground against a team with Aledo's pedigree. If the Golden Bear defensive line can hold their own against what is a stout Aledo offensive line and pressure Aledo's QB when it decides to take to the air, the Golden Bears have a chance, but if Aledo's O-Line is their usual dominant selves, the Bearcats will simply wear SOC down in the second half.
Stepp's Pick: Aledo by 15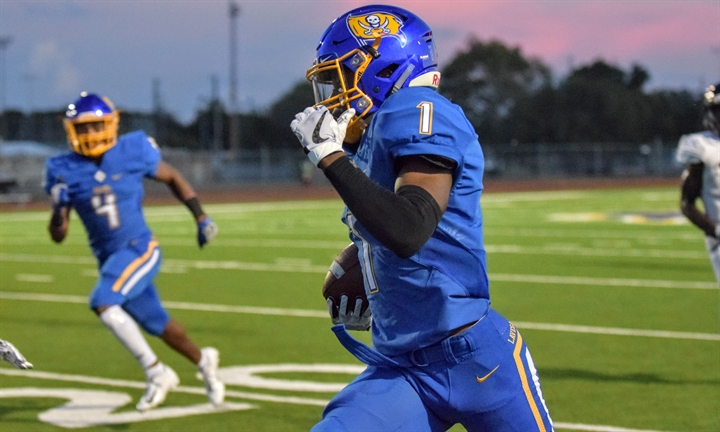 Waco LaVega (10-2) vs. Paris (9-2) 7:30 p.m. Thursday at Frisco's Ford Center:
One of just three Thursday night games in the state, powerful LaVega gets another big test in upstart Paris who is making some playoff waves for the first time since its improbable run to the state championship back in 1988. LaVega has the look of a team that's getting better each and every week and it showed last week as the Pirates dismantled Melissa, 68-21. LaVega had 10 rushing touchdowns on the night led by Jar'Que Walton who ran for 175 yards and four touchdowns, while John Richards rumbled for 149 yards and a touchdown as well. Paris has one of the best defensive fronts in the state and their athletic defense will certainly be a big test for LaVega's offense.
Paris' defense was key last week in containing the explosive Kennedale Wing-T attack in a 35-17 win. The Wildcat defense had two touchdowns of their own and held Kennedale to just 176 yards on the ground. Paris loves to run the football as well. They use as many as six different backs with Dorian Williams doing the most damage, but in this game the Wildcat passing game led by QB Kobe Savage may need to come up big to keep a fast, aggressive and nasty LaVega defense at bay. Expect a physical, old school, slugfest in this one, with the edge going to LaVega due to playoff experience and being more disciplined as Paris is prone to turnovers and penalties.
Stepp's Pick: Waco LaVega by 10
Midlothian Heritage (11-1) vs. Carthage (12-0) 7:30 p.m. Friday at Frisco's Ford Center:
Midlothian Heritage has without a doubt set the standard for new programs success going 34-4 in its first three years, but the Jaguars have yet to advance past the third round of the playoffs losing two point heartbreakers in back to back years to Kennedale. That wall will be a tough one to climb this week as it takes on back-to-back defending state champion Carthage who comes into this game holding the state's longest winning streak at 38 games. Midlothian Heritage had no trouble rolling past Navasota last week, 49-9, behind three touchdown passes from Landon Ledbetter and two defensive touchdowns from Noah Parker.
Carthage had no trouble last week dispatching of Huffman-Hargrave, 46-0, as QB Gunnar Capps tossed a pair of touchdown passes and the Carthage defense came up big with four interceptions. The big matchup here is the Carthage defense against that dynamic passing attack of Heritage. If the Bulldogs can pressure Ledbetter and force early and hurried throws, the Bulldogs will roll as their offense will be a real challenge for Midlothian Heritage to slow down. However, if Midlothian Heritage is allowed to get in rhythm and push the pace, it's more than capable of ending the Bulldogs streak. Carthage has played two playoff games at the Ford Center and both have been close, so look for another close CHS win again this week.
Stepp's Pick: Carthage by 7
Pittsburg (9-3) vs. Lorena (11-1) 7:30 p.m. Friday at Royse City's Royse City ISD Stadium:
Pittsburg survived a test from upstart Rusk last week and advanced to the third round with a 36-21 win. QB Jaylon Jimmerson led the way for the Pirates accounting for four touchdowns, 276 yards of offense and he added an interception on the defensive side of the ball. Lorena jumped out big on Texarkana Liberty-Eylau last week leading 30-13 at the half and taking a 36-13 edge in the third quarter, but LHS had to hold off a furious rally from L-E in the 51-43 win.
QB Bradley Lina led the way with 290 passing yards and five touchdowns, he also kicked a field goal in the victory as well. Lorena is going to have a major edge up front in this game and with depth as Pittsburg didn't carry 30 regular varsity players during the regular season. If the Leopards can contain the explosive Pittsburg skill talent and control the clock, they should wear the Pirates down in the second half.
Stepp's Pick: Lorena by 10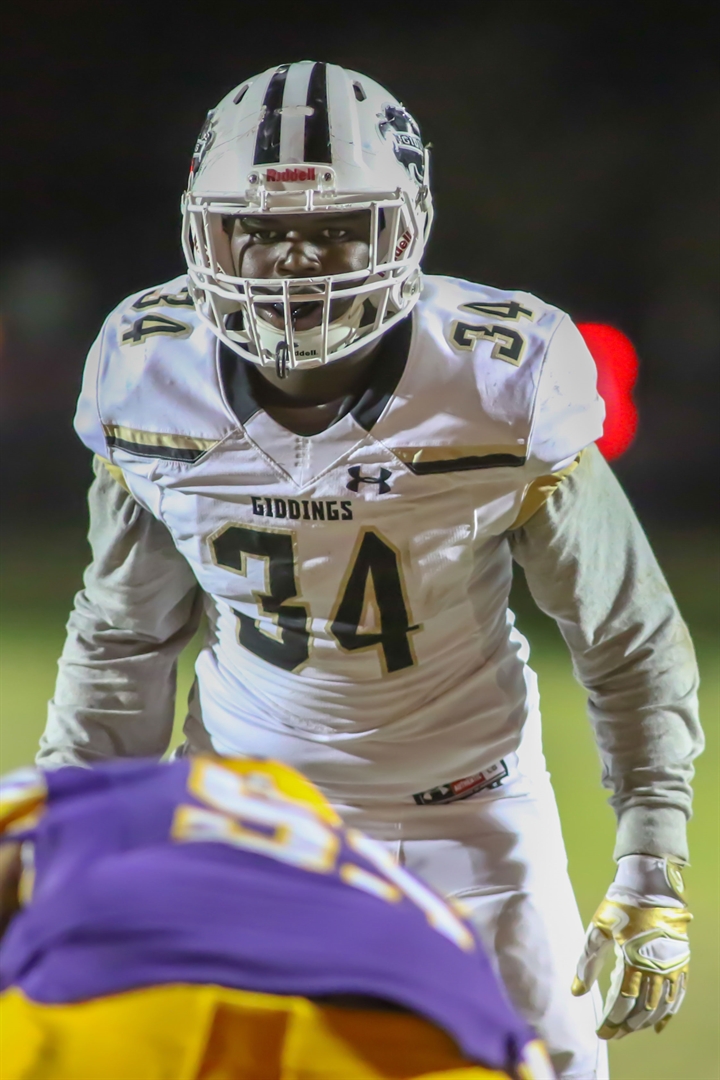 Silsbee (8-4) vs. Giddings (11-1) 7:30 p.m. Friday at Porter's Texan Drive Stadium:
After a brutal non-district slate, it appears Silsbee is hitting its stride at the right time. The Tigers have won five straight since their three point loss to West Orange-Stark and last week's 56-14 win over Wharton may have been their best performance to thus far. The Tigers returned the opening kickoff 84 yards to set up the opening score and that was just the beginning and rattled off over 500 yards of offense and picked off three passes in a total team win.
The Tigers finished with three running backs topping the 100 yard mark on the night. Giddings hasn't been flashy and gotten things done with a stingy defense. Last week was no different in a hard fought 21-13 win over Liberty. The Buffalo offense is a bit banged up and has to rely even more heavily on that defense down the stretch and going against a hot Silsbee squad could be real trouble.
Stepp's Pick: Silsbee by 9
Wall (9-2) vs. Brock (11-1) 7:00 p.m. Friday at Abilene's Shotwell Stadium:
The playoff rivalry between Wall and Brock lives on as these two meet in the post-season for the FIFTH straight season. Brock has won three of the four meetings and comes in as the favorite in this matchup. The Eagles had no trouble with Slaton last week rolling to a 64-6 win. A huge 36-point second quarter keyed the win as the Eagles used 11 different ball carriers on the night in a balanced and efficient performance.
Wall on the other hand got all it wanted from a tough Bushland squad, escaping with a 21-14 win on Friday night. Two fourth quarter interceptions by the Wall defense and a touchdown pass along with a touchdown run from QB Mason Fuchs rallied the Hawks to the win as they entered the fourth quarter trailing 14-7. Wall runs the flexbone, but throw the ball much better out of that offense than in years past and that could be key in keeping the ultra-aggressive Brock defense honest. Brock's a little too big, physical and deep for a tough and gritty but a little outmanned Wall squad this week.
Stepp's Pick: Brock by 12
Malakoff (9-2) vs. Gladewater (11-1) 7:00 p.m. Friday at Tyler's TMF Rose Stadium:
Malakoff pulled one of the bigger surprises of the week last week as the Tigers stunned Jefferson 31-21. MHS abandoned its usual up-tempo attack for a more deliberate ground-based strategy and it paid off big as the Tigers' defense came up with big stop after big stop and the offense was extremely efficient. QB Darion Pearce ran for a score and then had a huge 76-yard touchdown pass in the second half to put MHS back up by 10 after Jefferson had closed the gap to just three points.
Gladewater rolled to another win Friday as the Bears drilled an overmatched Eustace squad, 55-7. Sophomore RB Eliga Carter again paced the Gladewater attack with 267 yards rushing and five touchdowns in just over two quarters of action. The Bears' big edge in this matchup looks to be up front on both sides of the ball. The skill spots between these two look to be a push but Gladewater's depth up front could wear down the smaller Tigers.
Stepp's Pick: Gladewater by 9
Tulia (8-4) vs. Abernathy (11-1) 7:00 p.m. Friday at Plainview's Sherwood Memorial Stadium:
Surprising Tulia is in the third round of the playoffs for the first time in school history after taking down Crane, 43-21. QB Shawn Kelly was again the major cog in the Hornets' attack accounting for 323 yards of offense and four touchdowns, including a back-breaking 93-yard touchdown run in a second quarter blitz that saw Tulia score 22 points and put the game out of reach by halftime.
Abernathy had maybe the most impressive showing of any team in 3A Division II last week as the Antelopes rolled past favored Childress, 35-14. The game was 14-7 in the fourth when AHS got an avalanche of big plays and a little luck to turn the game in their favor, after fumbling a lateral, Abernathy OL Thomas Rodriguez scooped it up and ran the ball 26 yards for a touchdown to make it 20-7. AHS then recovered a fumbled a kickoff and QB Bryson Daily made Childress pay scoring from eleven yards out to effectively put the game away. The real key was Abernathy's dominance up front. The Antelopes held Childress to just 60 yards rushing and that was the difference last week and could be key again this week. The Antelopes will want to keep Tulia QB Kelly under wraps and if that happens, expect them to have another shot at Canadian who defeated Abernathy in the regional finals in 2014.
Stepp's Pick: Abernathy by 16
Blanco (10-2) vs. East Bernard (11-1) 7:00 p.m. Friday at Pflugerville's The Pfield:
After a disappointing 2017 season, Blanco has righted the ship and gotten back to the spot where it's used to being in, which is contending in Region IV in 3A Division II. After seeing its defense dominate in a bi-district win, last week it was the Panthers offense that exploded in a 55-29 rout of London. This week, the Blanco offense will face what is likely its biggest test of the year taking on an East Bernard squad that has a stout defense.
EBHS is allowing just over nine points per game and last week pitched a shutout rolling past Hebbronville, 51-0. Early in the season against a tough non-district slate, the East Bernard offense struggled, but since the start of district play the Brahmas offense has been on fire scoring 42 points or more in six straight games. Look for East Bernard to roll into the regional finals this week, the Brahmas just have too much firepower.
Stepp's Pick: East Bernard by 13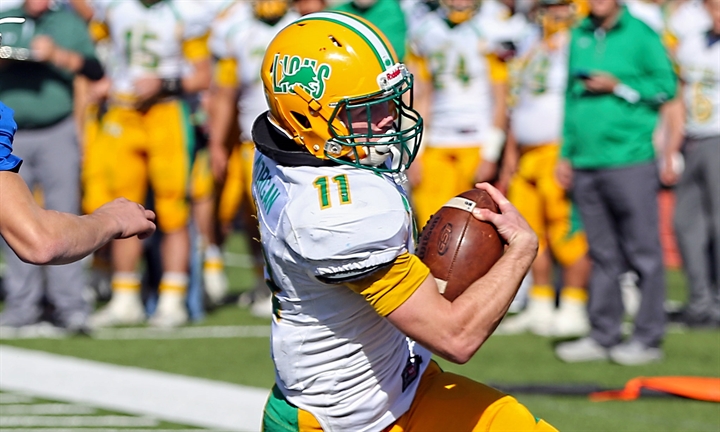 Panhandle (10-2) vs. New Deal (11-0) 7:00 p.m. Friday at Dimmitt's Bobcat Stadium:
It's a matchup of the two teams most have thought to be the top teams in 2A Division I Region I as Panhandle hooks up with New Deal. Panhandle has been on an absolute roll since closing out non-district with a loss to Wellington. The Panthers have won seven straight games and have scored at least 45 points in all seven of those wins. Last week, they blitzed Winters 55-20 as once again QB Braden Durst was the key accounting for 355 yards of offense and six total touchdowns to lead the way.
New Deal has been a machine all year to this point, aside from a six-point win over 3A area playoff team Slaton in non-district, the Lions haven't had game closer than 25 points all year. Last week, was more of the same in a 64-6 rout of Stamford, QB Jett Whitfield hit Iowa State commit WR DK Blaylock for a 65-yard touchdown on the first series of the game and NDHS never looked back. Whitfield finished the afternoon with 417 yards of offense and six total touchdowns. The key in this one is the weapons New Deal has around Whitfield, look for both of these elite QB's to cancel each other out but the Lions from New Deal are loaded across the board and for all of Durst's abilities he and the Panthers can't overcome that New Deal depth.
Stepp's Pick: New Deal by 14
Garrison (10-2) vs. San Augustine (10-2) 7:00 p.m. Friday at Nacogdoches' Dragon Stadium:
Only about 40 miles of East Texas highway separates these two towns and expect nothing less than an old school, knockdown, drag out, battle royal when these two powerful programs get together with a lot on the line. These two met earlier in the year in non-district with Garrison knocking the Wolves off, 48-39. Garrison appears to have established itself as the regional favorite behind a potent rushing attack led by two-way superstar Sebastion Porter who in last week's 43-13 win over Alto ran for 420 yards and six touchdowns, while also chipping in a dozen tackles on defense as well.
San Augustine easily took care of Jewett Leon, 46-14, a week ago in a game that was lopsided from the start. The Wolves may have more overall team speed than Garrison, but matching up with the big and physical Bulldogs in the trenches presents a matchup problem and that's where Garrison takes charge of this one.
Stepp's Pick: Garrison by 11
Wellington (12-0) vs. Hamlin (11-1) 7:00 p.m. Friday at Iowa Park's Hawk Stadium:
Wellington has been one of the state's most dominating teams thus far. In their 12 games, the Skyrockets have only really been pushed once and that was a 28-6 win over 3A Abernathy in mid-September. Since that time, no game has been closer than 30 points. It's just been one rout after another for Coach Wade Williams' team. The only real question for the dominant Skyrockets is how will they react when they finally get pushed a little?
That test may come this week against a very good Hamlin squad that has just one loss on the year. The Pied Pipers have a very explosive offense led by RB Jackson Sepeda and WRs Cutter Marton and Jevon Williams. The key in this game and the key for Hamlin to stay close will be up front. Hamlin's not real big or deep up front and that's where Wellington has mauled people all season long. If Hamlin can hang in there in the trenches, it has a shot to keep it competitive and maybe have a puncher's chance in the fourth quarter. But that's a lot to ask against this Skyrockets juggernaut.
Stepp's Pick: Wellington by 24
Mart (11-1) vs. Grapeland (11-1) 7:00 p.m. Friday at Madisonville's Mustang Stadium:
Don't be surprised of Mart gets pushed this week against an underrated and dangerous Grapeland squad that has no intentions of being intimidated by the Panthers and their dominance. Mart's dominance has been spectacular this year. Aside from its loss to 3A Division I Franklin, the Panthers' closest game was a 27ppoint win over Holland back in Week 2. Last week was just another big win as MHS rolled past Simms Bowie, 66-8.
Grapeland has been similarly dominant the past few weeks and have outscored its two playoff opponents by a combined 114-0 thus far. Mart is the clear favorite in this top ten matchup, but expect the Panthers to have to play all four quarters this week, which will make for a good tuneup ahead of next week's possible showdown with Muenster.
Stepp's Pick: Mart by 17
Quick Picks
Waco Midway (10-1) vs. Klein Oak (10-2) 3:00 p.m. Saturday at College Station's Kyle Field
Stepp's Pick: Waco Midway by 13
Lake Travis (10-1) vs. Weslaco (11-1) 4:00 p.m. Saturday at San Antonio's Alamodome
Stepp's Pick: Lake Travis by 38
Amarillo Tascosa (9-3) vs. Mansfield Lake Ridge (9-2) 3:30 p.m. Saturday at Midland's Grande Communications Stadium
Stepp's Pick: Amarillo Tascosa by 3
Katy Tompkins (10-2) vs. Beaumont West Brook (10-2) 6:00 p.m. Saturday at Houston's NRG Stadium
Stepp's Pick: Beaumont West Brook by 11
Lubbock Coronado (10-2) vs. Denton Ryan (12-0) 3:00 p.m. Saturday at Abilene's Wildcat Stadium
Stepp's Pick: Denton Ryan by 20
Georgetown (9-3) vs. Alvin Shadow Creek (12-0) 1:00 p.m. Saturday at Bryan's Green Stadium
Stepp's Pick: Alvin Shadow Creek by 7
Marshall (10-2) vs. Huntsville (11-1) 8:00 p.m. Saturday at Frisco's Ford Center
Stepp's Pick: Huntsville by 6
Port Lavaca Calhoun (9-3) vs. Kerrville Tivy (11-1) Saturday 3:00 p.m. at San Marcos' Bobcat Stadium
Stepp's Pick: Port Lavaca Calhoun by 4
Hereford (8-4) vs. Canyon (11-1) 7:00 p.m. Friday at Amarillo's Bivins Stadium
Stepp's Pick: Canyon by 3
Sealy (12-0) vs. Liberty Hill (10-1) 7:30 p.m. Friday at Bastrop's Memorial Stadium
Stepp's Pick: Liberty Hill by 10
Lubbock Estacado (9-3) vs. Glen Rose (10-1) 8:00 p.m. Friday at Abilene's Wildcat Stadium
Stepp's Pick: Glen Rose by 8
Cuero (11-1) vs. Corpus Christi West Oso (8-4) 7:30 p.m. Friday at San Antonio's Heroes Stadium
Stepp's Pick: Cuero by 41
East Chambers (11-1) vs. Cameron Yoe (11-1) 7:00 p.m. Friday at Shenandoah's Woodforest Bank Stadium
Stepp's Pick: Cameron Yoe by 5
Goliad (10-2) vs. Yoakum (10-2) 7:00 p.m. Saturday at Cuero's Gobbler Stadium
Stepp's Pick: Goliad by 2
Buffalo (12-0) vs. Holliday (11-1) 7:00 p.m. Friday at North Richland Hills' Birdville Fine Arts/Athletics Complex
Stepp's Pick: Buffalo by 4
Troup (10-2) vs. Newton (11-0) 7:30 p.m. Friday at Nacogdoches' Bryce Stadium
Stepp's Pick: Newton by 31
San Saba (12-0) vs. Celeste (11-1) 7:00 p.m. Friday at Mineral Wells' Ram Stadium
Stepp's Pick: San Saba by 6
Shiner (11-1) vs. Refugio (10-2) 7:30 p.m. Friday at San Antonio's Farris Stadium
Stepp's Pick: Shiner by 3
Gruver (11-1) vs. Clarendon (8-3) 7:00 p.m. Friday at Borger's Bulldog Stadium
Stepp's Pick: Gruver by 10
Falls City (12-0) vs. Woodsboro (12-0) 7:00 p.m. Friday at Beeville's Veterans Memorial Stadium
Stepp's Pick: Falls City by 20
Leman Saunders' Six-Man Preview
Each week, six-man insider Leman Saunders will highlight the must-see action in Class 1A. Get in touch with him on Twitter @lemansaunders.
Milford (10-1) vs. Union Hill (11-1), 7:30 p.m. Friday at Kaufman
Maybe the biggest game in Class 1A this week is this battle of Bulldogs in Region III of Division I. Both teams have strong, fast players; both are well-coached; and both are hungry for a shot at a title. Milford has arguably the best player on the field in Taron Smith (1,684 yards, 42 TDs passing; 1,259 yards, 19 TDs rushing), while Union Hill counters with star RB Keelon Caffey (2,004 yards, 36 TDs rushing). Both teams have an X-factor candidates as well — Corbin Schrotke and Ricky Pendleton for Milford, Colt Mallory and Brantley Murphy for Union Hill. Milford's top-to-bottom athleticism might be just too much for Union Hill.
Leman's pick: Milford 60, Union Hill 54
McLean (12-0) vs. White Deer (10-2), 6 p.m. Saturday at Amarillo Highland Park
A district rematch for the Division I Region I crown, as a pair of big, physical squads square off again. RB Ben Crockett is a beast for McLean, and White Deer will have a two-headed rushing attack in Kason Vigil and Gage Freeman. McLean has just too much of a size and strength advantage up front on both sides, and that is the difference here. The Bucks will fight, but the Tigers are the favorite here.
Leman's pick: McLean 62, White Deer 30
Iredell (11-0) vs. Strawn (10-2), 7 p.m. Friday at Hico
Strawn has held on to the top spot in Divison II despite two losses, much to the ire of Iredell, which has been stuck at No. 2 all year. Now, the Dragons get a shot at the defending champs and that elusive No. 1 spot. The Dragons will rely on the playmaking ability of RB Morgan Whitfield, but lately it's been Hunter Sheffield who's emerged as the big-time player offensively. Strawn has a stockpile of weapons — Tanner Hodgkins, Julian Fraga, Ivan Ruiz and Carlos Villanueva, just to name a few. The Dragons have a puncher's chance here, but Strawn is battle-tested and has too many ways to beat you.
Leman's pick: Strawn 54, Iredell 32
Motley County (11-1) vs. Follett (10-2), 7 p.m. Thursday at White Deer
The lone Thursday night game should be a good one for the Region I title in Division II. It's a game of contrast — Follett has a strong core of seniors, many of whom are big and physical; Motley County is very young, with lots of speed. The Matadors of Motley County feature the incredible Kyler Degan, who leads all of 1A with 3,372 yards and 69 touchdowns on the ground so far this season. The Panthers are a typical downhill power running team, led by RB/QB Christian Baker. Which defense can slow down the opposing running game, and who can find a solid passing attack? Follett's size advantage could wear down Motley County in a potentially high-scoring game.
Leman's pick: Follett 84, Motley County 70
QUICK PICKS
Jayton over Grandfalls-Royalty
Oakwood over Richland Springs
Garden City over Balmorhea
Leakey over Gorman