Jersey Village entered the season looking to end an 11-year playoff drought. But after a 7-1 start, the Falcons now have their sights set on an even greater accomplishment.
With just two games remaining, Jersey Village is in prime position to clinch the District 17-6A championship. The Falcons have a one-game lead in the standings – with Houston Stratford (4-4) and Houston Spring Woods (1-6) left on the schedule – and now have a chance to clinch their first outright district championship since 1992.
"It would be awesome," Jersey Village coach David Snokhous said. "It was one of the goals we set back in the spring and when we got back here in the fall to start. It'd be quite the accomplishment, and it's something that's hard to do – really hard to do."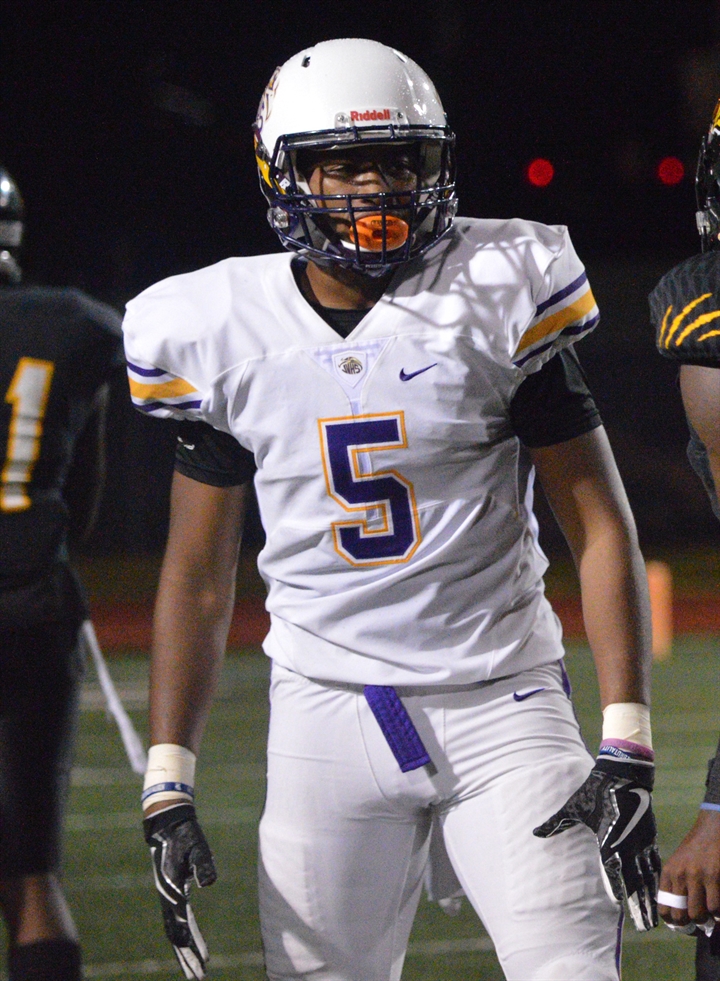 The success Jersey Village has experienced this year is due in large part to the play of senior quarterback Raymond Richardson, who was an all-district selection as a wide receiver and defensive back last season. Richardson moved to quarterback full-time this year and has thrown for 1,660 yards and 15 touchdowns while rushing for 775 yards and eight TDs on 119 carries.
"He'll be the first to tell you it's a team effort," Snokhous said. "He's been around the program since he was a kid – he was the ball boy at a young age, his older brothers played here and he's a good athlete, so he knows the offense as well as anybody. He's a good, smart football player and has done things that have helped us and kept us out of bad situations."
After falling in the first game of the season to Alief Hastings in a 34-18 finish, Richardson and the Falcons bounced back with an important 50-48 win over Cinco Ranch. They went on to beat Cypress Ridge, Cypress Creek, Houston Northbrook and Houston Memorial before defeating Cy-Fair and Cypress Falls in consecutive weeks.
Cy-Fair is the defending Class 6A state champion and Cy Falls was expected to compete with Cy-Fair for the district title entering the season. But Jersey Shore battled back from a halftime deficit to knock off the defending champs before holding off a late Cy Falls rally just a week later.
"I think we've been behind at the half in six of the eight games we've played," Snokhous said. "When you're going in the locker room, there is no pointing fingers or yelling. The guys are just sitting there and listening to what we tell them. They're buying in and have found a way to win some football games. That's a big part of it."
While Richardson has been a star, the Falcons have also played well defensively to take some of the pressure off their quarterback. The team returned 10 defensive starters from last season and was confident it had the talent to make some noise this year.
Snokehous pointed to Caleb Windom, a three-year starter on the defensive line, DE Issac Hocker, DE Kelvin Cruse, LB Keith Thomas, DB Darius Johnson and DB Caleb Weaver as a few of several players leading the on the defensive side of the ball.
"Anytime we need a play, someone on that side has been able to come up with it," Snokhous said. "We're really playing pretty well defensively."
After having an open week this week, Jersey Village is favored by more than 30 points in each of its final two regular season games. But Snokhous insists the team is sticking with its motto of taking things one game at a time before looking too far ahead into the postseason.
If the season ended today, the Falcons would likely see Houston Bellaire in the first round of the playoffs while a matchup against No. 4 Katy is possible in the area round.
"We want to beat Stratford and then Spring Woods the following week," Snokhous said. "The good thing is we do play on a Thursday to end the season, which will give us an extra day of rest or so. We'll start focusing on the playoffs when the time is right, but right now we have to get well and finish the season strong."