Childress has always been known for being a physical football program, so it's no surprise that coach Jason Sims pointed to the team's physical nature as one of the key reasons the Bobcats are off to a 5-0 start this season.
But Sims, who graduated from Childress in 1993 and played under legendary coach Charlie Johnston, said this may be the most physical team he's coached since returning to his hometown.
"We've been physical in the past," Sims said. "But this group right here is even more physical. You see it take its toll on our opponents, and I think that's been the thing that's popped out to me this season."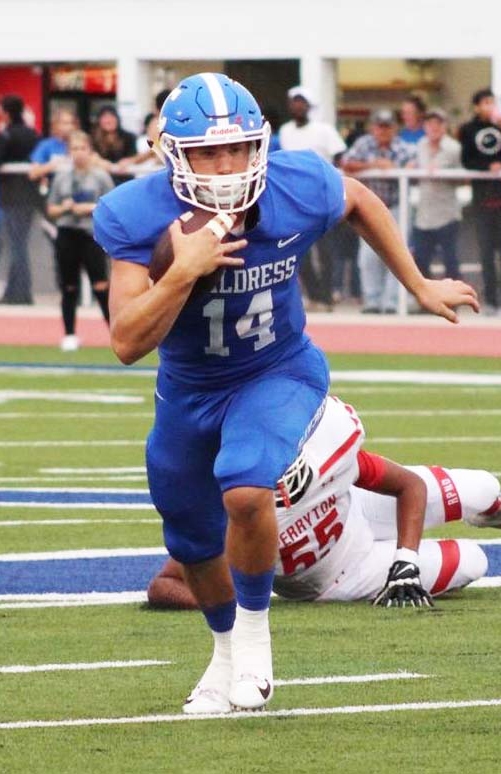 Sims said part of the increase in physicality stems from the team having more size this year to accompany the physical mentality that's been synonymous with the program over the last several years.
Childress has a second team all-state senior to lead the way on the offensive line in Tanner Mills while junior Carson Lambert headlines a talented junior class that features the size Sims is excited about in the trenches.
Defensively, three-year starter Isaiah Darter – who stands at 6'3, 200 lbs. – sets the tone for the rest of the unit by flying all over the field and utilizing what Sims described as a vicious style of play. Darter has 60 tackles, four sacks, six TFL and a defensive touchdown through five games. Morgan Holcomb has been an important part of the success as well, posting a team-high 79 tackles and three for loss from his spot at middle linebacker.
With wins over Bushland, Perryton, Panhandle, Eastland and state-power Muenster, the Bobcats stingy defense is allowing 21.8 points per game entering this week's showdown against Friona on Friday night.
"[Darter] really sets the expectation for the physicality that's going on out on the field," Sims said. "And then Morgan Holcomb has been a pleasant surprise for us too after playing some as a sophomore. He's been all over the place – and I really mean all over the place."
On the offensive side of the ball, senior quarterback Luke Latimer leads the way again this season after earning second team all-state honors a year ago. Latimer has thrown for 1,511 yards and 12 touchdowns while chipping in 356 yards and eight scores on 62 carries.
Haggan Lott (21 catches, 414 yards, five TDs), Trent Willis (23 catches, 376 yards, three TDs), Darter (13 catches, 323 yards, one TD) and Stephon Harris (14 catches, 151 yards, one TD) have served as Latimer's top receivers this year.
While the offense is averaging 39 points per game, the Bobcats have turned the ball over 16 times so far this season – an area that will continue to be a point of emphasis as District 1-3A Division II play progresses.
"We've got four talented wide receivers who can hurt you on any not, so you can't unbalance the field to try to take some of that away," Sims said. "Our philosophy is the defense can't stop everything, so we're just going to take what they give us. We feel like we're balanced enough across the field to exploit whatever they're giving up."
As good as Lott, Willis and Harris are offensively, the trio has also shined in the secondary where they have three interceptions apiece on a defense that's forced 19 total turnovers and has scored five touchdowns thus far.
The Bobcats will look to continue to add to those numbers when they take on a 4-1 Friona tomorrow night in the district opener. Childress will travel to Canadian next week, looking to avenge a pair of losses last season – including one in the fourth round of the playoffs – while also setting the team up for a run at the district title.
"I don't know if there's much of a revenge factor," Sims said. "They were just a better football team than us last year. They were dominant against us on the line of scrimmage in both games and I think it's going to be a little more evenly matched this time around.
"We just have to focus on the task at hand, week in and week out. We're not really worried about Canadian yet – right now, we've got Friona. When you start to stretch yourself out too far, you can get yourself in trouble."