Not many outside the Plano East program expected the team to challenge for a spot near the top of the District 9-6A standings entering the 2018 season. While the Panthers returned 14 starters, the team was just 3-7 last season with its seven losses coming by an average margin of more than 18 points.
But coach Joey McCullough knew this season had the potential to be a breakthrough year for Plano East. McCullough, who is entering his fifth season with the program, saw the way his team responded to the adversity it faced last season and knew there was too much talent on the roster for the Panthers not to take a dramatic step forward this year.
Plano East, on the shoulders of an explosive offense and a shutdown defense, has translated that talent into a 5-0 start for the first time since 2007.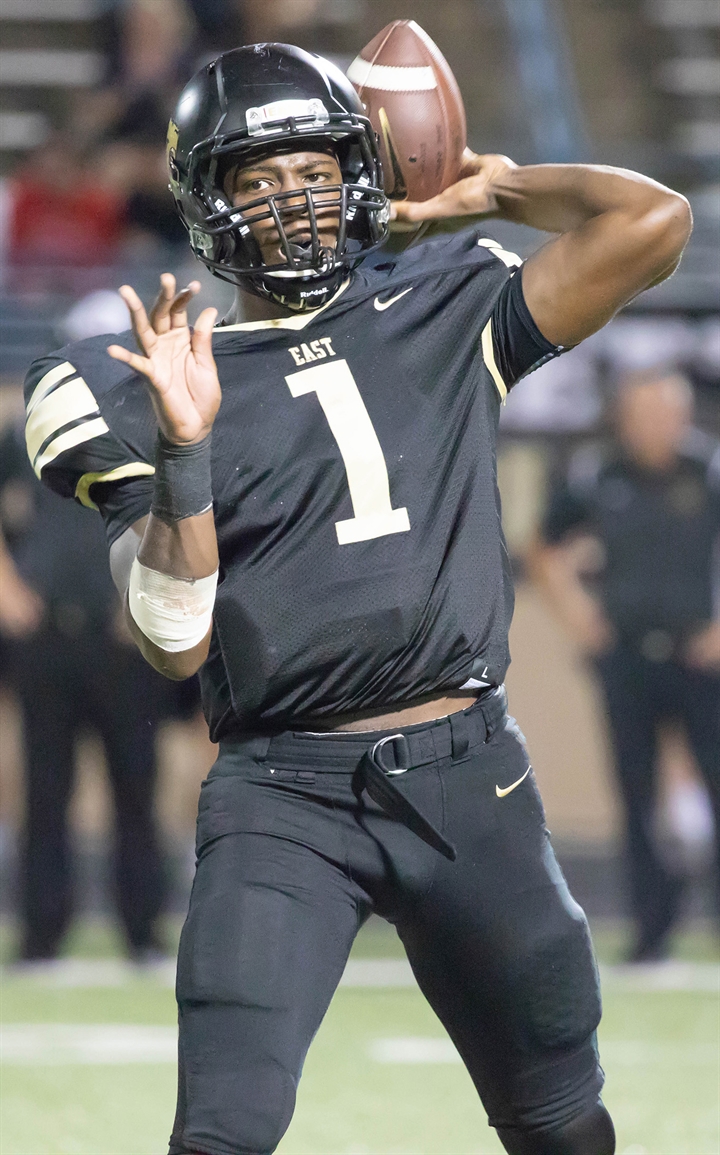 "The adverse situations we went through last year have definitely prepared us for what we're doing now," McCullough said. "Every game seems like it's one of the games of the week. We really go by that theory that iron sharpens iron and I believe it has sharpened every single one of us.
"We have great team leadership – guys that are hungry and eager to show up and practice every day. They're committed to the coaches and each other. They've been hungry, and it started back in the off-season."
The Panthers had a solid foundation to build on in the offseason with seven starters back on both sides of the ball, including several multi-year starters like Killian Carper, Zachary Nwachukwu, Tyler Owens, Jalen Brown and Josh Blagowsky.
That group has helped solidify a much-improved defense, as Plano East is giving up an average of just over 11 points per game midway through the season. The Panthers allowed more than 43 points per game a year ago.
"I've been really impressed with our defense," McCullough said. "The effort, the obstacles we've overcome and the things that we've done. We've always been good on offense and our defense has really been exceptional this season. A lot of that has to do with the leadership those guys bring to our team."
The defense has been a key part of Plano East's fast start, as the team shutout a Lake Highlands team that has scored an average of 39.5 points outside of a 36-0 loss to the Panthers. Plano East also held Prosper to just 14 points two weeks ago, handing the Eagles their first loss by containing an offense that entered the game averaging more than 47 points.
And while the defense has shined, the Panthers offense has also taken things up a notch behind the play of a balanced attack headlined by quarterback Brandon Mallory and running back Trey Scott-Jones.
Mallory has thrown for 1,498 yards and 15 touchdowns while Scott-Jones has rushed for 498 yards and eight touchdowns through five games. The Panthers have four receivers for Mallory to spread the ball to, as Braylon Henderson (27 catches, 438 yards, four TDs), Jaelen Anderson (26 catches, 434 yards, four TDs) Josh Allison (12 catches, 340 yards, four TDs) and Joseph Carter (12 catches, 176 yards, three TDs) have each stepped up at different times throughout the season.
"The quarterback is spreading the ball around and they're playing well as receivers," McCullough said. "They understand they're not going to get the ball on certain routes but they understand their role in the passing game and the running game.
"I don't think anybody is asking for how many balls they're going to get. They just know if they do their job, someone will be successful – if the team is successful, we're getting what we want."
Plano East hopes that mindset will give the team a chance to pull off an upset in its biggest game to date as the Panthers travel to take on No. 1 Allen Friday night at Eagle Stadium. The Eagles are undefeated at home since the stadium opened in 2012 and have beaten the Panthers 18 times since 1999.
That isn't stopping Plano East from continuing to raise its expectations for the year as the Panthers have their sights set not only on beating Allen, but on advancing past the first round of the playoffs for the first time since 2009.
"Our kids are smart – they realize Allen is the defending state champion and that they're the No. 1 team in the state," McCullough said. "They understand it's going to take a great effort on our part to go into Allen Eagle Stadium and get a victory.
"I think a lot of people go into that stadium and are beat before the ball is even kicked off. Our guys understand and believe that we can beat Allen. That's not a cocky or arrogant thing. It's a belief – if we go out and each person does their job, we can beat Allen."