Whether you think you can or think you can't, you're probably right. Leander Glenn football player Ayrton Hignojos who plays football for the Grizzlies despite not having a left arm, has never thought that he couldn't do something.
Hignojos grew up watching football with his father Salvador. At the age of two, Salvador began taking his son to games and thus began the start of his inspiration to play football.
"He would cry a lot as a baby but it was amazing when I would take him to football games he was silent," Salvador Hignojos said. "He would be so focused and intrigued by the game that was going on."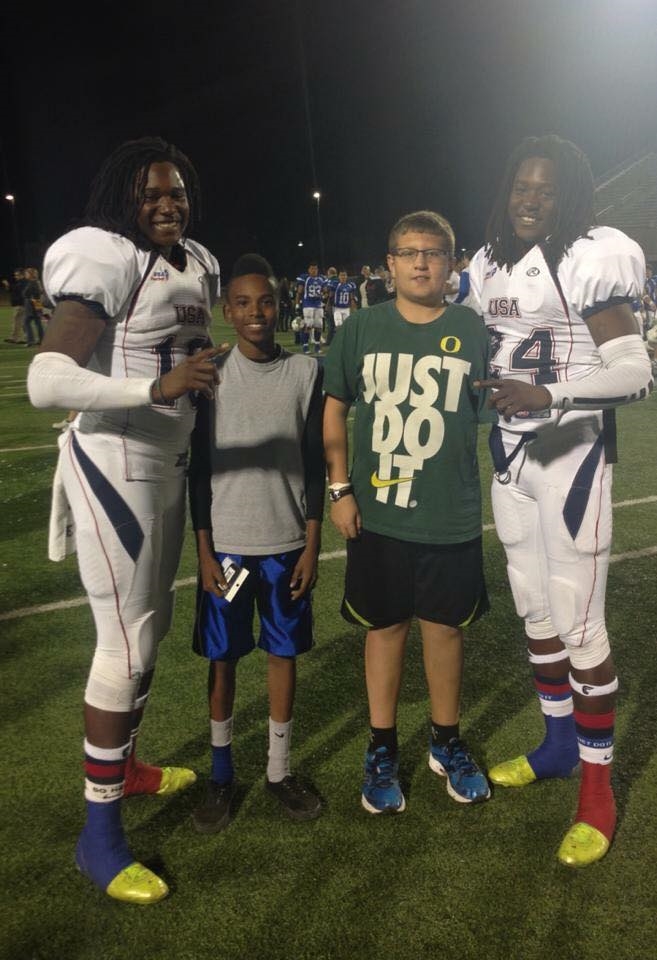 Ayrton didn't let his disability inhibit him in the slightest growing up, and by age four he was in full pads and suited up on the gridiron. Salvador and Ayrton's mother, April, were nervous the first time he stepped on the field, but once he was virtually unaffected after getting hit for the first time, they knew he would be able to handle it.
"He was so big that he was able to make weight and play football when he was four," Salvador Hignojos said. "After he got hit for the first time, we were a little bit worried since he only had the one arm, but he got right back up and kept playing."
Growing up, doctors informed Ayrton and his parents that he would be able to get a prosthetic arm. His parents suggested that he get one, but he refused because he believes that having just the one arm makes him unique.
"We've offered to get him a prosthetic several times," Salvador Hignojos said. Each time he has said 'Why would I want to be like everyone else?' and that was that."
For a large part of his football career, Ayrton has been able to find inspiration from Shaquem Griffin — who he met when he was 10 years old at the U.S. National Team practice. Griffin, who got his hand amputated when he was four, was drafted with the No. 141 pick in the 2018 NFL Draft
The now Seattle Seahawk provided a source of inspiration and comfort for Ayrton, in showing him that he could achieve his dream of going to the NFL even with his disability. At the end of the day though, Ayrton wanted to make it known that he was his own person.
"Shaquem has been a good role model for Ayrton and someone that he can look up to," Salvador Hignojos said. "However, Ayrton wants to be Ayrton. We were watching a commercial with Shaquem on it and he turned to me and said, 'Dad, there's only one Shaquem and there's only one Ayrton and that's me. You can't compare him to me, we're both different."
Like Griffin, Ayrton doesn't want any sympathy or to be treated any different than his peers. Leander Glenn head football coach Rob Schoenfeld was able to see that desire firsthand on the very first day that he met Ayrton — in the weight room. Schoenfeld saw Ayrton for the first time and laid out some alternate exercises that he could do since he figured there was no way he could squat with just one arm.
"I saw him and thought, 'obviously he can't squat.' So, I told him that we had a special squat bar with foam rollers on it to help people with wrist injuries to still be able to squat as it takes all the pressure off your arm." Schoenfeld said. "He gave me a goofy look like I was the dumbest guy in America and got under a regular bar and proceeded to squat 275 with perfect form."
Since then, Ayrton has squatted with a regular bar in the weight room, balancing the bar on his left shoulder and grabbing it with his right hand. The 6'4 285-pound center squatted 410 pounds during max testing last spring.
"He's as strong as an ox in his lower body. There's absolutely no way we would allow him to get under the bar if he wasn't able to maintain perfect form for us," Schoenfeld said. "He's able to do that and has incredible form."
Hignojos' strong lower body is a huge help in him gaining leverage as he primarily lines up at center for the Grizzlies and has to block with just one arm. He also does some kicking and has made 50+ yard field goals.
"He just goes about his business. He doesn't want any special treatment or anything like that," Leander Glenn head coach Rob Schoenfeld said. "He wants to be looked at as a Glenn Grizzly football player, not a player with any sort of disability."
Hignojos has established himself as a weapon on the football field but perhaps even more impressive is his bowling ability. Ayrton, whose father is the bowling coach at Leander Glenn, qualified for the U.S. Junior Nationals in the 8th grade and played in the U.S. National Tournament in Dallas.
As a kid, Ayrton would tell his Dad that once he got to high school, he would make it to the state championship. As a freshman, Ayrton fulfilled that promise — bowling a perfect 300 in state qualification. Salvador used to place friendly bets with Ayrton before he learned his lesson the hard way — anything Ayrton sets his mind to, he will accomplish.
"We were at a bowling tournament and he wanted new shoes so I told him that if he bowled three games over 200 that I would buy him new shoes," Salvador Hignojos said. "He went out there and averaged a 232 and bowled over 200 in all six of his games. If you tell him that he can't do something, I promise you that he will do it."
Ayrton has received collegiate bowling offers from around the country but has his mind set on playing college football.
"We are so proud of him, we never thought that he would be able to achieve what he has," Salvador said. "His dream now is to play in the NFL eventually but we know that's a long shot. We're just amazed that he could even walk."
This article is available to our Digital Subscribers.
Click "Subscribe Now" to see a list of subscription offers.
Already a Subscriber? Sign In to access this content.