Welcome to the Extra Points, our weekly college wrap-up at Dave Campbell's Texas Football. This is your one stop to quickly get up to date with all the most important FBS happenings in the state from Week 6.
DALLAS -- Even after beating No. 7 Oklahoma in a thrilling 48-45 performance in the Red River Showdown, the Texas Longhorns aren't really that concerned about whether you think they're back or not.
"It's irrelevant to us I think is the best way to put it," Texas coach Tom Herman said. "We're not so concerned where people think Texas is. We're concerned about what we think in our locker room. Those are the people that we have to answer to on a daily basis."
The Longhorns have heard all the jokes, all the premature affirmations. They've watched closely as the program missed bowl games and finished below .500 in consecutive seasons. Finally, Texas football has some ammo.
Since the season-opening loss against Maryland, Texas has been close to flawless. The Longhorns have five consecutive wins. Three of those performances were against AP Top 25 ranked opponents: No. 22 USC, No. 17 TCU and No. 7 Oklahoma. Even the normally cautious Herman was forward about how impressive the stretch has been.
"We've taken some steps here the past few weeks," Herman said. "I'm not going to downplay that for these players. They've taken some steps in this program's development."
This was the Texas everyone expected to see when Herman was hired as head coach in December 2016. Herman led Houston to a 6-0 record against ranked opponents during his time with the Cougars, including a pair of wins against top 10 opponents. Texas was close a year ago. Finally, the payoff is coming.
Texas hasn't won three games against ranked opponents in one year since the 2009 season. Everyone remembers what happened then… Texas played for a national championship against Alabama. Heck, the Longhorns were a Colt McCoy injury away from maybe winning the whole dang thing.
The Longhorns probably aren't ready to win a national championship. Herman even laughed off the idea that he'd be thinking about it. But maybe, just maybe, Texas isn't as far away as we thought.
Again, the one blemish on the schedule is against Maryland in the first week of the season. Ask the players and it's not that big a deal.
"I'm glad we lost that game, I'm still so happy we lost that game," defensive end Breckyn Hager said, per CNHI's Sean Isabella. "I mean, sheesh, they had God on their side. How you gonna beat God? Rest in peace to that man."
There's plenty of precedent for losing to a bad team and still making the College Football Playoff. Clemson lost to Syracuse a season ago and still made it. Ohio State famously lost to Virginia Tech in 2014, and had no issues.
The Red River Showdown is a season-changing type of game, especially when both teams are good. Texas proved on Saturday that it can hang with – and beat – any team in the Big 12.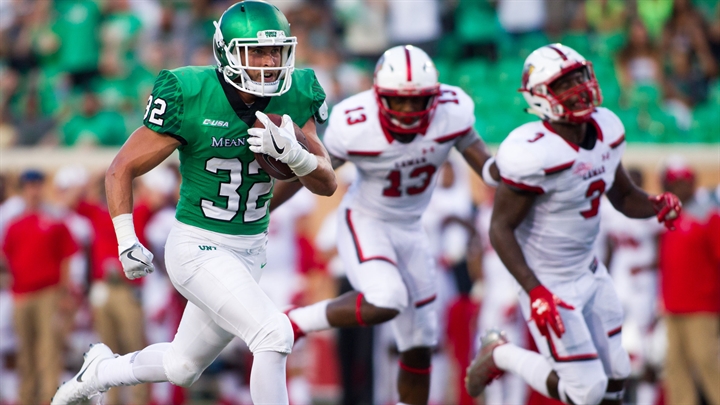 What's wrong with UNT?
UNT went on the road to play UTEP on Saturday. This was a matchup between the team projected to finish atop Conference USA against the team projected to finish last.
That's not quite how the game went.
The Mean Green did win, but it wasn't pretty in a 27-24 performance against a team with an 18-game losing streak. Granted, it was on the road against a team playing its Homecoming game. Still, UTEP surrenders an average of 30.6 points per game. One of the best offenses in the Group of Five mustering just 27 is concerning.
In a lot of ways, UTEP was the better team on Saturday. Miners backup quarterback Ryan Metz miraculously outplayed Mason Fine for most of the game, save two interceptions. Metz finished with his first 300-yard passing game and a pair of touchdown throws. UTEP also kept things close despite turning the ball over twice.
UNT took a third quarter lead, and it was just enough to hang on down the stretch. But for the second week in a row, the Mean Green packed it in at the end of a game.
The Mean Green lost 29-27 to Louisiana Tech after giving up 23 unanswered points in the second half. It didn't get quite as bad in this matchup, but UNT still led a 20-10 lead evaporate. Against better teams than UTEP – and there are many – these late-game collapses will cost them dearly.
UTEP deserves credit too. The Miners lost their first three games against Northern Arizona, UNLV and Tennessee by a combined 72 points. Their last three losses were by nine points, seven points and three points. UTEP is trending in the right direction.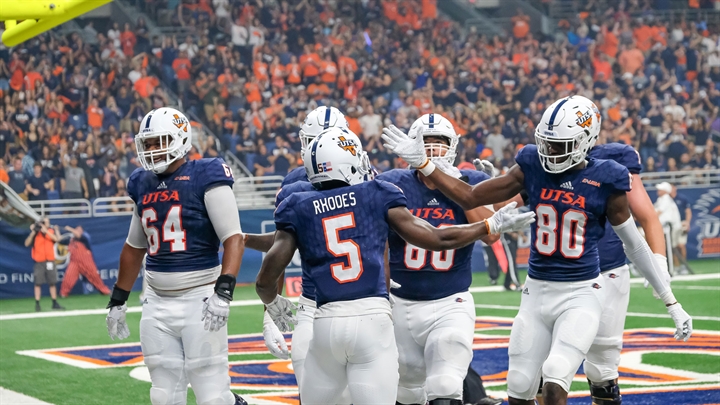 UTSA's defense shows up
UTSA had a nightmare start to the 2018 season. The Roadrunners played three Power Five opponents, and didn't play any of them particularly close. Even successive wins over UTEP and Texas State – two of the worst teams in the Power Five – weren't impressive.
But against Rice, the UTSA we expected finally made an appearance. The Roadrunners' defense looked dominant in a 20-3 performance against the Owls.
Even though the Owls are 1-4, Rice averaged 26.6 points per game heading into this matchup. That includes impressive offensive performances against Wake Forest and Houston. UTSA, conversely, gave up 21 points to terrible Texas State and UTEP offenses.
Heading into this matchup, the thought process was that Rice could get its 20 or so points, and UTSA wouldn't be able to score enough to equal. Half of that was correct – UTSA still mustered just 20 points and a pathetic 178 yards. But finally, the defense made an appearance.
UTSA forced four turnovers against Rice's offense, which the Roadrunners converted into 17 points. The rush defense was even better. Rice managed just 1.3 yards per carry. Star running back Emmanuel Esukpa mustered just 20 yards on 15 carries, and Austin Walter had just 31 yards on 14 attempts.
This was the kind of defense we expected to see in San Antonio when the season started. If the Roadrunners can maintain this performance – and hopefully get something from their offense heading forward – UTSA can still make a bowl game.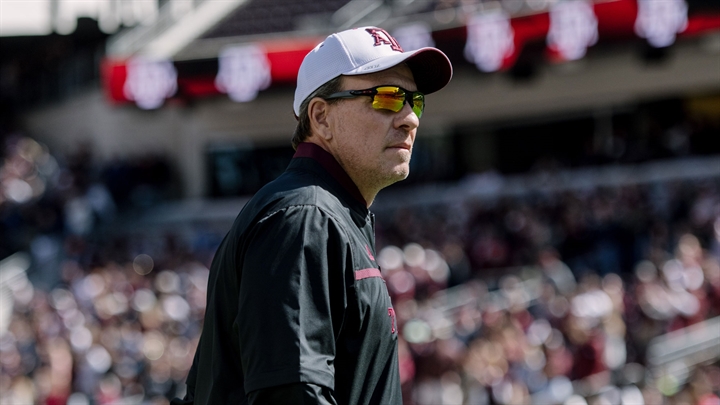 Around the state:
Texas A&M 20, No. 13 Kentucky 14: Texas A&M made things a little too interesting down the stretch, but the Aggies made enough plays on both ends to beat the No. 13 team in the country in overtime. The Aggies held star running back Benny Snell to just 60 yards in a nice defensive performance. The road starts to get more manageable from here.
Baylor 37, Kansas State 34: The Bears continue to give up big plays, but luckily the offense managed to keep up against the Wildcats. With John Lovett and JaMycal Hasty sidelined, sophomore Trestan Ebner and freshman Craig Williams combined for 135 rushing yards on just 19 carries. From here on out, Baylor will be underdogs in every game.
No. 12 UCF 48, SMU 20: The revolving door at quarterback continued to turn, as Ben Hicks led the Mustangs in pass attempts on Saturday. WIde receiver James Proche continued his strong performance with 12 catches for 100 yards and two touchdowns. He's the only player on the roster who has consistently lived up to the hype.
ULL 42, Texas State 27: For the first time this season, Texas State's offense had a pulse. Freshman quarterback Tyler Vitt completed 28-of-39 passes for 296 yards, three touchdowns and no interceptions. He also added 17 carries for 92 yards. Granted, all 27 Texas State points came after going down 28-0 at halftime, but the Bobcats still showed encouraging signs.
Houston 41, Tulsa 26: Things weren't pretty, but Houston managed to pull off a hard-fought win over Tulsa. Quarterback D'Eriq King was inefficent and turnover prone, but ultimately still accounted for five touchdowns and 382 total yards. Despite receiving triple teams, Ed Oliver led the way with 13 tackles and 1.5 tackles for loss.