Odessa Permian (1-1) at Southlake Carroll (2-0):
There will be a lot of state championships on the field at Dragon Stadium in Southlake on Friday – 14 to be exact. There will also be a lot of outstanding players as both teams have sights set on deep playoff runs in 2018.
Permian played DeSoto tough in Week 1 and had to take the 300-mile trip out west to El Paso and looked sluggish. The Panthers found a way to pull away late knocking off El Paso Franklin 43-27. Justin Hammond led the way for the Panthers with 147 receiving yards and two scores, 57 rushing yards and a 100-yard kickoff return for a touchdown in the win. RB Ed Williams had another solid game as well chipping in 190 rushing yards and two scores.
After a slow start on offense in Week 1, Southlake Carroll got it going last week and rolled past Colleyville Heritage 42-17 as QB Will Bowers had 259 yards of offense and two scores, while the SLC defense forced three Colleyville turnovers. Look for star RB Cam McDaniel to have a big game in this one for Southlake Carroll. He's been solid but hasn't broken out with a big game yet this year. That big Dragons offensive line could wear Permian down in the second half, especially considering it's the Panthers' second straight 300-mile road trip.
Stepp's Pick: Southlake Carroll by 13
Allen (2-0) at Coppell (2-0):
The last team to hand Allen a regular season loss was Coppell all the way back in Kyler Murray's sophomore year. That's how long Allen has been dominant. In fact the Eagles have lost just two games since that defeat in 2012. They continued that dominance last week by easily dispatching of Salt Lake City East, 52-20, as Theo Wease hauled in two touchdown passes and the Allen defense totally dominated their opponents from out of state. Allen's defense hasn't received the attention that the offense generates, but the Eagles through two weeks have been a brick wall, making it tough for opposing offenses to even generate a first down. Coppell went to the running game early and often last week in the wet weather as Ryan Hirt ran for 198 yards and three touchdowns to lead the Cowboys to an easy 41-7 win over Hurst Bell.
Traditionally, Coppell has given Allen some trouble and played the Eagles closer than most on a fairly consistent basis, so I expect this one to be close for a while but Allen's depth and penchant for big plays will be the difference.
Stepp's Pick: Allen by 11
Copperas Cove (2-0) at Belton (1-1):
District play gets rolling in District 12-6A as old rivals Copperas Cove and Belton get reacquainted Friday night. Copperas Cove is off to a 2-0 start under new head coach Jack Alvarez after the Bulldawgs knocked off Manor in a slugfest 7-6 on Friday.
CCHS' offense was hampered all night with penalties and turnovers and escaped with a win due to a missed PAT by Manor. Belton was supposed to take on Round Rock Thursday night on the road, but the weather had other ideas forcing this game to be moved to Friday night in Belton.
The Tigers started a little slow but got rolling in a big way with a 45-24 win led by QB Connor Carouthers who threw for 272 yards and four touchdowns to pace a Belton offense that rolled up over 500 yards. Copperas Cove is unbeaten but haven't really played a team near Belton's level, so it is hard to tell where the Bulldawgs are in the early portion of Alvarez's tenure. Belton, on the other hand, appears battle-tested after a solid showing in a Week 1 loss to Austin Westlake and a big win last week. Belton's dynamic offense will be the key in this matchup. Look for the Tigers to jump out quick on Cove and put the 'Dawgs behind the curve early.
Stepp's Pick: Belton by 10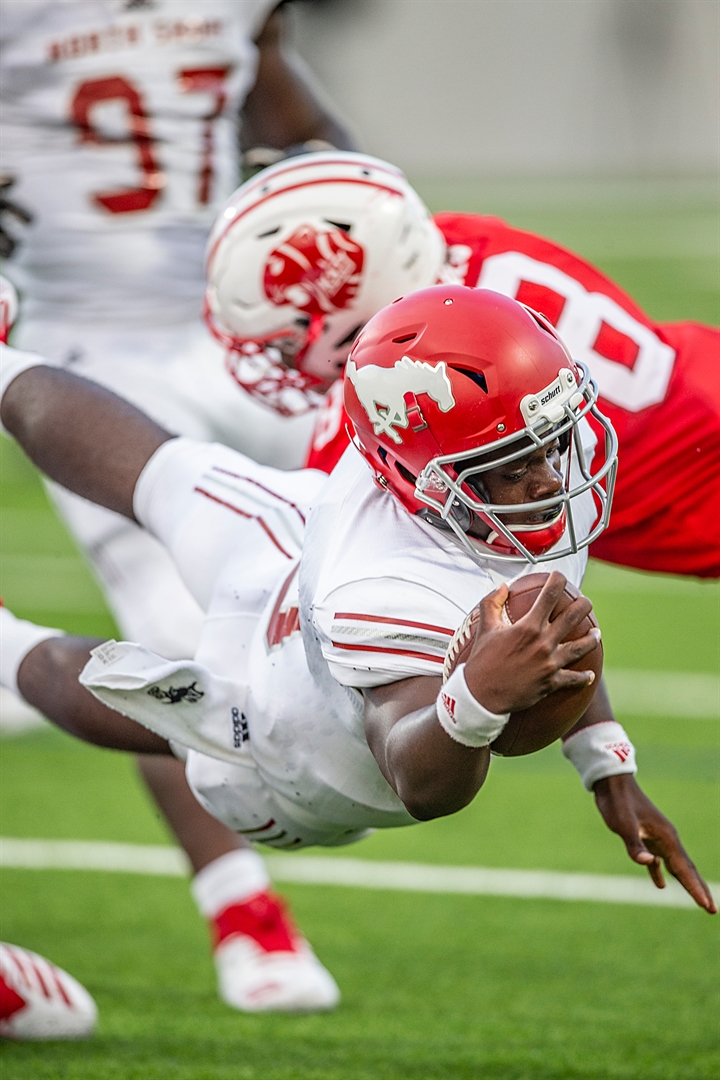 Galena Park North Shore (2-0) at Spring Westfield (2-0):
There's no question that the game of the week in Houston will be in Spring as we get a top 10 matchup of two traditional powers in Greater Houston. Spring Westfield routed Alief Taylor 53-6 a week ago behind a dominant defense that had a pair of safeties, returned two fumbles for touchdowns and held Alief Taylor to just 135 yards of total offense. Galena Park North Shore didn't have a letdown after its big win over Katy in Week 1. NSHS rolled past a good Fort Bend Ridge Point squad 44-0 a week ago as sophomore QB Dematrius Davis completed 18 of 21 passes for 204 yards and two scores. With that level of accuracy and efficiency in the passing game, star RB Zach Evans only had six carries for 54 yards and a touchdown in the win, as several of North Shore's young backs got some touches.
North Shore's defense was dominant as well as Ridge Point had just 88 yards of offense last week. Both defenses look to be elite units, so expect a low scoring, physical game. Whichever offense can find its footing will determine this matchup and right now that edge looks to be clearly with Galena Park North Shore.
Stepp's Pick: Galena Park North Shore by 10
San Antonio O'Connor (2-0, 1-0) vs. San Antonio Warren (2-0, 1-0):
Two teams with sights set on competing for the 28-6A title meet up early in district in a major matchup that could set the tone for the rest of the season. O'Connor, after its big win to open the season against Cibolo Steele, kept things rolling last week opening district play with an easy 42-6 win over San Antonio Holmes a week ago. The Panthers rolled up over 500 yards offense behind QB David Dodd who threw for 266 yards and two touchdowns and he ran for another one, while RB Zion Taylor ran for 145 yards and two touchdowns on just 11 carries.
Warren made quite the statement to the Alamo City Friday night with an impressive 33-21 win over San Antonio Brennan to open district play. The Warrior defense stepped up forcing three turnovers and had a balanced offensive effort as QB Anthony Cisneros had 107 total yards and three touchdowns, while splitting signal caller duties and RB Samuel Stanford had 147 yards from scrimmage and a pair of touchdown runs as well. Both defenses are off to great starts. We expected this from Warren, but O'Connor's defense is really a pleasant surprise early on. If they keep that consistency going, the Panthers should have enough tricks on offense to get the job done.
Stepp's Pick: San Antonio O'Connor by 7
El Paso Del Valle (1-1) at Hutto (2-0):
The Conquistadores have been hitting the road this year as a week after trekking west to Tucson, Arizona they head east to the Austin area to visit powerful Hutto. DVHS fell to Tucson Salpointe 42-27 a week ago and struggled against a tough running attack. This week the challenge is much different as they take on the Hippos and a lethal passing game led by UCLA commit QB Chase Griffin.
Hutto escaped an absolute war last week with a strong Liberty Hill squad in overtime with a 52-51 win as the defense stopped a Liberty Hill two-point try in overtime to preserve the win. The Hutto offense put up nearly 600 yards offense led by Griffin who threw for 478 yards and seven touchdowns. Much of that damage was done with WR Caleb Forrest who had 229 yards receiving and four touchdowns in the win. The concern is that Hutto's defense did allow nearly 500 yards on the ground and although Del Valle isn't a Slot-T offense, it's very physical and QB Raymond Montez is an underrated dual threat signal caller.
Del Valle is going to have to try and slow the tempo down and keep that lethal Hutto attack off the field and hope for a couple of mistakes to keep this one close on the road.
Stepp's Pick: Hutto by 21
Brownsville Veterans Memorial (2-0, 1-0) at Mission Veterans Memorial (1-1, 1-0):
The District 16-5A Division I title could be on the line in just the second week of district play as the two favorites will meet up at Tom Landry Stadium.
Brownsville Vets struggled in the first half against Brownsville Lopez a week ago, but the Chargers pulled away in the second half for a 32-12 win. Three of QB Liam Longoria's four touchdown runs came during the second half outburst for Brownsville Veterans Memorial. After being stunned in the season opener against Mission High, Mission Vets turned it around last week with a big 41-10 win over PSJA Memorial.
QB Landry Gilpin is the real difference maker for the Patriots but he has plenty of weapons around him. The key for Mission Vets will be the defense. If that unit can hold up against a very physical Brownsville Vets squad. Its high-powered offense should be able to control the game.
Stepp's Pick: Mission Veterans Memorial by 8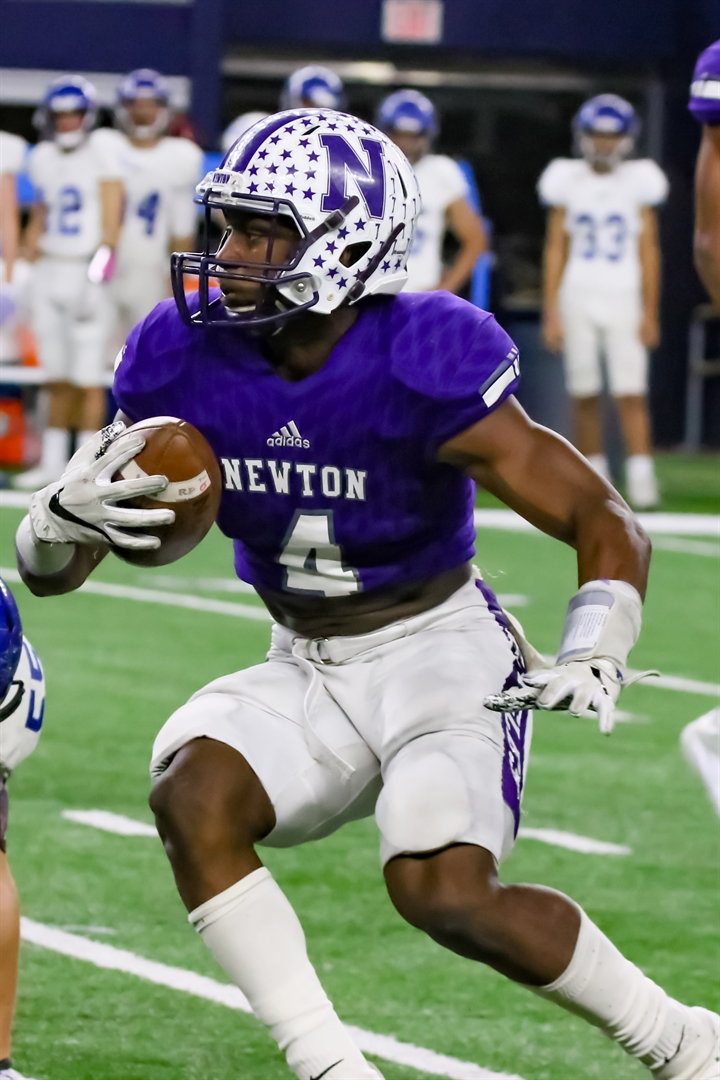 Newton (2-0) at West Orange-Stark (1-1):
The premier matchup in Southeast Texas this week is clearly going to be played down in Orange as the No. 1 team in Class 3A Division II and defending state champion Newton, visits West Orange-Stark who have played in four straight 4A Division II title games, winning two.
No team has been as dominant as Newton early on as the Eagles outscored Kirbyville and Silsbee by a combined 127-14. The Eagles are loaded with talent led by their three TCU commits in ATH Tamauzia Brown, RB Darwin Barlow and QB Josh Foster. But the Eagles have speed at all the skill spots and good size up front as well. The only weakness the team has is depth as an injury or two could change the look of their squad.
After dropping its season opener against Nederland, West Orange-Stark bounced back with an easy 47-0 win over Little Cypress-Mauriceville on Friday. Sophomore QB Jeren Terrell tossed three touchdowns in the first half and the Mustang defense was more than up to the task in the win. However, Newton's offense has so many ultra-talented playmakers and is extremely versatile. The Eagles feel like they have something to prove to those in the area who have said they can't play with the bigger schools and this is their shot.
Stepp's Pick: Newton by 8
College Station (1-0) at Huntsville (2-0):
After a very good Week 1 win against Richmond Foster, College Station had the rare Week 2 bye. It got to scout a Huntsville squad that many think is a sleeper in Region III at the 5A Division II level. The Hornets went on the road last week and knocked off Port Neches-Groves 31-14.
The Huntsville defense was lights out all game containing an explosive PNG attack forcing multiple turnovers, including returning a fumble for a touchdown. The Huntsville offense may have to lean heavily on QB Matthew Southern in this one as it has struggled to establish a consistent running attack. Although the Hornets defense will keep them in this one for a while, College Station is too explosive and will find a way to put points up.
Stepp's Pick: College Station by 11
Carthage (2-0) at Marshall (1-1):
The two communities located just 28 miles apart in Deep East Texas haven't met on the gridiron since 1981, but that's changing this year as the Bulldogs, who have won back-to-back 4A state titles, visit Marshall's newly remodeled stadium.
Carthage went up to Texarkana last week and got a test from Liberty-Eylau before pulling away late for a 42-28 win. In the second half, Carthage took advantage of three L-E turnovers as QB Gunner Capps made the Leopards pay throwing a pair of touchdown passes and running for a score to put Carthage in control.
After a strong start to the season beating Tyler Lee, Marshall had all kinds of trouble last week containing arch-rival Longview in a 60-14 blowout defeat. Marshall has one of the top receiving groups in the state at the 5A level and an outstanding QB, but have yet to establish consistency in the ground game and typically Carthage's defense has been able to feast on one-dimensional offensive teams.
Stepp's Pick: Carthage by 14
Rockport-Fulton (1-1) at Alice (1-1):
After a strong season opening win over Aransas Pass, the Pirates lost a close one to a good El Campo squad 26-21, but in the loss against a good Division I team Rockport fans should feel quite encouraged. They'll take another step up in competition this week and visit Memorial Stadium to take on Class 5A Alice.
The Coyotes got their offense rolling a week ago in a 39-7 win over Kingsville. Junio QB Isaiah Aguilar only completed nine passes but four went for touchdowns and he ran for another score in the big Alice win. The AHS defense will have its hands full this week trying contain that Slot-T offense for Rockport-Fulton and because of that I think Rockport-Fulton pulls off a slight upset.
Stepp's Pick: Rockport-Fulton by 3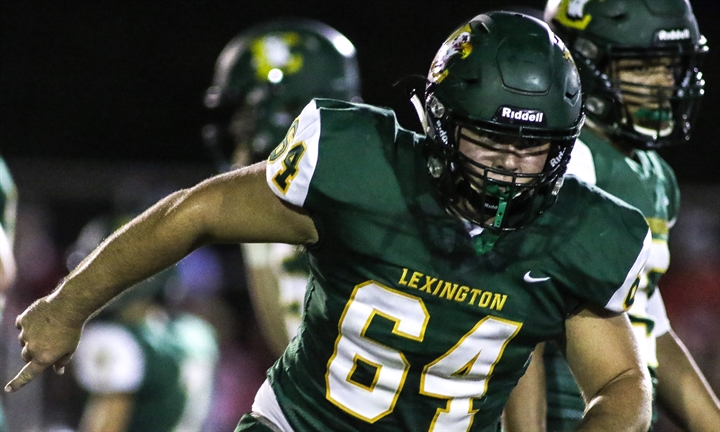 Rockdale (1-1) vs. Lexington (2-0):
Because of construction at Rockdale's stadium, this game is being moved to Thursday night in nearby Taylor. After a close season opening loss to 4A Giddings in the season opener, Rockdale responded in a big way rolling past another 4A opponent in Caldwell 35-17. QB Jace Robinson accounted for two touchdown passes and a touchdown through the air to spur the Tigers attack.
Lexington rolled past Troy 49-28 as the Eagles outscored THS 21-0 in the fourth quarter to pull away in what was a back and forth affair. RB Ja'Kobe "Speedy" Cooper was the difference for Lexington rushing for 307 yards and four touchdowns in the win. Rockdale's defense will be focused on containing Cooper and forcing Lexington to rely on other playmakers to beat them and as of yet, they are unproven. This is a battle-tested Rockdale squad that has shown signs early on that it'll still be a major threat in 3A Division I.
Stepp's Pick: Rockdale by 10
Lubbock Estacado (1-1) at Amarillo Caprock (2-0):
After a tough loss to cross town rival Lubbock Coronado, Lubbock Estacado bounced back last week with a dominant 39-14 victory over Pampa. One consistent theme thus far for the Matadors early in the year has been strong play from their defensive line. The offense got going last week as sophomore QB Jay'Lon Dobbins topped 200 passing yards and had two touchdown passes while the RB duo of Seth Porter and Jeremiah Dobbins appear to be rounding into form as well.
Amarillo Caprock went on the road and got an impressive win beating Dumas 38-21 as junior QB Richard DeLeon, in his first varsity start, led the way with 235 passing yards and two touchdowns. Most of that yardage went to Tayjah Deleon who had 198 receiving yards. Caprock's offense will try to go up-tempo and wear down Estacado's big and physical defensive line. However, Estacado should be up to the task. They will pressure DeLeon and control the game in the trenches.
Stepp's Pick: Lubbock Estacado by 10
Whitehouse (2-0) vs. Melissa (2-0):
An odd Thursday game that will be played at a neutral site pits 5A Whitehouse against a Melissa squad that has high hopes in its jump to 4A Division I. Whitehouse, under first-year head coach Marcus Gold, has earned back-to-back blowout wins after rolling past Tyler Chapel Hill 37-6 last Thursday. Michael Raabe's 92-yard pick six right before halftime swung the game in the Wildcats favor, while WR Kendahl Fry had a solid outing with 107 receiving yards and a pair of touchdowns.
Melissa got its offense rolling last week winning a 63-48 shootout against 5A Frisco a week ago. TCU commit QB Brendon Lewis finished the night with 366 yards of offense and six total touchdowns pacing a Cardinal attack that rolled up 652 yards of offense on the night. Both offenses love a fast-paced high-octane type game. But the Whitehouse defense early on has shown the ability to slow teams down, while Melissa is allowing nearly 40 points per game after two weeks.
Stepp's Pick: Whitehouse by 6
Whitesboro (2-0) at Gunter (2-0):
The top matchup in Texoma this week pits up-and-coming Whitesboro against perennial power Gunter in a real "prove it" game for the Bearcats who are looking to jump from being just a good team to a real contender.
Last week, Whitesboro rolled past Class 4A Aubrey, 37-0, as QB Scout Sanders tallied 244 yards of total offense and three touchdowns to lead the way. Gunter also pitched a shutout a week ago as the Tigers took care of Pottsboro, 27-0. It was the second straight season GHS held the usually high-powered Cardinals off the scoreboard and versatile Dylan Jantz put together another great game accounting for 123 yards of total offense and a rushing touchdown. Jantz also had an 11-yard interception return for a touchdown as well. Look for Whitesboro to keep this one close, but Gunter's got that big game experience and senior leadership with Jantz and Braiden Clopton.
Stepp's Pick: Gunter by 7
Panhandle (2-0) at Childress (2-0):
If you like playmaking dual-threat quarterbacks, then Fair Park Stadium up in Childress could be the place for you as two of the top signal callers in the state will display its talents as 2A Panhandle looks to knock off 3A Childress on the road. Panhandle had no problems blasting past Memphis a week ago 54-6 as QB Braden Durst was 9-of-11 passing for 204 yards and four touchdowns. He added 107 rushing yards as well as PHS rolled up 470 yards of offense in the blowout victory.
After getting a scare from Bushland in Week 1, Childress took care of Class 4A Perryton 30-14 last week. Childress got another nice game from QB Luke Lattimer who tossed a pair of touchdown passes, but the CHS special teams got a blocked punt for a touchdown and outstanding DB Stephon Harris had an interception return for a touchdown. Childress will be a bit too much for a good Panhandle squad. The Bobcats have elite playmakers at all levels on both sides of the ball while Panhandle has an elite QB but lack the depth in other areas to keep up with Childress.
Stepp's Pick: Childress by 19
Windthorst (2-0) at Holliday (2-0):
Typically defensive minded Windthorst has seen its offense carry the load early in the year as the Trojans have topped the 40-point mark in both of their wins, including a 47-30 win last week over Jacksboro. QB Hunter Wolf was the difference for the Trojans throwing for 344 yards and six touchdowns in the win. Windthorst will get its toughest test of the season so far this week as against a Holliday defense that has allowed just 12 points through two games.
Last week, the Eagles rolled past Boyd 48-12 as HHS had a big night from the running game when Tristin Boyd and Crue Jackson combined for 261 rushing yards and five touchdowns. This is a battle of the top early season passing attack in the Wichita Falls area going against the top defense. Give the edge to the defense of Holliday as it's also the larger school and should be more equipped to deal with the Trojans aerial assault.
Stepp's Pick: Holliday by 6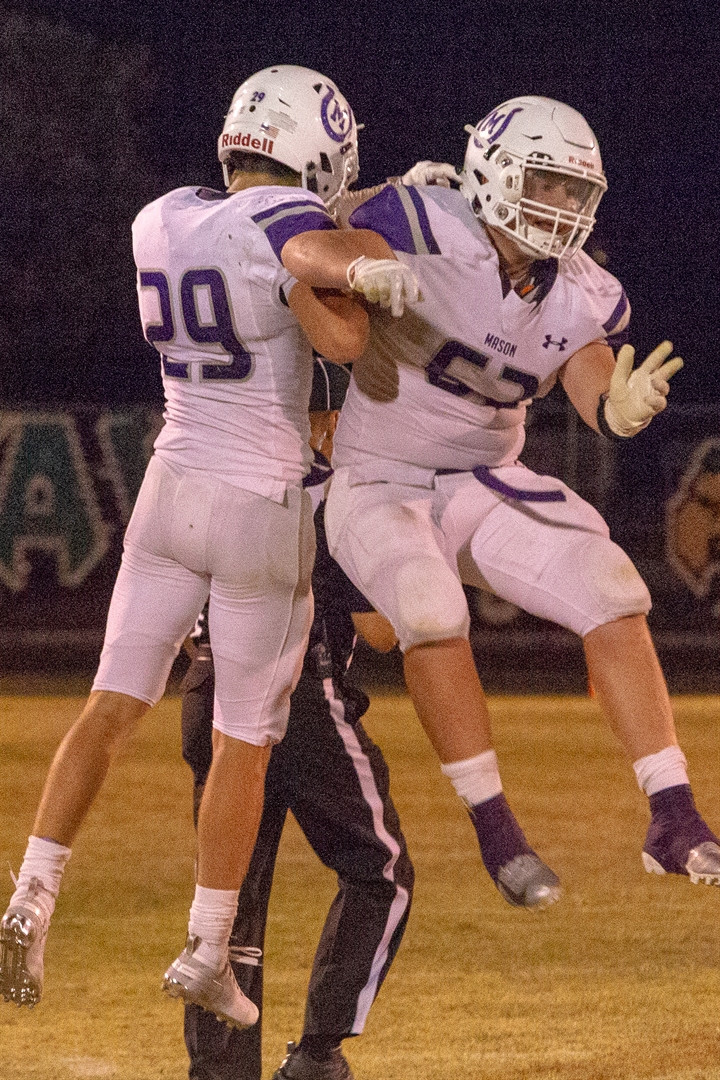 Sonora (2-0) at Mason (2-0):
All eyes in the Concho Valley will be on the Puncherdome as powerful Sonora and its high-flying offense take on Mason, who gets it done old school style with a potent rushing attack and tough defense. Last week the Broncos ripped past Lamesa 40-17 as QB Brian Van Winkle passed for 281 yards and five touchdowns. His top playmaker was Wesley Dutton who had 248 yards of offense and two touchdowns helping SHS jump out to a 34-3 halftime lead. After their big season opening win over Wall, Mason didn't have a letdown last week and rolled past Johnson City 49-6.
Mason's defense was the story holding Johnson City to just 98 yards of offense while piling up 449 yards on the offensive side of the ball. Mason's win over Wall two weeks ago was certainly eye-opening and shows that the Punchers are more than capable of going toe to toe with larger schools.
Stepp's Pick: Mason by 3
Burton (1-1) at Shiner (2-0):
After dropping the season opener to Lexington, Burton rolled past Milano last week 47-16 and put together a complete effort after the defense struggled a week ago. The Panther offense will need to bring it's A-game this week going against a Shiner squad that has the looks of a team ready to challenge Refugio and Mason for dominance in 2A Division I Region IV.
Shiner has yet to allow any points through two games. Last week the team shut out Class 3A Vanderbilt Industrial 14-0. The Comanche defense scored a touchdown and held Industrial to under 200 yards. Fumbles were an issue for SHS a week ago, but a lot can be contributed to the wet field and sloppy playing conditions. Provided there's no outbreak of turnovers, Shiner's dominance up front should be the difference.
Stepp's Pick: Shiner by 13
Hawley (2-0) at Hamlin (2-0):
Hamlin's veteran squad has lived up to the early billing and made a debut in the DCTF Class 2A Division II poll this week after a 58-20 rout of Munday on Friday evening. Sophomore QB Braydin Warner led the way with 208 passing yards and three touchdowns as the Pied Pipers' offense clicked on all cylinders.
Speaking of clicking on all cylinders, Hawley's offense has been downright lethal in two games as the Bearcats are averaging nearly 60 points per game after a 69-32 rout of Bangs last week. Hawley rolled up 627 yards of offense as QB Dylan Frazier threw for 327 yards and four touchdowns and RB's Colton Marshal and Tanner Schnoor combined for 328 rushing yards and five touchdowns to pace the HHS offense. Expect a shootout in this one, both offenses are capable of lighting the scoreboard up. Hamlin's defense has shown up a little better the past two weeks so we'll lean to the small school in this matchup.
Stepp's Pick: Hamlin by 4
Quick Picks
Highland Park (2-0) at Frisco Lone Star (2-0)
Stepp's Pick: Highland Park by 7
Andrews (1-1) at Levelland (1-1)
Stepp's Pick: Andrews by 9
Beeville Jones (2-0) at Tuloso-Midway (2-0)
Stepp's Pick: Beeville Jones by 10
Blanco (2-0) at Marion (1-1)
Stepp's Pick: Marion by 12
Hondo (2-0) at Medina Valley (1-1)
Stepp's Pick: Medina Valley by 21
DeLeon (2-0) at Dublin (2-0)
Stepp's Pick: DeLeon by 7
Dickinson (2-0) at Pearland Dawson (2-0)
Stepp's Pick: Dickinson by 8
Eagle Pass (2-0) vs. Eagle Pass Winn (2-0)
Stepp's Pick: Eagle Pass by 17
El Paso Pebble Hills (2-0) at El Paso Chapin (1-1)
Stepp's Pick: El Paso Pebble Hills by 13
Chico (2-0) at Era (1-1)
Stepp's Pick: Chico by 3
Mexia (1-1) at Malakoff (1-0)
Stepp's Pick: Mexia by 5
LaJoya (2-0) at Mission Sharyland (1-1)
Stepp's Pick: Mission Sharyland by 6
San Angelo Central (2-0) at Cedar Park (0-2)
Stepp's Pick: Cedar Park by 1
Seymour (2-0) at Wichita Falls City View (2-0)
Stepp's Pick: Seymour by 8
Orangefield (2-0) at Shepherd (2-0)
Stepp's Pick: Orangefield by 3