As Allen counted down the days to its first state championship appearance in 2008, Marcus Shavers – then a 6'4, 260 lb. defensive lineman at the University of Arkansas – was racing back to Texas in his little Buick Regal in hopes of making it back to see his alma mater play in Houston.
Only the UIL's largest classification, Class 5A at the time, had the location of its state championship games determined by the league, so several champions – including Prosper, Lake Travis and Sulphur Springs – had already hoisted their trophies.
Shavers listened on the radio as Katy edged Wylie 17-3 in the 5A Division II title game before arriving in time to see the Eagles take the field at Reliant Stadium against Fort Bend Hightower.
It was that day – when Allen defeated Hightower 21-14 to claim the first of five state championships – that Shavers knew he had to get into coaching.
"I knew all those kids and I knew a lot of the coaches," Shavers said. "I remember sitting in the bleachers, and it was the first state championship game I had ever attended. I was blown away by the amount of people interested in that game and seeing the coaches who coached me celebrating at the end was a confirming moment for me.
"I saw all that and thought, 'This is pretty special. I want to be a part of something like this one day.' That's what got me wanting to become a coach."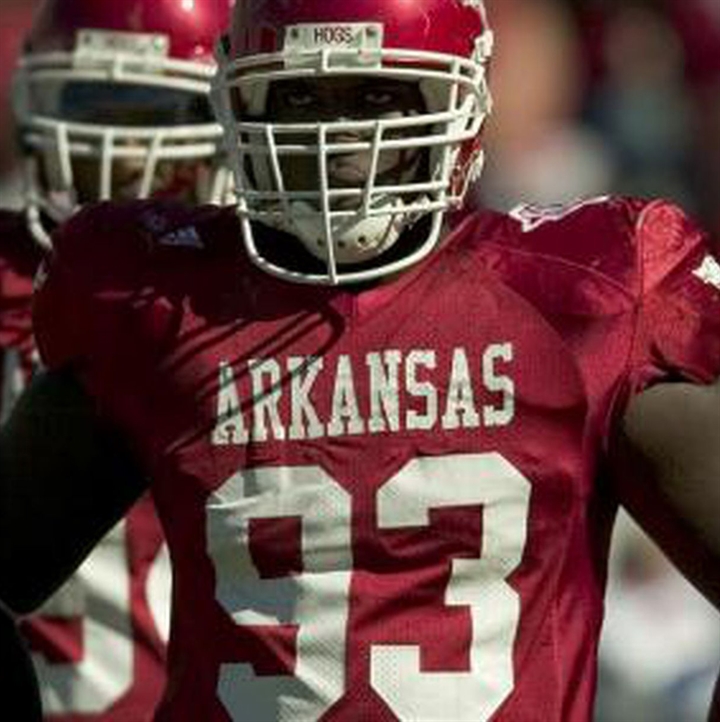 Shaping a Star
While Shavers eventually developed into an all-state defender and a U.S. Army All-American before going on to play at the pinnacle of college football in the Southeastern Conference, he didn't have it so easy growing up.
After moving countless times throughout middle school, Shavers and his mom moved to Allen for his freshman year. It was the first time in several years that he started and finished a year in the same place – and things finally began to feel normal.
But when Shavers came home from a summer workout in the weeks leading up to his sophomore season, his house was all packed up. Shavers' mom was moving again.
He was devastated at the thought of leaving.
"I went and talked to my coaches and they were concerned with what I had going on and the life I was living," Shavers said. "They really helped me get into a situation where I could create some stability in my life. That's how I was able to stay at Allen throughout my high school career."
Larry and Denise Francisco, the parents of Shavers' friend and fellow defensive lineman Tyler Francisco, caught wind of the situation and spoke with Allen head coach Joe Martin and defensive coordinator Terry Gamble. The Francisco's had an extra bedroom in their house and offered to let Shavers move in so that he could remain in the school district.
"Everyone can find someone in their life who impacted them in a big way," Gamble said. "Larry Francisco and his wife Denise are those people who impacted Marcus. I think that was a turning point in Marcus' life – a turning point like we all have. It was crucial for him.
"Some people will take opportunities and make the most of them and there are other people who don't take their opportunities. Marcus took the opportunity he had and made the most of it."
Shavers thrived in the new environment.
"I was in a situation where I never caught the bus," Shavers said. "I got dropped off in front of the school or in front of the weight room every day. I had a full breakfast – I mean a full breakfast – everyday. We did fun things on the weekends and got to travel.
"Throughout that experience, it made me want to live my life so that I could do that for my kids or be able to help someone who wasn't my own kid. If I had the ability to help someone who needed help like I did, I wanted to be able to do that."
It only took a few years for Shavers to get the opportunity he was looking for, as he was able to take in his younger brother Shamon McKenzie and raise him through high school after graduating from Arkansas and taking his first coaching job.
The life-changing intervention from the Francisco's helped shape Shavers into a man dedicated to giving back to kids and the community. Coaching provided the perfect avenue for that passion.
"That experience increased my want to be a servant leader," Shavers said. "Larry and Denise ran the household, but they just served. I learned that you can serve people without it jeopardizing who you are. Seeing them do that first hand was really a neat thing."
A Foot in the Door
After graduating from Allen, Shavers – who majored in Kinesiology while playing football at Arkansas – originally went back and forth between pursing personal training or coaching. Watching Allen's state title game as a senior made the decision easier, and he began reaching out to Gambill in hopes of breaking into the coaching world at the high school level in Texas.
Gambill, who said Shavers showed the qualities of a strong potential coach almost from the get-go in high school, connected him with Jaysen Lavender – then the head coach at Wichita Falls High School.
But Shavers was fresh out of college and only had a P.E. Certification while the Coyotes needed to fill a social studies teaching position.
Fortunately, Wichita Falls had a coach on staff in Shawn Lewis who was willing to shift from teaching P.E. to take over the social studies job in order to make room for Shavers to come on board.
It was the lucky break Shavers needed to kick start his coaching career.
"It's rare," Shavers said. "It's rare for that to happen. But I think that tells you the type of guy Shawn Lewis is. He wanted to put the best possible coaches in place and he wasn't scared of working or scared of teaching. To be honest with you, I owe Shawn Lewis a steak dinner the next time I see him. Because of that unselfish act, I had an opportunity to start my career off in a good situation."
It didn't take long for the former SEC football player to rise up the coaching ranks at Wichita Falls as Shavers was promoted to defensive coordinator just two years into his tenure with the program. Lavender gave Shavers full autonomy over the defensive scheme, and he quickly sought out ways to soak up as much information as possible from some of the top coaches in the state.
Shavers spent some time at Coppell High School, where head coach Joe McBride and defensive coordinator Joe DeWitt were coming off a 13-1 season in 2010 in which the Cowboys gave up less than 10 points per game before running into eventual state runner-up Euless Trinity in the quarterfinals.
DeWitt and McBride helped Shavers develop the defensive plan he went on to install in his first year as a coordinator. He cut four points off the team's average points allowed per game in the first year before knocking another eight points off the average in 2012.
"The best coaches are the ones who are always learning and willing to step outside their comfort zone to do what's best for the kids," Shavers said. "I think that part of me really correlates well into coaching."
That brief showing opened the door for Shavers to move on to West Mesquite, where he was on his first winning staff as an assistant coach. Like Lavender, West Mesquite coach Jeff Neill handed full control of the defense to Shavers. In doing so, he gave the young coach enough confidence to pursue his first head coaching job just a few years later.
"Coach Neill told me I was the head coach of the defense, and that was really the first time I'd heard that," Shavers said. "What West Mesquite did for me was prepare me to be a head coach. I got to run a program within a program and that was so beneficial for me in becoming a head coach."
After helping lead the Wranglers to a 19-14 record in three seasons – during which the team gave up an average of 20 points per game defensively – Shavers finally got the chance he was waiting for in 2016 when Lubbock Estacado hired him as its new head coach.

Building a Program
Shavers had plenty of mentors to look to when it came time to start building his first program. There was Joe Martin, who was the head coach at Allen when Shavers emerged as one of the top defensive line prospects in the country. By this time, Gambill had taken over the head coaching job at Allen and was still in close contact with his former player.
At the college level, Shavers admired Houston Nutt, who was his head coach at Arkansas and posted a 123-75 record in 10 seasons with the Razorbacks. He also wanted to pull from the coaching style of Tracy Rocker – a hard-nosed defensive line coach under Nutt from 2003-07.
With several different directions to look toward, Shavers was able to expedite the rebuilding process at Lubbock Estacado.
"Most of us coaches kind of coach like the people who coached us most," Shavers said. "Those four guys are everything I want to emulate as a head coach. I took the best parts of all those guys and tried to emulate it as much as possible."
The result? After going 2-8 in 2015, the Matadors turned things around immediately under the new regime and went 8-4 while advancing to the area round of the playoffs. Shavers and Estacado built on that success last season, rebounding from a disappointing Week 1 loss to Hereford to win 10 straight games and the outright District 1-4A DI championship.
"After that first game against Hereford, you're like, 'Geez', sitting there racking your brains thinking about what you're going to do," Shavers said. "But we reeled off, for the first time in my career, 10 straight wins.
"The momentum and excitement that caused was such an awesome memory and feeling. That was something a lot of good coaches haven't had the opportunity to experience. For me to get to do that in my second year as a head coach is pretty special."
A New Chapter
In finding success at such a high level so early in his career as a head coach, Shavers put himself in a position to begin looking for an opportunity to return home to the North Dallas area. When Jeff Smith left McKinney after eight seasons to take an assistant athletic director job with Prosper ISD, Shavers jumped at the chance to throw his name into ring for the head job at a school that sits less than seven miles from his alma mater.
McKinney was intrigued by Shavers' background and track record of success and moved to name him its new head coach in late February.
"We are very excited to start a new chapter of football at McKinney High School," MISD Athletic Director Shawn Pratt said in a release. "Coach Shavers is a great motivator and relationship builder, and I believe he is going to be outstanding for those student athletes. His success with the football program at Estacado has been impressive, and we are excited to see what he will do with the McKinney High School program."
Leaving Estacado after a remarkable two-year turnaround was a tough decision, especially considering all of the talent the Matadors bring back this season. Plus, the team entered August as the No. 9 team in 4A DI, and remains in that spot after three weeks of play under new head coach and former Shavers assistant Joe Cluley.
But more than anything else, McKinney provided Shavers and his family with an important sense of stability.
"It's crazy how things change," Shavers said. "My goal is to create stability. I've always admired the coaches who were at one place for decades and coached generations of families. I want to have a big football camp where I know that little third grader struggling to get through a drill is going to be a McKinney Lion one day.
"This place is special to me. It gave me an opportunity to come back home. I want to grow this program to someday be one of the top programs in the state."

The First Step
Ever since he first saw Allen compete for a state championship in 2008, Shavers has wanted to coach in a title game. But in his first year at McKinney in a tough district alongside Allen, Dallas Jesuit, McKinney Boyd, Plano, Plano East, Plano West and Prosper, Shavers has a more attainable goal in mind.
"I think what makes Year 1 a successful year for us is to have McKinney go to the playoffs for the second straight year," Shavers said. "I think making the playoffs as one of the top four teams in a very, very tough district would make me feel as though we did our job in Year 1. Whatever we need to do, however that happens, we need to extend our season one more week."
Getting to that point started with instilling his ideals into the program back in the spring. McKinney has embraced Shavers' motto of "WAWG", which stands for "We're All We Got". It's a family-first mantra that the first-year coach hopes will translate into success as the season continues.
"I try to remind them every day that nobody outside these walls is going to know what you go through or how hard you work on a daily basis," Shavers said. "I tell them, 'We're all we got', and they answer back, 'We're all we need.' It's a reminder that we have enough, and we are enough – That's something that's special to me personally."
This article is available to our Digital Subscribers.
Click "Subscribe Now" to see a list of subscription offers.
Already a Subscriber? Sign In to access this content.