Dave Campbell's Texas Football has partnered with Texas Farm Bureau Insurance to shine the spotlight on some of the most deserving young people in Texas Football with the Unsung Hero Award. Students honored are presented with an award at their school's pep rally and Friday night football game.
In addition to the award and special recognition on TexasFootball.com, each student will receive $500 in scholarship money as an Unsung Hero recipient from Texas Farm Bureau Insurance. Congratulations to all of the winners!
---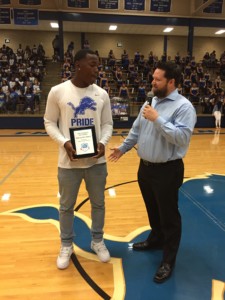 Football injuries come in all shapes and sizes. And none of them are good. But for Justin Samples, the hit he took in the Fall of 2016 proved to have a silver lining. Samples was a star running back for the talent-rich John Tyler Lions. His mailbox was starting to overflow with college offers. Then came the hit against North Mesquite. What originally looked like a concussion was later diagnosed by the Lions' astute training staff as something else. A subsequent evaluation revealed a degenerative issue that could have caused even greater harm had it been left undiagnosed.
"He had some concussions in his history but that's not what this was. Our training staff did a great job figuring out quickly that this looked like something different and took him in," recalls John Tyler head coach Ricklan Holmes. "We're sure glad we figured it out because this could have gone very badly for Justin if it had gone unchecked."
Justin lost football after that diagnosis, but he certainly didn't lose the love of his team and vice versa. He's been a staple around practice and the locker room and as Coach Holmes explains he's quickly become an even greater team leader than before.
"Justin Samples is a no-brainer for the Dave Campbell's Unsung Hero Award," says Coach Ricklan. "His attitude through all of this has never wavered. He's a team guy and truly cares about each of his teammates despite not being able to play with them anymore. He's the type of kid that defines your program."
This article is available to our Digital Subscribers.
Click "Subscribe Now" to see a list of subscription offers.
Already a Subscriber? Sign In to access this content.