Dave Campbell's Texas Football has partnered with Texas Farm Bureau Insurance to shine the spotlight on some of the most deserving young people in Texas Football with the Unsung Hero Award. Students honored are presented with an award at their school's pep rally and Friday night football game.
In addition to the award and special recognition on TexasFootball.com, each student will receive $500 in scholarship money as an Unsung Hero recipient from Texas Farm Bureau Insurance. Congratulations to all of the winners!
---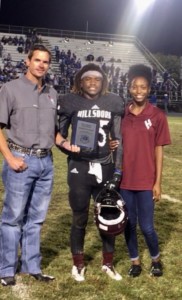 If Hillsboro High School head coach Joey Moss drew up a blueprint for what he would want in a building block for his program, that blueprint would look exactly like Trae Haywood. The senior tailback symbolizes what Coach Moss has constructed at Hillsboro and is the reason when asked about the Dave Campbell's Unsung Hero Award presented by Texas Farm Bureau Insurance, he was lightning quick with his answer.
"Trae is everything you'd want in a young man. He's humble, works hard and never complains about the cards he's been dealt," Coach Moss says. "This is a kid who should be a significant player for us all season but it's what he does off the field that sets him apart."
Trae has lived with a guardian family of a fellow student since his grandmother's health became too much of a challenge for her to live on her own. She's now in an assisted living residence. Trae battles diabetes, which means a good diet is mandatory. He's on Hillsboro's seven-person Football Leadership Council, a group that Coach Moss says is extremely important for team unity and success.
"Trae plays more than football here. He also excels at basketball and track. He's a shy young man and never wants anyone feeling sorry for him," Coach Moss says. "This is the type of player and person Hillsboro can be very proud to call their own."
This article is available to our Digital Subscribers.
Click "Subscribe Now" to see a list of subscription offers.
Already a Subscriber? Sign In to access this content.