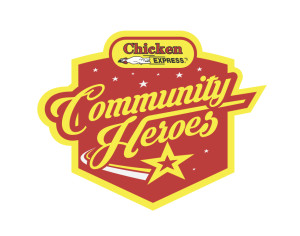 Chicken Express and Dave Campbell's Texas Football are partnering to honor the heroes in your community. Male and female student-athletes that lead by example on the field of play and in the classroom can be honored as Chicken Express Community Heroes and receive scholarship money to continue their education beyond high school. Athletes can be nominated at TexasFootball.com/ChickenExpress.
---

Cale Nanny
Argyle High School
For Cale Nanny, high school athletics have been a part of his life since birth. Being the son of a Texas high school football coach, Cale understands what it means to sacrifice time and family for the sake of your team.
"Sports have always been a part of my life. With my dad being a coach, I was always going to sporting events, so just being around it influenced me to want to play."
While he claims football as his favorite, Nanny also participates on the Argyle High School track & field, and Soccer teams.
"Sports have shaped me into the person I am today by teaching me to work hard in everything I do. If you want to be the best at something, you have to work like the best."
Fortunately for Nanny, this hard work has paid off. During his junior year, Nanny was named a Second Team All-District wide receiver for District 4-4A, Second Team All-Area wide receiver by the Denton Record Chronicle, and First Team All-District forward for District 5-4A soccer. Aside from his accomplishments on the field, Nanny has been named to the A Honor Roll, and maintained perfect attendance throughout all three years of high school.
"Those awards meant a lot because in football and track, the coaches from other teams in the district vote on players for All-District spots."
While the three-sport athlete dedicates a large amount of time to academics and athletics, Nanny is also an active member of many community organizations.
"I'm involved in FCA, Young Men's Service League, the National Honor Society, and my church's youth group, and through that it has helped me to have a servant's heart and compassion for those in need . . . Through YMSL, we volunteer at least 20 hours every year, so I have been involved in different community service projects in the area."
It's safe to say that Argyle has made an impression on Nanny given his dedication to those around him.
"I've been blessed with so much, so it is humbling to give back to my community. My community means a lot to me. Argyle is a great place."
While he is undecided as to where he wants to attend college, he is certain that he wants to pursue a degree in Education while playing collegiate football. While his time as an Argyle Eagle is coming to an end, it won't be long before we see Cale Nanny reentering the walls of a high school. Only this time as one of the coaches and teachers who made an impact on him at a young age.
Sandy Clarkin
Bandera High School
They say that practice makes perfect, and for Sandy Clarkin, this has been her attitude since elementary school.
"We would run around a little track and I noticed that I was the one kid who really liked to run, so I started running around my yard when I was little. . . In seventh grade is when I had the chance to compete and I realized that I was really good at it [running], and I really enjoyed it."
Describing her career thus far as "good" is Clarkin's way of humbly recounting her accomplishments. Having qualified for the UIL Track & Field State Meet during both her Sophomore and Junior year, and winning the 800 meter run at the 2017 state meet in the class 4A division, Clarkin has exceeded all expectations of "good."
"It was mind boggling [winning state]. I mean, I knew I was good, but then when you put in all that effort and the hard work and everyday you have to go to practice, then at the end of it, it all pays off. It's really rewarding."
While Clarkin has made a name for herself on the track and in the classroom, she also spends a good amount of time volunteering around her community.
"There's an equitherapy center very close to my house, and I really enjoy doing that. I have been for about five or six years. For two years now I have don't the medina river clean up and that's always been a lot of fun even though you're picking up trash it can be really rewarding."
While she discussed what track meant to her over the years, she was not shy about recognizing her community as a large source of her success and support.
"It's a small town so everybody knows everybody. What I love is walking through the halls you see your friends and your teachers, and it makes you feel good knowing that everyone is there to support you. And it's been nice through cross-country and track. Sometimes we have parades and everybody goes out to cheer us on and wish us luck. So its really nice that everyone is so close."
While, Bandera has been good to Clarkin, her high school career is wrapping up. Although, she hasn't decided on a college or exact degree, she is being optimistic in her evaluation of institutions.
This article is available to our Digital Subscribers.
Click "Subscribe Now" to see a list of subscription offers.
Already a Subscriber? Sign In to access this content.