Roughly one year ago, Naaman Forest head football coach, Marvin Sedberry, introduced the idea of #ONELINK to his program. Today, the idea has spread across the entire Naaman Forest family. Specifically, the Naaman Forest booster club has adopted the idea and uses the slogan as motivation to fuel the support for the Ranger's athletic programs.
"We don't have strong links or weak links, we are all part of one strong link - together we are stronger. Every person matters," explained booster club president, Amy Jahnel.
"Coach's vision has had a huge impact on bringing people together at the team, school and community level. We want everyone to be part of our family."
Having been a member of the booster club for three years, Jahnel understands that everyone together creates an environment that is most beneficial to the student-athletes.
"I believe in these kids, I believe in the opportunity football gives them, and I believe in the life lessons they are learning. They will leave this program as better men. Last year, out of 21 seniors, 11 are playing college football this year. Without football, many of these young men are not attending college. The booster club is proud of all our young men and any small part we have played in helping them achieve their dreams."
To some the volunteer work of the boosters may seem small, however, these individuals who volunteer their time do so for many hours throughout the year.
"We meet and work year-round. In March and April we start fundraising for the fall, setting up communication with the parents . . . We want our players and coaches to know they are appreciated. They spend countless hours working out and practicing. The coaches sacrifice so much family time and the players give up other sports and academic opportunities to devote time to football. We went these men to feel supported and to be safe. We want them to have the basic items they need to play the game."
Though Jahnel's dedication to the booster club contains a support for all of the players, she expressed on a personal level that her dedication to Rangers Athletics is the way football has helped her son through the death of his father.
"Additionally, my son's father passed when he was 5 and the brotherhood and male role models he has playing high school football is something he really needs and appreciates. These young men are not just teammates, they are family. One visit to our program and you can witness why I am so passionate about helping this team."
While the booster club is known for giving so much encouragement to Naaman Forest Athletics, the football team is giving hope and support to an entire community. Together these individuals have built something special for the community to thrive on, and so far, they're exceeding expectations.
---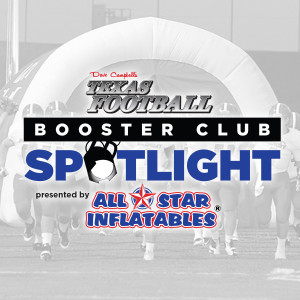 Special Message from All-Star Inflatables:
Every sports team wants to run through an inflatable, but how do they afford them?
Teams have been using inflatable entrance tunnels, helmet replicas, and larger than life mascots for over 25 years. The number one question is "How do they afford them?" It's simple…Stop looking at the cost and look at how much money your sports organization can raise with our team entrances. 
Many schools purchase their inflatable entrance with local business funds. During the manufacturing process we sew velcro on each side of the tunnel or archway, then the teams can sell to their local companies signage spots to provide revenue.  The benefit to velcro is this sponsor spot can be sold year after year to not only help pay for your inflatable, but also aid in purchasing power for other necessities such as weight room equipment, headsets, and new team equipment.  
As the teams come roaring out on the field in front of thousands of fans; both at home and away; your team sponsors will be highlighted every week. With this kind of attention every business owner will do anything to have there name on the inflatables. This is how even our smallest organization can afford an incredible team entrance.
This article is available to our Digital Subscribers.
Click "Subscribe Now" to see a list of subscription offers.
Already a Subscriber? Sign In to access this content.