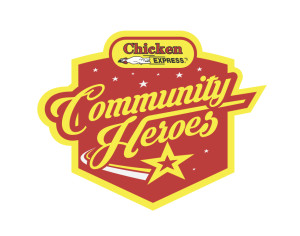 Chicken Express and Dave Campbell's Texas Football are partnering to honor the heroes in your community. Male and female student-athletes that lead by example on the field of play and in the classroom can be honored as Chicken Express Community Heroes and receive scholarship money to continue their education beyond high school. Athletes can be nominated at TexasFootball.com/ChickenExpress.
---
Mackenzie Hozdic
Queen City High School
As an all A student, the student council president, a member of the National Honor Society, and an active member of a youth choir and ensemble at church, senior Mackenzie Hozdic has a lot on her plate during the school year.
But when you add in the rigors of volleyball and the commitment of coordinating the area Ronald McDonald Pop Tab program, her resume is even more impressive.
Hozdic's older sister started the pop tab program a few years ago, and passed it down when she graduated and went on to attend Texas Christian University.
"We are super close," Hozdic said of their relationship. "These last two years, I've missed her a lot."
After her sister's graduation, Hozdic took the reigns of the program that collects alumunium can tabs and turns them in for money that is then donated to organizations that help kids in the Queen City area.
"It's really important to me," Hozdic said. "To see the impact actually being made in your area, it means so much more. Since my sister started it we've both been really involved, and I really enjoy it."
Hozdic's impact in the community is felt in a big way, and the senior has also been a key member of the volleyball team as a three-year varsity letterman. Queen City won 78 games over the last three seasons, and Hozdic was honored with honorable mention all-district as a sophomore and second team all-district as a junior.
Despite the team having a little bit of a down year this season, Hozdic made enough of an impact on the district to be named to the first team all-district team for the first time.
"I was really surprised," Hozdic said. "This year we weren't one of the top two teams. I wasn't expecting many girls from our team to get first team all-district, so it meant a lot to me and I was surprised. It was exciting."
After closing out her high school athletic career on a solid note, Hozdic will have more time to dedicate to both her other extra-curricular activities and the pop tab program. Upon graduation in the spring, she hopes to attend Texas Christian University to study sports broadcasting.
Brady Moore
Dublin High School
As a three-sport athlete, Dublin senior Brady Moore has split his time over the years between football (quarterback), baseball (pitcher) and basketball (shooting guard). If you asked Moore what his favorite sport was a few years ago, he would have said basketball.
Things may have started with basketball as the favorite, but Moore's preference began to change over the last couple years.
"I used to prefer basketball more," Moore said. "But as we started to have more success during high school on the football field, I started leaning more that way."
Dublin saw a rapid turnaround of its football program in 2014 and 2015, and Moore played a role in guiding the Lions to back-to-back area championship appearances for the first time in school history.
As a sophomore, Moore wasn't the starting quarterback for the team's first trip to the post-season. But in his junior year, he recovered from a mid-season injury and came back three games into district action to help the Lions clinch a playoff berth down the stretch.
"To have my name be a part of that legacy is really something that was cool to be a part of," Moore said. "It was great to see how much fun everyone had with it."
The Lions didn't find the same amount of success on the field this season after finishing (1-9), but even in a disappointing year, Moore noted the connection the team has with the Dublin community.
Off the field, Moore has been an academic all-district selection in all three sports, a member of the Fellowship of Christian Athletes, National Honor Society, Future Problem Solvers and the student council. He also spends time volunteering at vacation bible school, and has even preached a sermon during a church service.
"Being able to give back to the community that supports us so much in all the sports that we do is a great feeling," Moore said. "Even with the success last year and then struggles this year, we knew the community was behind us – win or lose - to support us. We really appreciate that, and it's always nice to give back to them when they give so much to us."
Moore's high school football career may be over, but the senior has high aspriations for his future after graduating in the spring. Moore hopes to play college football and plans to major in biology before going to medical school to be an orthopedic surgeon.
This article is available to our Digital Subscribers.
Click "Subscribe Now" to see a list of subscription offers.
Already a Subscriber? Sign In to access this content.