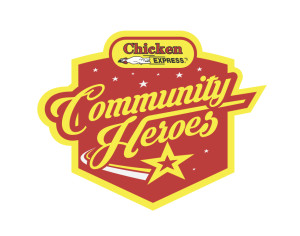 Chicken Express and Dave Campbell's Texas Football are partnering to honor the heroes in your community. Male and female student-athletes that lead by example on the field of play and in the classroom can be honored as Chicken Express Community Heroes and receive scholarship money to continue their education beyond high school. Athletes can be nominated at TexasFootball.com/ChickenExpress.
---

BRIAN BACA
Pittsburg High School
It's not often that the athletic director is the quarterbacks coach, the head football coach, and the older brother of the team's starting quarterback but that is exactly the role Brad Baca played in his little brother, Brian's, life this past season. According to big brother Brad, Brian came to Pittsburg High School late in his junior year and had to earn the starting quarterback spot. Coach Baca did not treat the younger Brian any differently from any of his other players. During practices and games Brian and Brad's relationship was that of coach and quarterback. It wasn't till they were home did they act like brothers. It was one of the most unique dynamics in all of Texas high school football this past season. Let's not forget to mention that Brad and Brian's dad was the defensive coordinator for the team.
Football definitely runs deep in this family. So does high character and that brings us to Brian, our male recipient of the Chicken Express community hero award for the month of April. When Brian isn't on the field Brian is busy being a member of the national honor society, working hard to stay in the top 10% of his senior class, and founding a local chapter of FCA at his school. Outside of school you can find Brian interning at a local church and even preaching on occasion. Brian has even visited sick members of the community at the local hospital. Aside from leaving his mark on the football field he is busy leaving his mark on the community. On the field, in the class, and in the community Brian finds ways to excel. Brian hopes to coach one day and follow in his dad and brother's footsteps. Brian will attend East Texas Baptist University in the fall and plans to study business. His older brother Brad says you can expect Brian to continue to work hard wherever he goes.
---

ASHLEY PIERCE
Abilene High School

Ashley Pierce is a senior and dual-sport star at Abilene High School. She thrives in both volleyball and basketball. She is in a unique situation in which her assistant basketball coach happens to be her father and her head volleyball coach happens to be her mother. In regards to both sports she plays in Ashley has been described by her head basketball coach, Terri Aston, as having a large IQ for both sports, a product of having parents who happen to be coaches.

On the hardwood she has lettered for 3 years at Abilene as the team's starting point guard. A student of the game, Ashley has been around basketball since she was five years old. Described by Coach Aston as someone leads by example, Ashley served as a team captain for the basketball team. In 2014-2015 she was named all-district in district 3-6A and in 2015-2016 she was named 2nd team all-district. Aside from being recognized for what she did on the court she was also recognized for what she did in the classroom as she was named to TGCA basketball academic all-state team. This comes as no surprise as she is in the top 10% of her graduating class.

Her accomplishments in volleyball are just as great. Ashley was named All-State and Academic All-State by the TGCA in volleyball, 1st-team all-district, a team captain, and has been recognized for her play various tournaments she has competed in. Because of her outstanding play in volleyball Ashley has been offered an athletic scholarship to play for Hardin-Simmons University. In the community Ashley helps and volunteers through her Abilene High School Student Leadership Team and through the National Honor society. Ashley is a leader both on and off the court. She excels in every aspect she puts her mind too and it's clear from talking to coach Aston that Ashley Pierce is a great kid and deserving to be recognized as a Chicken Express Community Hero.


This article is available to our Digital Subscribers.
Click "Subscribe Now" to see a list of subscription offers.
Already a Subscriber? Sign In to access this content.