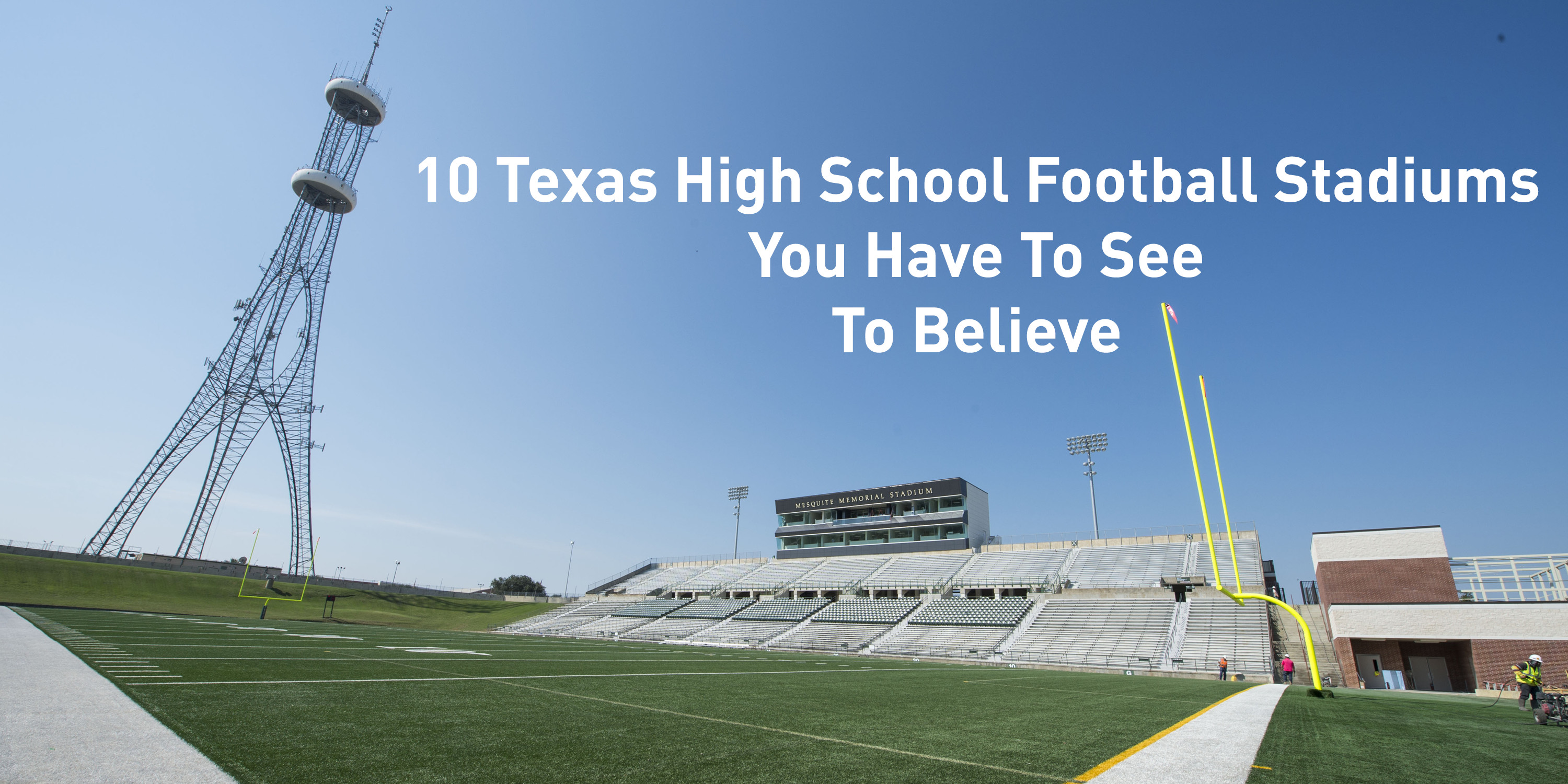 There's a mystique to Texas high school football, especially in its imagery. And at the forefront of that imagery — the signpost for most outsiders that Texas takes high school football seriously — is the high school football stadium.
There are more than 1,200 high school football stadiums across the Lone Star State, but some of them stand out more than others.
Here's DCTF's list of 10 Texas high school football stadiums you have to see to believe.
RR Jones Stadium — El Paso

There's so much to love about El Paso's most legendary stadium. The 16,000-seat stadium opened in 1916 and actually hosted the first Sun Bowl game. It's got a beautiful view of El Paso High to the west and central El Paso to the east. If you're ever way out west, you owe it to yourself to visit this place.
Rogan Field — San Saba

The home of the San Saba Armadillos is nice enough — a beautiful stadium build in 1935 that holds about 1,500 folks on bleachers. But that's not what makes it unbelievable. No, Rogan Field has a secret: it was
built on top of an old graveyard
. That's right: the Armadillos play atop what used to be a cemetery. Needless to say, crazy things are known to happen during San Saba home games.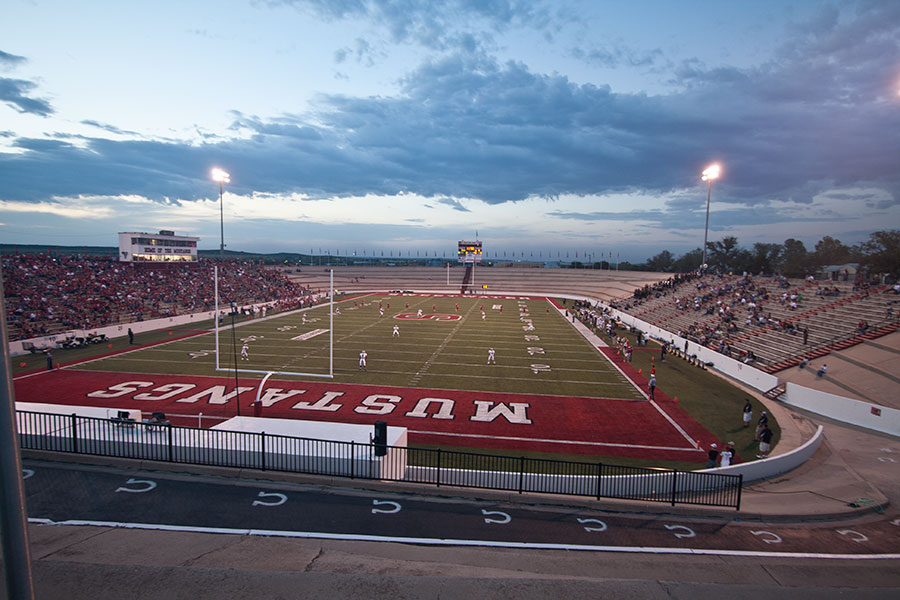 Mustang Bowl — Sweetwater

One of the true gems of Texas high school football, the 6,500-seat Mustang Bowl has been around since 1939 when the Civilian Conservation Corp built the beautiful stadium as part of the New Deal. The iconic part is that it's got truth in naming: it's an actual bowl all the way around the south side of the stadium.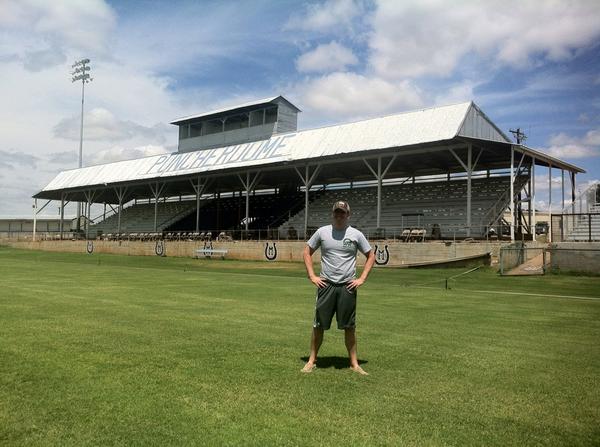 Puncher Dome — Mason

My personal favorite stadium in Texas high school football, the Puncher Dome is actually R. Clinton Schulze Stadium in Mason, Texas. But forget that: it's the Puncher Dome, known for its iconic overhang on the home stands. The stadium, which seats 2,000 fans, is actually old horseracing grandstands on the county fairgrounds that has been converted to the finest football stadium in Mason County.
Eagle Stadium — Sanderson

Known as "The Pit", Eagle Stadium is home to the six-man Sanderson Eagles. The stadium is more-or-less dug into a mountain, giving it one of the unique backdrops in Texas high school football for the 200 people it seats (and the countless others that line the fence every Friday night).
Tomato Bowl — Jacksonville

Out east you'll find your share of iconic Texas high school football stadiums — we could easily put Tyler's Rose Stadium or any number of others — but there's something about the Tomato Bowl that always sticks out to us. Maybe it's the coziness of the 5,000-seat stadium; maybe it's the age (built in 1940 and continuously operating since); maybe it's the classic design. Whatever it is, there's little in the world quite like a Friday night in Jacksonville.
Berry Center — Cypress

The newest stadium on this list, this 10,000-seat behemoth outside of Houston was one of the first stadiums in the state to offer an upper deck. Between the sheer size and the beautiful façade of the Cypress ISD athletic building behind one of the end zones, it's one of the most unique new stadiums in the state.
Lang Field — San Antonio

From the newest…to the oldest! Lang Field — home of the San Antonio St. Anthony Yellow Jackets — is the oldest high school football stadium still in use in Texas. Built in 1910 adjacent to Trinity University, it may only hold 750 fans at a time, but it's got more history than any other stadium.
Ram Stadium — Joaquin

If you look at Ram Stadium, it may not strike you as particularly interesting. Sure, it's old — built in 1937 — and it's relatively small — seats about 1,000 — but those types of stadiums are a dime a dozen in Texas. What really sets Joaquin's stadium apart: it used to be a cornfield. Yes, really: in 1936, the stadium was a cornfield; in 1937, it was a football field. If that's not small town Texas, I don't know what is.
Memorial Stadium — Mesquite

This is a sentimental pick for me, since I cut my teeth in journalism covering games at ol' Mesquite Memorial, but this is one of the most visually stunning stadiums in the state. Built in 1977, it's a massive stadium, seating a whopping 20,000 fans at a time. But the size is only part of this — in the south end zone, you'll find the 510-foot Mesquite Tower rising into the sky, which operates as the radio tower for the radio station KEOM. You've got to see it to believe it.
---
Which stadiums should be on this list? Let us know on Facebook or Twitter!