Sharunda Roston isn't one to sit back and watch while others struggle to succeed. She's definitely going to get her hands dirty and do everything she can to make it work. And that's exactly the mindset it took for Sharunda to help revive the Skyline Football Booster Club this past year.
With membership tumbling to all-time lows, Sharunda and Lakaisha Wallace decided to take on leadership roles with the booster club and spark new interest in a program that has a rich and storied history. Their success off the field coincided with a very solid year on the field for Skyline as the senior-laden squad advanced to the state playoffs.
"We had 18 parents sign up just this year alone. That might not sound like a ton but it's such a bigger number than we had in the recent past," Sharunda says. "We started a board of directors that now includes six folks. All in all, it was a transformation for the entire booster club and something we're very proud of."
From a fund-raising standpoint, Sharunda says they got very creative this past season focusing on selling everything from decorated cowbells, pom-poms, t-shirts and snacks. Most of the funds went to feed the team throughout the Fall, although Sharunda admits that the biggest hit was her cooking vs. restaurant sandwiches.
"I made them beef stew, homemade cornbread, chicken alfredo, green beans and spaghetti," she says. "Basically I spoiled them to the point where I'm not sure what they'll do next year. The boys really will miss my cornbread."
Sharunda's son was a senior this past season, Derick Goines Jr. played outside linebacker, defensive end and fullback. He's hoping to walk-on with a college team next year. Derick was part of what Skyline's seniors called The Dream Team, a collection of 33 senior football players who had been together since freshmen.
"When we lost in a very close playoff game, I couldn't talk afterwards. It was a crushing defeat for the boys," Sharunda says. "But they had a great year and a great high school experience together and I'm so proud of all of them."
With folks like Sharunda doing plenty of the heavy lifting behind the scenes, Skyline won big time.
---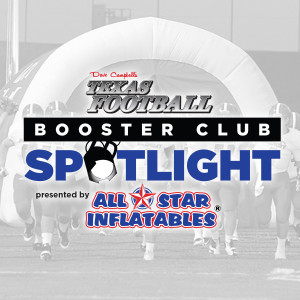 Special Message from All-Star Inflatables:
Every sports team wants to run through an inflatable, but how do they afford them?
Teams have been using inflatable entrance tunnels, helmet replicas, and larger than life mascots for over 25 years. The number one question is "How do they afford them?" It's simple…Stop looking at the cost and look at how much money your sports organization can raise with our team entrances. 
Many schools purchase their inflatable entrance with local business funds. During the manufacturing process we sew velcro on each side of the tunnel or archway, then the teams can sell to their local companies signage spots to provide revenue.  The benefit to velcro is this sponsor spot can be sold year after year to not only help pay for your inflatable, but also aid in purchasing power for other necessities such as weight room equipment, headsets, and new team equipment.  
As the teams come roaring out on the field in front of thousands of fans; both at home and away; your team sponsors will be highlighted every week. With this kind of attention every business owner will do anything to have there name on the inflatables. This is how even our smallest organization can afford an incredible team entrance.
This article is available to our Digital Subscribers.
Click "Subscribe Now" to see a list of subscription offers.
Already a Subscriber? Sign In to access this content.