The Canton Athletic Booster Club is under the guidance of Justin Hesskew for a second go-around, but it's truly a team effort. Hesskew wants to be there for the kids, and that includes every athlete between the seventh and twelfth grade. He considers his position on the same level as the board members and parents that also meet the needs of the district's athletes, and recognizes that their effort leads to the booster club's success.
"It would be impossible to run a booster club without parental help," Hesskew said. "Their help gets everything done."
Hesskew is actively recruiting parents to get involved. That's why Canton always has the proper man power to meet the athletes' needs. The booster club works with parents to prepare a meal for the high school's athletes, and sandwiches are always prepared for those at the junior high. The parents pay for the food and prepare the meals. Booster club members set up the weekly event, and clean up after the meal. It's always hosted the night before a game.
The booster club sells stadium signs to local businesses for football and baseball games, and t-shirts, hats and stadium chairs to the general public. That's how it's able to provide hotel rooms for a postseason run, and a video camera for the volleyball team. Like at other schools, football season is the busiest. That's when the club makes the majority of its money. Hesskew said he doesn't have huge plans for the rest of the year, but there's one reason why he's still around.
"I just want to make sure that the booster club in Canton is here for the kids, and that's been my number one priority. We're not here to do anything other than that."
---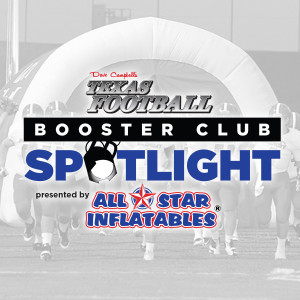 Special Message from All-Star Inflatables:
Every sports team wants to run through an inflatable, but how do they afford them?
Teams have been using inflatable entrance tunnels, helmet replicas, and larger than life mascots for over 25 years. The number one question is "How do they afford them?" It's simple…Stop looking at the cost and look at how much money your sports organization can raise with our team entrances. 
Many schools purchase their inflatable entrance with local business funds. During the manufacturing process we sew velcro on each side of the tunnel or archway, then the teams can sell to their local companies signage spots to provide revenue.  The benefit to velcro is this sponsor spot can be sold year after year to not only help pay for your inflatable, but also aid in purchasing power for other necessities such as weight room equipment, headsets, and new team equipment.  
As the teams come roaring out on the field in front of thousands of fans; both at home and away; your team sponsors will be highlighted every week. With this kind of attention every business owner will do anything to have there name on the inflatables. This is how even our smallest organization can afford an incredible team entrance.
This article is available to our Digital Subscribers.
Click "Subscribe Now" to see a list of subscription offers.
Already a Subscriber? Sign In to access this content.