Micah B. Phillips is leading by example as the Kimball Booster Club president. He's been an active member since 1992, but his dedication to the school and its athletes earned him the presidency. He understands that many of the students come from an urban environment, and wants to show them that things will get better if they graduate from high school.
He wants to use his positioning to be an influential role model because he never wants the students to lose hope. He graduated from the high school so he relates to the student body. He went on to play football at USC, and is currently running for Dallas Country Commissioner. We wants them to chase scholarships and see the benefits of graduating. Excelling in academics is important to Phillips, and he wants the students to feel the same way. He installs the values of being a student-athlete, and wants them to be leaders in places like the classroom.
His background in social and economic development is beneficial because he wants to improve the environment around Kimball. He wants to create an exciting atmosphere for the Kimball community, and that's why he joined the booster club in the first place. Ultimately, he hopes the community reaches the state of nearby Carter High School.
The booster club's efforts are important, and Phillips wants the athletes to feel appreciated. Parental support generally falls short in urban schools, but he wants Kimball to be different. He is encouraging them to answer the call throughout the school year. He wants them to know that all the money from fundraisers goes back to their school and sports teams. It hosted a successful alumni reunion last year, where alumni from the Class of 1960 to the present were on hand for the picnic. The booster club also provides meals for the athletes, and pom-poms and stadium cushions for the Knight Gallery at games.
---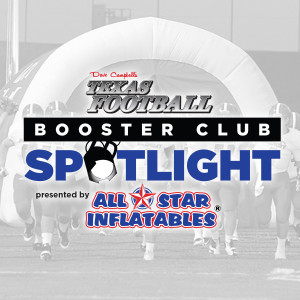 Special Message from All-Star Inflatables:
Every sports team wants to run through an inflatable, but how do they afford them?
Teams have been using inflatable entrance tunnels, helmet replicas, and larger than life mascots for over 25 years. The number one question is "How do they afford them?" It's simple…Stop looking at the cost and look at how much money your sports organization can raise with our team entrances. 
Many schools purchase their inflatable entrance with local business funds. During the manufacturing process we sew velcro on each side of the tunnel or archway, then the teams can sell to their local companies signage spots to provide revenue.  The benefit to velcro is this sponsor spot can be sold year after year to not only help pay for your inflatable, but also aid in purchasing power for other necessities such as weight room equipment, headsets, and new team equipment.  
As the teams come roaring out on the field in front of thousands of fans; both at home and away; your team sponsors will be highlighted every week. With this kind of attention every business owner will do anything to have there name on the inflatables. This is how even our smallest organization can afford an incredible team entrance.
This article is available to our Digital Subscribers.
Click "Subscribe Now" to see a list of subscription offers.
Already a Subscriber? Sign In to access this content.