Commerce Booster Club president Karen Maxwell is emphasizing community support throughout the school year. She said it's great during football season, but it tapers off as the year progresses. She sees the potential, and wants to improve the trend during basketball season. She's from Kansas, so she knows how to do basketball. That's why she's implementing a more electrifying atmosphere at the Commerce basketball games this season. She's been in talks with athletic director Jeff Cleveland to amp up the game day experience, and that's why the school's jazz band will be on-site. She hopes attendance grows as a result this season, and plans to sell shirts at the games.
The booster club has two main fundraisers, and selling merchandise is one of them. The booster club also serves concessions at varsity baseball, softball and track events, as well as JV and middle school games. The funds from these events are transferred to meet the school's needs at the end of the year, but sometimes there's a quicker turnaround. Patrick Just, the middle school principal, had a request for Maxwell a few weeks ago. The special needs bowling team had no money, but it needed $400 for its first competition that Friday. Maxwell turned to the booster club board members and the town's Rotary Club, and both parties provided half. She gave him the money by the end of the day.
The booster club also organizes the end of year banquet and Tiger Fest. Both are community events, and there's always a good turnout. The end of year banquet has an open auction, and the teams provide the autographed jerseys and basketballs. Tiger Fest generally happens after the drill and cheer auditions, during the second or third weekend in April. Brookshire's opens its parking lot to the school's clubs, so they can host a booth. Visitors can buy things, do face paint, and take a picture with the school's cheerleaders.
---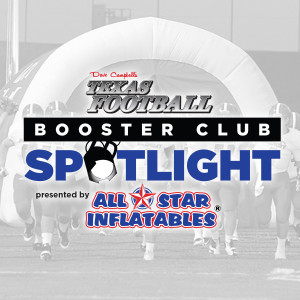 Special Message from All-Star Inflatables:
Every sports team wants to run through an inflatable, but how do they afford them?
Teams have been using inflatable entrance tunnels, helmet replicas, and larger than life mascots for over 25 years. The number one question is "How do they afford them?" It's simple…Stop looking at the cost and look at how much money your sports organization can raise with our team entrances. 
Many schools purchase their inflatable entrance with local business funds. During the manufacturing process we sew velcro on each side of the tunnel or archway, then the teams can sell to their local companies signage spots to provide revenue.  The benefit to velcro is this sponsor spot can be sold year after year to not only help pay for your inflatable, but also aid in purchasing power for other necessities such as weight room equipment, headsets, and new team equipment.  
As the teams come roaring out on the field in front of thousands of fans; both at home and away; your team sponsors will be highlighted every week. With this kind of attention every business owner will do anything to have there name on the inflatables. This is how even our smallest organization can afford an incredible team entrance.
This article is available to our Digital Subscribers.
Click "Subscribe Now" to see a list of subscription offers.
Already a Subscriber? Sign In to access this content.