The Wylie Pirate Athletic Booster Club's experienced board members are integral in providing the school's student-athletes the support they need. This is Scott Neumeyer's fifth year with the program, his fourth as president. He previously led Brick Builders, a football subset of the booster club. During this time, Brick Builders arranged mentor breakfasts for students and families, and helped with Wylie Christian Care Center. Its community outreach also included volunteer efforts at the local soup kitchen and community garden.
Neumeyer credits his colleagues' efforts for the well-running of the booster club, and the willingness of local citizens to volunteer their time and effort to run successful campaigns. WPABC has strong partners in Albertsons, B&B Theatres, First Baptist Church of Wylie, LegacyTexas Bank, and Woodbridge Golf Club. Neumeyer would like these relationships to stay intact after he leaves office because they are very supportive of the club's fundraising efforts. He never wants to say no when an athlete or team has a need, and the lack of funds should never be an option.
The booster club always has the man power to do great things because Wylie is a very supportive community. Around 80 volunteers helped with the annual golf tournament in August, and a good showing turned out for this summer's car show. Program ads and spirit wear are also sold, and the athletes sell cards with local business discounts.
Neumeyer enjoys giving back to the athletes and meeting their needs, so he serves the booster club each year. The booster club provides the athletes with the proper equipment, and financially supports the end of year banquets. It recently purchased InterX for the sports medicine department, a state-of-the-art neuro-stimulant that injured athletes will soon have access to, and another great resource provided by the Wylie booster club.
---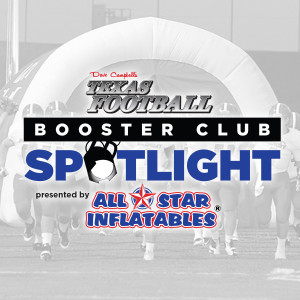 Special Message from All-Star Inflatables:
Every sports team wants to run through an inflatable, but how do they afford them?
Teams have been using inflatable entrance tunnels, helmet replicas, and larger than life mascots for over 25 years. The number one question is "How do they afford them?" It's simple…Stop looking at the cost and look at how much money your sports organization can raise with our team entrances. 
Many schools purchase their inflatable entrance with local business funds. During the manufacturing process we sew velcro on each side of the tunnel or archway, then the teams can sell to their local companies signage spots to provide revenue.  The benefit to velcro is this sponsor spot can be sold year after year to not only help pay for your inflatable, but also aid in purchasing power for other necessities such as weight room equipment, headsets, and new team equipment.  
As the teams come roaring out on the field in front of thousands of fans; both at home and away; your team sponsors will be highlighted every week. With this kind of attention every business owner will do anything to have there name on the inflatables. This is how even our smallest organization can afford an incredible team entrance.
This article is available to our Digital Subscribers.
Click "Subscribe Now" to see a list of subscription offers.
Already a Subscriber? Sign In to access this content.