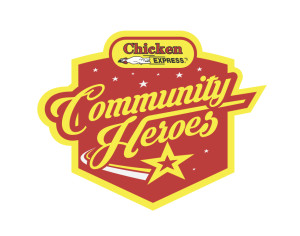 Chicken Express and Dave Campbell's Texas Football are partnering to honor the heroes in your community. Male and female student-athletes that lead by example on the field of play and in the classroom can be honored as Chicken Express Community Heroes and receive scholarship money to continue their education beyond high school. Athletes can be nominated at TexasFootball.com/ChickenExpress.
---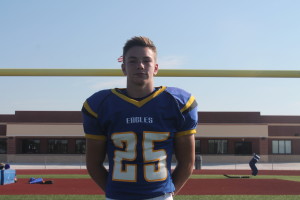 LEDDY FRENCH

Brock High School
Leddy French is a jack of all trades. He plays football, basketball and track at Brock High School, but his community service separates him from the average high school student.
Chad Worrell, his football coach, says French is very dependable, so that explains why people always ask him for help. French started helping his community at a young age because his parents emphasized serving the community. He started with manual labor but his responsibilities have evolved as he's aged; he mows lawns and runs errands for the older people in town.
His volunteer efforts increased when he started high school four years ago. He is actively involved in National Honor Society, and completes his service hours every year. The projects include the weekly recycling program, helping with a 5K for a benevolence fund, and cleaning up a portion of FM 1189 in the highway's adoption.
Worrell described him as very approachable, and said he was a "well-rounded package" academically, athletically, and in the community. "His willingness to help out wherever needed, to be a leader for not only the football team, but also with the younger people in the community," Worrell said.
Younger players are always welcomed to talk to him if they need anything. Once a week, he tutors in his college dual-credit calculus class. He said no one's afraid to ask him for help. French is also a member of the NHS tutoring committee at the elementary and junior high.
French is a straight A student in the classroom, and an all-state football player. Worrell said French always works to be the best, but his work ethic is not the only way French leads by example. He had role models growing up and wants to be one himself. He helps with youth football, and greets elementary students on home game days. French also serves his community alongside his teammates. Around Christmas time, he joins his football teammates in reading to elementary students.
---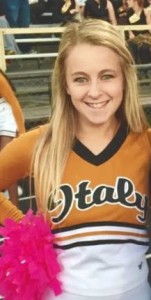 BRITNEY CHAMBERS

Italy High School
Britney Chambers runs cross country, plays softball and cheers, but she is more than a student-athlete at Italy High School.
Chambers has always volunteered in her community, but she really got involved as a teenager. She tries to put herself in someone else's shoes when someone needs her help. She always asks herself, "What would I want to be said to me, or what would I like someone to help me with?" And then acts on it.
On Wednesday nights, she cleans out the flower beds and mows the yard at the First Baptist Church. She is also involved in the youth camps at church, but her help doesn't stop there. She's been tutoring for three years, but the most satisfaction has come working with an autistic student.
"Watching him grow is amazing," she said of his progress.
Chambers also gives back to one of the sports she plays. She said it is important to show her love and commitment to Softball when she is coaching the eight year old players. She said the two factors rub off on them because their attitudes change as the practice goes on, and many enjoy it by the end.
She completes 40 service hours every school year because she is actively involved in National Honor Society. The organization holds an event almost every month. She will participate in this month's Italian Festival, Cancer Awareness Month in October, and the Cancer Drive in November. Every year, she makes multiple trips to the town's nursing home because she loves meeting the town's elders. In December, she makes gifts and Christmas cards for the home's inhabitants, and sings them Christmas carols. After the new year, she makes Valentine's gifts for teachers and the older citizens, and helps clean up both the school and town on Earth Day.
This article is available to our Digital Subscribers.
Click "Subscribe Now" to see a list of subscription offers.
Already a Subscriber? Sign In to access this content.