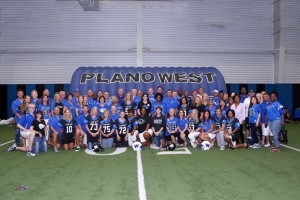 Plano West football began a new era this fall, and it's off and running behind the efforts of its booster club. The Quarterback Club, as it's known around campus, is led by its three co-presidents. Historically, the role was assigned to a husband-and-wife combo, but new coach Scott Smith redesigned the position. He wanted another able body to lead the pack, so Roger Campbell shares this year's position with Mickey and Holly Castora. The new administration began its fundraising efforts with a successful casino night last May. The club also has spirit nights at local restaurants, like Chipotle this past summer. A portion of the sales go to the booster club on the night of the event.
The high school has a different booster club for its different sports, but similar tactics are often used. Email campaigns, along with membership fees and program ad sales, fall in this category. Every player raises a certain quota because there's a team goal. They explain the donation process to family and friends via email. The recipients also learn how the booster club supports the football team.
This is Holly's fourth year with the booster club, so her list of duties is vast. She strengthened membership via recruiting when her son was a freshman and sophomore, and she arranged last year's special events. She was responsible for a kickoff event prior to spring football, a pool party for the players, family and team dinners prior to the team's playoff games, and a media day.
This year, she shares the presidential responsibilities with her counterparts. All three presidents serve on game day, but she's the only active president during the day. She is always a phone call away if the team needs anything, and she helps with team meals. She loves supporting the school and enjoys interacting with its players and families.
---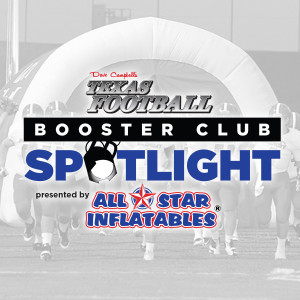 Special Message from All-Star Inflatables:
Every sports team wants to run through an inflatable, but how do they afford them?
Teams have been using inflatable entrance tunnels, helmet replicas, and larger than life mascots for over 25 years. The number one question is "How do they afford them?" It's simple…Stop looking at the cost and look at how much money your sports organization can raise with our team entrances. 
Many schools purchase their inflatable entrance with local business funds. During the manufacturing process we sew velcro on each side of the tunnel or archway, then the teams can sell to their local companies signage spots to provide revenue.  The benefit to velcro is this sponsor spot can be sold year after year to not only help pay for your inflatable, but also aid in purchasing power for other necessities such as weight room equipment, headsets, and new team equipment.  
As the teams come roaring out on the field in front of thousands of fans; both at home and away; your team sponsors will be highlighted every week. With this kind of attention every business owner will do anything to have there name on the inflatables. This is how even our smallest organization can afford an incredible team entrance.
This article is available to our Digital Subscribers.
Click "Subscribe Now" to see a list of subscription offers.
Already a Subscriber? Sign In to access this content.