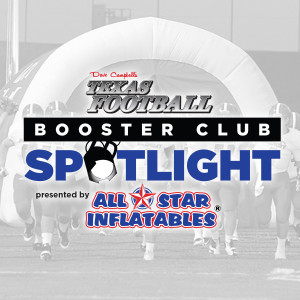 Kip Ewing has held various positions inside the Grapevine Football Booster Club, so he understands how to run a successful booster club campaign. He's currently in his second term as president. He was also the freshman representative in 2011, and vice president in 2012 and 2014.
The booster club wants locals to get excited about their local team, so it hosts tailgates prior to each home game. The local support should grow this season because the tailgates are open to the public and the food is free. Ewing hopes to see banners and posters around town so it can be a community affair. He plans to reach out to the community because there are unused fundraising opportunities.
The booster club's community efforts were on display for the annual rivalry between the area's two high schools, and it received support from two football sponsors. Frost Bank supported the Colleyville Heritage and Grapevine tailgate financially, and Red Dog Right provided the food. The booster club's partnership with Red Dog Right seems to be a perfect fit because they both want to serve their community. The restaurant is also scheduled to serve food at the senior night tailgate.
The booster club does great things for the football program, but it wouldn't accomplish those tasks without a dedicated team of volunteers, which fills in the gaps that the school budget cannot provide. Ewing wants to provide the athletes with a better working environment so they can be successful. The booster club has achieved this by providing the football team with new equipment, helmets and uniforms, and making repairs to the weight room. It also provides eight $1,000 scholarships to senior football players, awarded via an essay contest.
---
Special Message from All-Star Inflatables:
Every sports team wants to run through an inflatable, but how do they afford them?
Teams have been using inflatable entrance tunnels, helmet replicas, and larger than life mascots for over 25 years. The number one question is "How do they afford them?" It's simple…Stop looking at the cost and look at how much money your sports organization can raise with our team entrances. 
Many schools purchase their inflatable entrance with local business funds. During the manufacturing process we sew velcro on each side of the tunnel or archway, then the teams can sell to their local companies signage spots to provide revenue.  The benefit to velcro is this sponsor spot can be sold year after year to not only help pay for your inflatable, but also aid in purchasing power for other necessities such as weight room equipment, headsets, and new team equipment.  
As the teams come roaring out on the field in front of thousands of fans; both at home and away; your team sponsors will be highlighted every week. With this kind of attention every business owner will do anything to have there name on the inflatables. This is how even our smallest organization can afford an incredible team entrance.
This article is available to our Digital Subscribers.
Click "Subscribe Now" to see a list of subscription offers.
Already a Subscriber? Sign In to access this content.