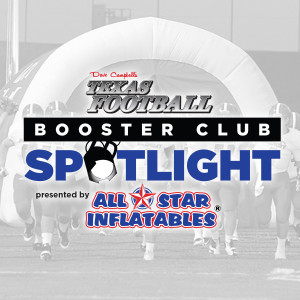 Tradition rides high at Keller High School, and its booster club is at the forefront. It's a special year because the school is celebrating the 50-year anniversary of its most storied practice.
In 1965, Don Blevins, a former quarterback at the school, started lighting the town's water tower blue after every football win. He's a Texas ex, so it's similar to the tower lighting on the 40 Acres. The water tower stands in the middle of town at the intersection of Keller Parkway and U.S. Route 377, and reads "KELLER: HOME OF THE INDIANS".
Wendy Craft understands the tower's symbolism and is excited to be president during the half-century celebration.
"We love our water tower," Craft said, "and we're just really excited that it's 50 years a tradition."
She recognizes that family, pride and tradition are important values to the Keller community, so she wants to emphasize them throughout the school year. Supportive and active Keller parents, like Craft, drive the booster club through their volunteer efforts.
The booster club provides scholarships for a few students each year. Students are asked to write an essay, and the winners are chosen by a scholarship committee. Some are booster club members, others are not. Last year, the booster club handed out four $1,000 scholarships. It also provides letter jackets for every varsity athlete. Membership dues provide many of the booster club funds.
Last year was Craft's first year with the booster club, and she arrived for a successful structural redesign. As the treasurer, she saw the implementation of 13 new committees for the different sports. Each one is dedicated to an athletic program at the school. She wants to build on last year's accomplishments and support all student athletes during her year as president.
"It's all about the kids and helping them," Craft said. "When you focus on the kids, things will fall into place."
---
Special Message from All-Star Inflatables:
Every sports team wants to run through an inflatable, but how do they afford them?
Teams have been using inflatable entrance tunnels, helmet replicas, and larger than life mascots for over 25 years. The number one question is "How do they afford them?" It's simple…Stop looking at the cost and look at how much money your sports organization can raise with our team entrances. 
Many schools purchase their inflatable entrance with local business funds. During the manufacturing process we sew velcro on each side of the tunnel or archway, then the teams can sell to their local companies signage spots to provide revenue.  The benefit to velcro is this sponsor spot can be sold year after year to not only help pay for your inflatable, but also aid in purchasing power for other necessities such as weight room equipment, headsets, and new team equipment.  
As the teams come roaring out on the field in front of thousands of fans; both at home and away; your team sponsors will be highlighted every week. With this kind of attention every business owner will do anything to have there name on the inflatables. This is how even our smallest organization can afford an incredible team entrance.
This article is available to our Digital Subscribers.
Click "Subscribe Now" to see a list of subscription offers.
Already a Subscriber? Sign In to access this content.